I got my interest in Ham Radio from a high  school friend who had a 2 meter FM rig in his car. I took my Novice/Tech exam in 1960 and operated mostly 6 meter AM using a Clegg 99er. After being discharged from the Air Force in November 1968, I began to study for my General class license which I got in early 1969 and later that year upgraded to Advanced class. Finally in 1978 I upgraded to Extra class changing to my current call  from WA9LFL to AD9H. 
Past president of the DuPage Amateur Radio Club (DARC).    http://WWW.W9DUP.ORG
Past License Trustee of W9DUP. 
My shack.
I also have a Yeasu FT-857D that I use in the mobile with an ATAS-120 auto tune antenna.
This is an early FAX machine. You would put a special paper around the drum and the machine would "burn" the fax onto the paper.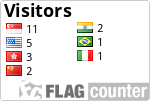 ++++++ QSL Information ++++++
If QSL's are sent direct to me I will reply with my own QSL card and there is no need to send any money or a stamped addressed envelope:)
I will always reply with my own QSL card when you send your QSL card to me and normally post all cards out every Friday, sooner if possible.
Large Visitor Globe
Don't know why the map shows Darien,IL instead of Westmont,IL. Darien is about 1 mile south of my QTH.