DXCC  300 confirmed mixed ~ 5-Band DXCC  ~  WPX mixed & cw  ~  WAS mixed & cw 
SKCC #7670  ~  NRR #132  ~  Marin Amateur Radio Society  ~  ARRL VE
I got interested in ham radio in San Diego when my cousin Brad - WA6LJT - brought down a shortwave receiver during a weekend visit in 1962. Later that year I got my Novice ticket, WN6CIO and then my General, WB6KMH (I missed the deadline to upgrade and keep the CIO call) about a year and a half later. My first station was a Knightkit T-150 transmitter that I built, a Hallicrafters SX-111 receiver and a trap vertical atop the garage. In the picture below to the left of the radios I have a Knight SWR/Power meter on top of a Hallicrafters T.O. Keyer. My first paddle was a chrome Vibrokeyer, which probably accounts for my very heavy fist! The mic looks like it might be a Sure mic. I don't remember working AM much if at all in those early days. I doubt if there are any DX station QSLs in the display on the wall, but the World map certainly supports my early interest in chasing DX.
I upgraded to Advanced when the FCC started taking away privileges.
In college I operated WA6DOT, the first ham club at UC San Diego and participated in college nets. I moved to the Bay Area after college and my license lapsed. In the early 80's I got back into ham radio and within a year upgraded from Novice to Advanced through a number of calls including KA6ZXU, N6ITK and KF6MV. I operated mostly from sailboats in 1980's and 90's as you can see from my old QLS cards shown below.
As 1992 spilled into 1993, I spent a month operating on the Island of Pohnpe, Micronesia, as V63MV. What fun it was to be at the 'other end' of the pileups!
I upgraded to Amateur Extra class in 1994 and was assigned AB6ZP. I then changed to NZ6P in 1998 when the opportunity came to choose a shorter callsign. In January 2011, I grabbed my current call - AI6II - which is less prone to being miscopied during weak signal CW contacts. And hey, 'di-dit di-dit' seems to catch an ear pretty well. It is my keeper call!
I am established on LotW, but really like exchanging paper QSL cards. I am on CW 95% of the time. I work the occasional SSB contact and like chasing DX and rag chewing alike. SKSCC straight key contacts are great fun and keep my fist in shape.
Note: I do not particpate in eQSL nor QRZ's Logbook
Please QSL via LotW, Direct, or via the BUREAU
My main station is a Collins S-line (32S-3 / 75S-3 / 30L-1). Antennas are a 'myantenna.com' EFHWA 80-10 in an inverted vee configuration and Mosley TA32 two element yagi. The yagi is atop a MA-40 tubular mast which is turned by a rotor located at the bottom. I use a Green Heron digital controller which interfaces with my logging program, Ham Radio Deluxe. I also have a Global Bean Display made by Tom Mandell W3FRG that shows where the beam is pointing on a world map centered on my qth. Move the rotor and the LED's light up to show the new direction.
I really like this wonderful early Begali Magnetic Classic paddle. It sits next to my SKCC Key that I use for straight key contacts.
I have an Icom IC-2300H in the shack connected to a Ringo Ranger which I use to check into the local 2 meter nets.
I operate VHF/UHF Jeep (Grand Cherokee) mobile using a Yaesu FTM-100DR. I tried HF mobile with several configurations but eventually decided I didn't like it. Instead I take my a KX2 with me when I go camping. I set up a homebrew vertical (17 foot MFJ telescoping antenna on top of a BugCatcher coil) and a couple of radials and operate from my Aliner trailer.
[PICTURE COMING]
Drakes rigs were being advertised in QST and other ham magazines in my early ham years; rigs that I could only dream about owning. Forty years later they still stir up those feelings as I twist the knobs and watch the meters deflect. Here I am operating SKN (Straight Key Night) 2013 using a J. H. Bunnell Navy Fireproof key
nicely mounted on ceramic base with the Drake 4B Twins.
Once the 'final' Drake setup was established (a really nice TR-4CwRIT, a R-4C receiver with Sherwood mods and all three filters, a RV-4C remote VFO, and a MN-2000 tuner) I started adding other rigs to the vintage side of the shack. It is a bit obsessive, I know (my daughter tells me I might 'have a problem' whenever I inform her of another radio I have acquired), but they are all so very kool and fun to operate!
For SKN 2017, I used my Collins S-line with the Kent Dual paddle/key. I also used it for the 2017 Novice Rig Roundup in the General Commerical Rig VFO class. It has become my 'go to' rig especially now that I have the 30L-1 amp on the air!
Here is the vintage stations setup now. Well actually, I now have the Collins station set up on my main operating desk. I decided I had met my DXCC (306 plus 5 Band) goals and could no longer sit the reqired hours for working contests, so after a seven year run of using fantastic modern rigs and the associated high tech software, I sold my Elecraft K-line station and switched over to running only boatanchors!
The pictures below are aa bit out of date as is the list of gear. i will update it when I get my final configurations figured out.
You can see the stainless steel table in the picture on the left which is my latest (and last) attempt to squeeze out as much operating space as possible. Basically I have created a 'L-shaped' layout with the original desk (right picture) against the wall and the two cabinets (left picture) on my left side. Everything has a permanent home now and I can concentrate on operating each station at least once every couple of weeks. I will have to print up some cheat sheets to remind me how to tune each transmitter as they are all pretty different. It has been really a lot of fun getting them all working and hooked up. Here's how they play starting at the top of the left picture going down and across:
Hallicrafters SX-111
Hammarlund HQ-129X
Johnson Valiant (CW & AM)
Swan 500CX (SSB)
Hallicrafters SX-117
Eico 720 (CW xtal only)
Drake RV-4C Remote VFO
Drake TR-4Crit (SSB & CW & AM)
Hallicrafters HT-37 (SSB & CW)
Kenwood SM-230 Station Monitor
Drake R-4C with Sherwood mods
Drake MN-2000 Antenna Tuner
Heathkit DX60B and HG-10 VFO (CW & AM)
Collins KWM-2 (SSB)
Collins 75S-3
Collins 32S-3 (CW & SSB)
Looking at the above picture of how it all started back in 2013 for Straight Key Night brings to mind a Greatful Dead lyric: 'What a long strange (in a good way) trip it has been.'   ;>)
Here are a few of my previous QSL cards:
1964 - 1974 ~ [my very first QSL card - just got it from my sister who had it in her scrapbook!]

1983 - 1993 ~

December 1992 - January 1993 ~

1998 - 2010 ~

2011 - present ~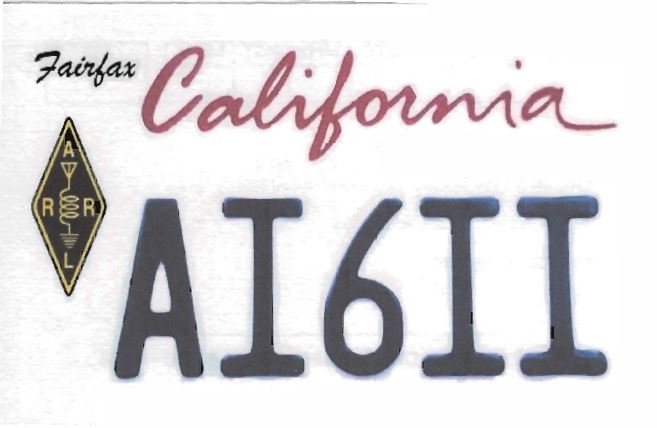 And my various License Plates over the years...
73 es gud dx    ..mike  AI6II