DC3AQ is member of the Luxembourg Amateur Radio Society (RL)
QSL-Cards only direct or via QSL-Manager: LX0RL
Member of the European PSK Club EPC #09514 (EU Area GM32)
Languages: German, English, Spanish, French.
Licensed since 1977. After several pauses I reactivated my hobby in Jan 2008.
You can meet me on echolink (415260), on cq100, D-Star and on short wave.
If you put my callsign DC3AQ into YouTube you will find several films about our comun hobby. For example this one: http://www.youtube.com/watch?v=ybgJh3Ljp1s
Another interesting link (german) about a group of children from Germany and Luxembourg having contact to the astronaut Frank de Winne in the ISS: http://www.youtube.com/watch?v=jGWJEZQ4djk
If you want to cook a paella with me, choose: http:// www.mypaella.de
Thank you for looking on my account and thank you for the QSO!
Para mis amigos españoles tengo una película española sobre la Ham Radio en Friedrichshafen: http://www.youtube.com/watch?v=K_wAM_8V2Us
Gracias para mirar todo esto. Hasta la proxima...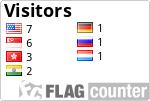 added by DK8NC