My name is Heiko and I live in a valley from the black forrest - 455 m /NN  
I´m a member in the German radio Club DARC / DOK A12 Pforzheim.
Licenced by 2016 (Novice) and 2017 (Harec)
My home-QRZ Locator is JN48GR
QSL pse: via eQSL , email or bureau to A12
My RIG:
Home-brew Yagi Antennas: 5/9 El (V/U) DK7ZB-Match, Tripod and AZ-rotor
70cm: PA  Radiosystems-217 (415-470 mhz) ---> for tests reflections on mountains ~ 180 km !
23cm: FT-736R Allmode TRX, IC12E, Alinco DJ-G7 (FM-Handhelds)
23cm-Antennas: 28 El-Yagi (Wimo) or 26 El. Loop-Yagi; 23cm-Preamp / v ~ 40dB
HF: FT 857 and dipole antenna G5RV as Inverted V (80-10 Meters) MfJ-945
Digital Modes: SSTV, PSK31 - Interface SignaLink USB ; Eee-PC R1050
HP-Analycer - 22 Ghz, Units for GHz Bands / 13cm-Units / Varactors

NEWS  ++ I´m working in VHF/UHF with reflektion on high mountains around my city the black forest
Example; FM-SSTV multimode repeater DB0UHF -Reflektion, very good conection!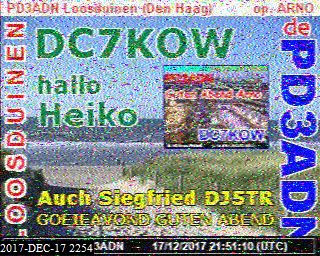 Hope to hear you on the bands!
73 !
Heiko