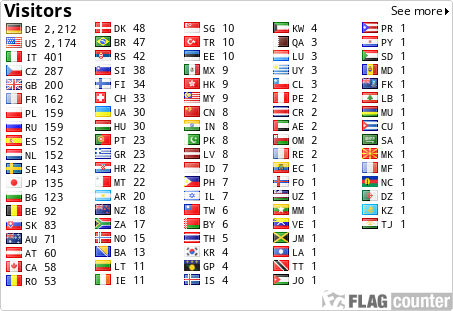 ON0EME beacon (3.6m dish/500W/1296.000 MHz) received at DJ3JJ with 2.5m dish
DL0SHF 23cm EME SSB received 29.11.2017 at DJ3JJ with 2.5m dish
Number of EME stations available in Dubus CW EME contest on 2m and above.
No 1 band is 23cm, followed by 13cm, 6cm, 3cm and 9cm. 9cm has the biggest rise +33% in 2017.
Dish Antenna Paint from Sika used by German Earth station:
Primer:   SikaCor Aktivprimer Rapid
Paint:      SikaCor 6630 high solid (RAL 9010 = pure white)
deutsch:
http://deu.sika.com/dms/getdocument.get/a272f24e-71f9-32e2-a979-af53761d5b9d/1515+SikaCor+6630+high-s.pdf
english:
http://deu.sika.com/dms/getdocument.get/0e8b17d7-0123-3839-90d6-e0c8b1176f66/E%201515%20SikaCor%206630%20hi%20-s.pdf
2016
2.5m Dish F/D 0.36 with RA3AQ 23cm feed
2m Tropo Antenna YU7EF 0206 (9.2 dBD)                    70cm Tropo Antenna YU7EF 7011 (13 dBD)
For basic info about 70cm EME with small antennas please read:
http://www.ok2kkw.com/next/dj3jj_70cm2010.htm
70cm EME with 4 x YU7EF 7015
23cm EME with 1 x Tonna 2355 Antenna
If you are interested in more EME Videos please follow my youtube channel:
https://www.youtube.com/user/dj3jj
2006
432 MHz EME with 4 x 13 Element DK7ZB 28 Ohm Yagis (3m Boom) 20,5 dBD (12mm copper dipols). GS23B Amplifier with about 600 W at the antenna. LNA with MGF1302 DJ9BV Design. Sunnoise about6 dB at SFI of 75.
Antenna Info with details and pictures on Martins homepage:
http://www.mydarc.de/dk7zb/70cm-longyagi/13-ele.htm
Worked HB9Q via the moon on 01.12.2006 with RF-Concepts 100W PA with build in Preamp in CW ! QSO initial #454.
01.12.2006 DJ3JJ JN48JS 429H 559 CW 4x13y 100W #454
Pse check the EME logger for contacts and tests: http://hb9q.ch
2008
New eme yagi (2008) yu7ef 7015 3.4m boom (4.9 wl) 15 dbd G/T 2.71. (See Picture top right)
Sunnoise 4 dB with single yagi at sfi 65. Sunnoise 10 db with 4 yagis at sfi 65.
Spacing: 1.45m horizontal, 1.4m vertical
4 db better rx performance as with 4 x dk7zb 7013 3m boom (4.3 wl)
Info about antenna: http://www.yu7ef.com/ef7015.htm
2010
New QTH in same locator square (JN48js).
Rebuilding 4 yagi antenna system.
2011
Changing qth to new house, 500m away from the old qth but in same locator JN48js. New Antenna 4 x YU7EF 7015, 3.4m long with 20.8 dBd gain.
Could work first CW random QSO from new QTH in Dubus EME Contest with UA3PTW on sunday 10.04.2011 with 549
and O. TX Power 300W.
Result of 1st part of ARRL EME Contest 23.10.2011
Worked in CW random: DL7APV, SM4IVE, SV1BTR, OH2PO, K5GW and G3LTF
CWNR: K0RZ and LZ1DX
2012
Changing stacking distance of antennas from 1.46m x 1.43m to 1.35m x 1.2 m ( H x V) to increase sunnoise with lower sidelobes.
Antenna Gain is reduced from 20.8 dBd to 20.5 dBd. Last measured sunnoise with old stacking was 7.5 dB @ SFU 123.
April 2012
Antenna rework. Dipoles now with 1/4 WL bazookas. Stacking 1.35m h and 1.2m v. Antenna gain 20.5 dBd. Sunnoise 9 db @ sfu 100. Nice copy of own cw echos.