My #1 -> Icom IC-7850 Limited Edition & IC-7800
My #2 -> Apache Labs Anan-100
My #3 -> Kenwood TS-990
New Toy: mcHF / M0NKA
mcHF / M0NKA in Ibiza 2017 w. mod. Zico PA for 220W QRP operation :-)  (Flex 1500 as Backup TRX on the left)
IC-7300 in Ibiza 2016 (IC-706 MK2G w. integrated WiFi RemoteRig and LiPo battery on the left)
Shack at 1st QTH in Frankfurt
And my Remote Station client site.
The TM-D700 & IC756Pro3/IC2KL w. Tarheel 200HP antenna are real RF, the rest, TS2000X, TS-480HS and IC7700 on touchscreen are virtually connected by the internet with RemoteRig. The station is located in downtown Frankfurt/Main, the Server is 5 miles away with full antenna, ampflifier and rotor control:
And the Server as from 2014 (now updated with 2x 19" racks including my WEB SDR http://sdr.homeip.net:8901/ ):
Some Contest Hardware

IC-7700 w. waterfall Firmware and IC-R9000L (with LCD display):
IC-7600 with the new waterfall Firmware update:
My private Fieldday equipment:
with 2-Element SteppIR
And some Holiday stuff, QRP first:
Amp, PS, Tuner and misc. accessories:
The KX3 at the spanish sea:
and at my summer domicile in Ibiza / Eivissa:
My homebrewed spectrum analyzer using a Raspberry-PI before the PX3 was available:
DOK F30
---
One of my other hobbies: Bulding Laser Systems, optical Bench, Argon-Ion Lasers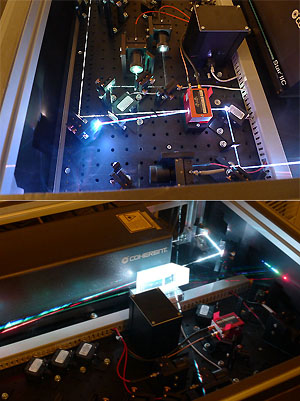 ---
.
2008  DK8NC