VP9/DK7LX was on air from 08. NOV. until 20. NOV 2017 from Bermuda, NA-005. QTH was on St. David´s Island in the Parish of St. George´s.
Reciprocal License is -of course- officially granted.
21. Nov: VP9/DK7LX QRT 3533 QSOs. Thank you all!
Dec. 12th:
VP9/DK7LX is approved by the ARRL DXCC Desk.

QSLs should be coming from the printer in due course.

LOTW-Upload has been performed Dec. 12th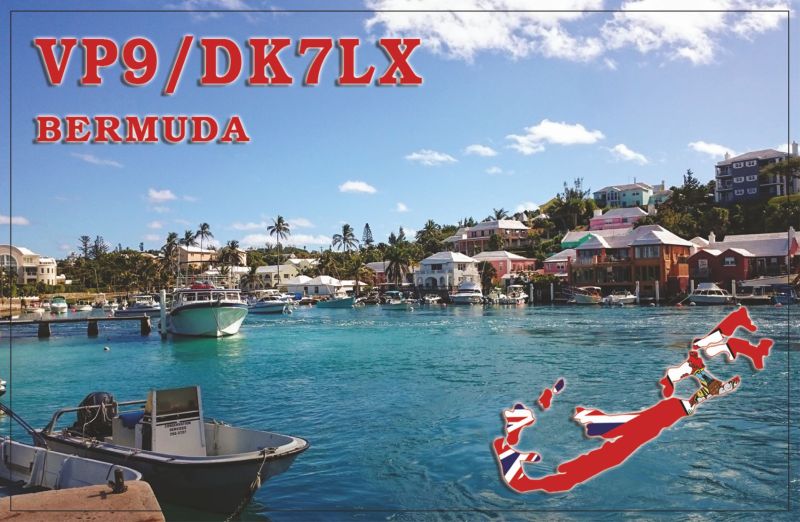 Rig was simple: FT450D, 100 W and a home brew jumper wire as Antenna on a 10 m fishing rod next to the water. I was active from 40 to 15 m only.
Please read QSL hints further down this page prior to sending/requesting a card.
Please observe proper operating: when answering my CQ, please send my call sign. Otherwise I may assume you are calling a DX station on a split frequency and may avoid answering you if the situation seems unclear to me. Also: sending a "?" as a reply to a CQing station means poor operating habits to me and will be ignored either.
Member of: FOC, HSC, FISTS, SKCC, DARC plus I do support the CDXC UK DX Foundation 
Over the years I have been active from various places with different call-signs:
FJ/DK7LX, VP5/G3SWH, TX7LX Mayotte, XX9TLX, S92LX, 9X0LX, A43DLH, CT9DLH Madeira, CT8/DK7LX Azores, 3XY1D, H44G, KH6/DK7LX, ZS/DK7LX as well as from England, USA, France, Liechtenstein, Italy, Jersey and some German Islands.
US-Call: K7LXX
QSL-Cards are available via: Buro or regular mail. Use OQRS through Clublog to keep things simple.
Direct QSL for any of my travel call-signs: 2 $ plus SAE! No IRC. If you send an IRC, your QSL will be send via Buro. 
Direct QSL for DK7LX: 0 $, no SAE. Combination of DK7LX and travel call-sign in 1 envelope: 2 $ plus SAE 
I DO NO LONGER HANDLE/ANSWER SWL REPORTS!
A brief background
On air since 1983/1984, basically in CW. Real QSOs are much preferred. I am enjoying international rag chewing in English and love to learn a bit about the person on the other end.
When I got into that hobby as a boy I was totally blown away by the possibility to communicate with places beyond Germany´s borders and that with a comparatively moderate hardware. Hearing signals from far away is still a blast for me and I do hence find short distance QSOs inside of Germany and especially in German language pretty uninteresting. 
Odd "599 QSOs" -with the exception of DX Pedition traffic- as well as "quickies" for whatever point is crap, IMHO! I don´t mind if people do so but I don´t join this non-sense waste of time. 
I am operating from a very quiet countryside location, no immediate neighbours but good antennas and reasonable power instead.
I once used to be pretty eager when it came to working a new DXCC and as for "entity-collecting", there is only one left for me to work: Bouvet Is.
Very luckily I was able to already work and confirm weird places like P5, KH3 and the like long ago, some of which with previous callsigns back in the day.
I have come to collect all these things for myself only. What do I need a "top of the top Award" for? After a 6 Band DXCC I have completely given up on all that. 
And yet, flicking through my QSL album is always a journey back into time that brings along so many fantastic memories no electronic new age stuff can generate. 
Swapping a QSL for a great QSO is still very welcome at this end.