A general info regarding direct QSL-ing for VP9/DK7LX:
QSL-cards with IRC, 1 US-Dollar or zero postage are on hold and will be processed through the QSL-Buro sometime later this year. Please don´t expect me to pay postage out of my own pocket. 1 US-Dollar is less than an international letter out of Germany costs. IRCs used to work fine in Germany long time ago but this is history. Officially still good, the exchange is practically impossible. QSL-details were published all the time further down this page. Thanks for you cooperation!
03. January: No QSL-requests pending. Direct & buro cards for any of my call signs have been sent.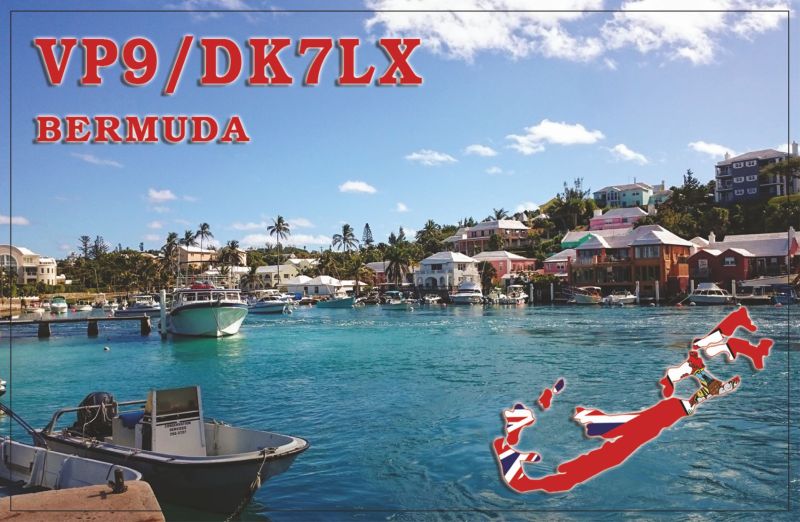 Please observe proper operating: when answering my CQ, please send my call sign. Otherwise I may assume you are calling a DX station on a split frequency and may avoid answering you if the situation seems unclear to me. Also: sending a "?" as a reply to a CQing station means poor operating habits to me and will be ignored either.
Member of: FOC, HSC, FISTS, SKCC, DARC plus I do support the CDXC UK DX Foundation 
Over the years I have been active from various places with different call-signs:
VP9/DK7LX, FJ/DK7LX, VP5/G3SWH, TX7LX Mayotte, XX9TLX, S92LX, 9X0LX, A43DLH, CT9DLH Madeira, CT8/DK7LX Azores, 3XY1D, H44G, KH6/DK7LX, ZS/DK7LX as well as from England, USA, France, Liechtenstein, Italy, Jersey and some German Islands.
US-Call: K7LXX
QSL-Cards

are available via: Buro or regular mail. Use OQRS through Clublog to keep things simple.
Direct QSL for any of my travel call-signs: 2 $ plus SAE! No IRC. If you send an IRC, your QSL will be send via Buro. 
Direct QSL for DK7LX: 0 $, no SAE. Combination of DK7LX and travel call-sign in 1 envelope: 2 $ plus SAE 
I DO NO LONGER HANDLE/ANSWER SWL REPORTS!
A brief background
On air since 1983/1984, basically in CW. Real QSOs are much preferred. I am enjoying international rag chewing in English and love to learn a bit about the person on the other end.
When I got into that hobby as a boy I was totally blown away by the possibility to communicate with places beyond Germany´s borders and that with a comparatively moderate hardware. Hearing signals from far away is still a blast for me and I do hence find short distance QSOs inside of Germany and especially in German language pretty uninteresting. 
Odd "599 QSOs" -with the exception of DX Pedition traffic- as well as "quickies" for whatever point is crap, IMHO! I don´t mind if people do so but I don´t join this non-sense waste of time. 
I am operating from a very quiet countryside location, no immediate neighbours but good antennas and reasonable power instead.
I once used to be pretty eager when it came to working a new DXCC and as for "entity-collecting", there is only one left for me to work: Bouvet Is.
Very luckily I was able to already work and confirm weird places like P5, KH3 and the like long ago, some of which with previous callsigns back in the day.
I have come to collect all these things for myself only. What do I need a "top of the top Award" for? After a 6 Band DXCC I have completely given up on all that. 
And yet, flicking through my QSL album is always a journey back into time that brings along so many fantastic memories no electronic new age stuff can generate. 
Swapping a QSL for a great QSO is still very welcome at this end.