HAM History:
1991-1992 DG9FDS
1992-1992 DH2FBS
since 1992 DL1FDL
ATU Projects:
QRO parts for S-Match design, 160-10m, 3.0kW
10kV, 10-500pF. Roller Ind. 24µH, 8mm CU. Amidon T-400A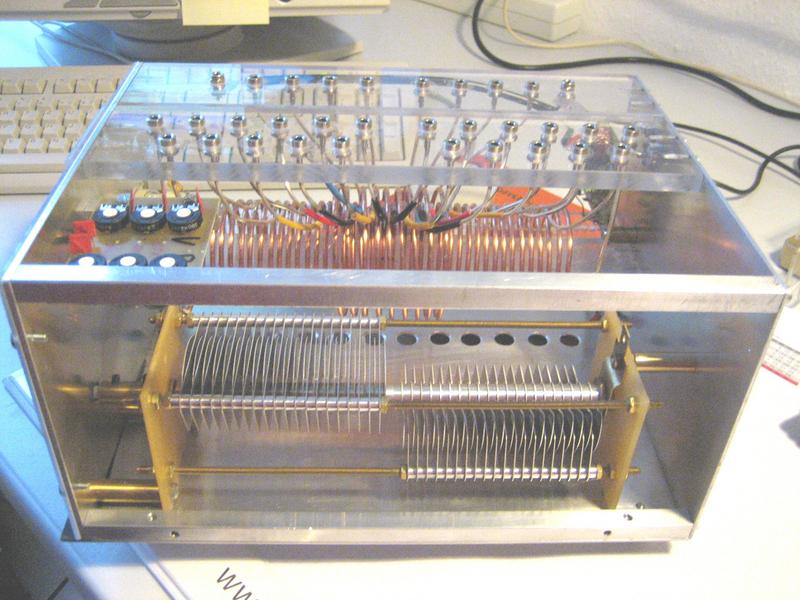 HAM Clubs:
DARC e.V., OV Bad Wildungen, DOK F 52
HSC # 1690 - High Speed Club
B.U.G. # 030 - Bug User`s Group
RTC # 132 - Radio Telegraphy Club
SKCC # 7402 - Straight Key Century Club
CTC # 2779 - Croatian Telegraphy Club
ECWARC # 147 - Essex CW Amateur Radio Club
NAQCC # 5731 - North American QRP CW Club
SP-DX # 2746 - SP DX Club
MARCONISTA # 819 - Marconi Club A.R.I.
Semi-automatic telegraphy keys:
Keep this unique CW style and old OP skills alive.
NOVOPLEX, old german semi-automatic with D.A.S.D. sign:
Charlottenburger Motoren & Geraetebau, Berlin, Germany, 1938
SCHURR BUG, rare german semi-automatic:
Gerhard Schurr Morsetasten, Waiblingen, Germany, 2004
VIBROPLEX Bugs from current production:
Original Deluxe, Blue Racer 2000, 100th. Anniv., USA, 2012
Vibroplex Orig. Deluxe "Lefty" (left-hand version), USA, 2011
VIBROPLEX LIGHTNING, german variations:
L: Metric threads? Wood knob? Unusual A-closer? WW2 copy?
R: Rare JUNKER semi-automatic, Honnef/Rhein, Germany, 1955
McELROY semi-automatic "Teardrop" key:
Theodore R. McElroy, Super Stream-Speed S600, USA, 1940
DENTSU SEIKI "Swallow" bug key:
Dentsu Seiki, Model BK-50, Japan, 1950
Profession:
Dipl.-Ing. / M.Sc. Eng.
73 de DL1FDL

HAM friends to remember (sk):
DJ3AL, OM Manfred Guenther - silent key since 09-2010, R.I.P.