DL1VPL ex Y21PL, DM2GPL, DM3XML, DM3NSM                                                             
Hi all,
I got the first touch with amateur radio when I was 12 years old, and I got my first license in the year 1967,
and was then QRV in many VHF-contests and in many DX-openings on 2m / 70cm.
The first HSCW MS QSOs were completed during Geminids 1978 with GW4CQT and LZ2NA.
Many hundreds of MS-QSOs then followed, now with WSJT.
And in December 2011, I had finally made my first EME-QSO on 2m with Franco I2FAK .
The first 232 EME QSOs have been achieved without elevation. There is no groundgain here,
but the local noise around is getting worse.  How long will EME be possible here, under this noise.
After more then 1100 EME-QSOs and even more Meteorscatter a bit statistics:
on 2m EME 564 initials, 45 WAS states, wkd so far 34 single yagi stations, wkd  on 2m  109 DXCC, 704 QTH-loc. 
I have received the DXCC diploma now (see below).
Wkd low ERP EME-stations were for me, for example, F4EZJ (8el./500W), EI3KD (11el./400W), GM4VVX (10el./400W), OE/DD0VF (2x7el./350W), BA4SI (4x11el./200W),
VK2XN (4,5WL/200W), RA9CHL (4x10el./200W), RV3IG (9el./400W), OX3LX (10el./KW), TM1BF (2x12el./300W), F5DYD (2x8el./400W), VA3DIF (12el./400W),
KB7Q (DN55, 12el./800W).
Wkd now 2m DXCC 100 on 08.Febr. 2017 with CR3EME, DXCC 101 with D44TU on 02.May 2017, DXCC 102 with BX4AP on 22.June 2017,
DXCC 103 with T8EM on 13. Oct. 2017,  DXCC 104 with 3DA0MB on 15.Oct. 2017, DXCC 105 with DX7EME on 05.Nov. 2017, DXCC 106 with V31EME on 03.Dec.2017,
DXCC 107 with YC2MDU on 27. Dec. 2017, DXCC 108 with 4Z5CP on 02.Jan.2018, DXCC 109 with NH6Y on 27.Jan.2018.
All with the 12 el. yagi, in a suburban (very noisy + quit inhabited) area south of Dresden. 
Unfortunately my land is too small for a big antenna + tower.                  
You will find me on the band as well on the ON4KST- or N0UK chat.
I send QSL-cards via buro and via direct if you like. For EME I prefer paper-QSLs ! 
I do not send cards for contest-QSOs, but I answer any card that I get.
73 !
Thomas, DL1VPL
DOK S07 ( TU Dresden )
    The 2m-WAC was a quick success for me.
     All needed QSOs still without Elevation.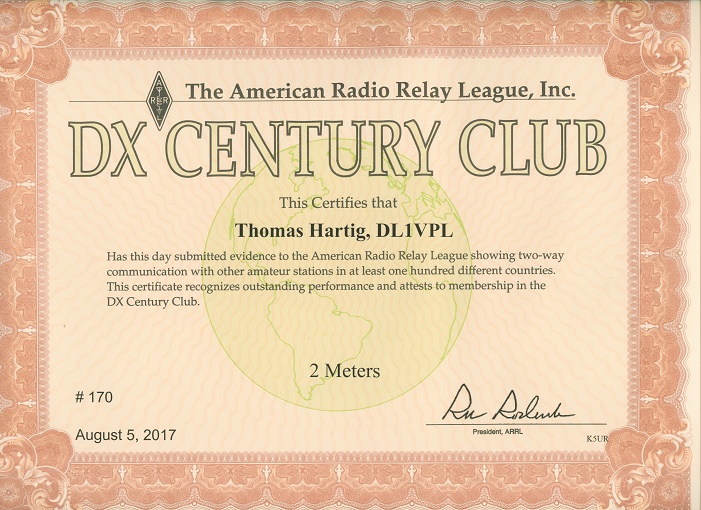 It is done !  2m DXCC  #170  since 05. Aug. 2017
    All 102 countries on 2m with only one yagi.
Sometimes - in good EME conditions - I see my EME echos as follow :