Thank you for checking my QRZ.com page!
DOK K32 (DARC e.V OV Mittelrhein) and Z11 (VFDB e.V OV Koblenz)
My DMR ID is 2625091
On the picture above you can see my portable antenna HF P1 in front of a great view to the valley of the river mosel. In this valley i live right now. So i try to go up on a hill as often i can. There i have better conditions than at my valley qth.
The following picture shows my QTH Löf in the mosel valley.
I got my HAM License (Class A) in Mai 2015. So you notice, i am a greenhorn, but that doesnt matter. I learn every day new things in Amateur Radio business.
Bigh thanks to my teachers of the german amateur radio course "Funken-lernen". If you want to get a really good education, you should visit them at their homepage: www.funken-lernen.de or at Facebook.
I am a member of the DARC Germany Amateur Radio Club e.V., district K, union K32 Mittelrhein.
It would be great if you can give us a like on Facebook http://fb.com/k32mittelrhein.
More information about our union on the homepage: http://www.k32.eu.
I am also member of the VFDB e.V. Union Z11 in Koblenz. It would be great if you can give us a like on Facebook http://fb.com/z11vfdbev.
More information about our union on the homepage: http://z11.vfdb.org.
I joined the "German Mountain Activity" group in Mai 2015. Membership in the IG GMA is for free. The interested Radio Amateur supports mountain activities or operates himself from the top of a mountain.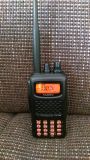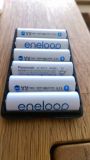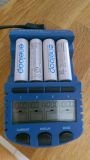 My handheld radio is a Yaesu FT-60E. I found it in the ebay market for only 35 Euro. I use it for the UHF and VHF communication on 2m and 70cm. With 5 Watts output an a separate case (FBA-25A) for rechargeable batteries, it works great for me. I am using the eneloop batteries of Panasonic in the double AA size (Mignon). These batteries you can also use for all other purposes in the household. I recharge them external with the Technoline BC-900. This one can charge the eneloops with a current of 1000mA, so it is really fast.
For digital operation i own the Hytera PD 365. With this really small unit i participate with the DMR network. My DMR ID ist the 2625091.
I also use ARPS system now (June 2015). My old Samsung Galaxy S in my car got the aprsdroid app. So i can use the same hardware as i am using for a long time. Galaxy S has a free sim card (netzclub.net) with 100MB data. You can find the car in aprs.fi with the callsign DM5SR-9. Galaxy S is also connected via bluetooth to the audio system of the car, for hands free phoning.
My only short wave TRX is at the moment the Yaesu FT-817nd. I mainly use it for portable operation QRP.
For the digimodes i have the USB Interface Yaesu SCU 17.
To be continued, i will complete the rest in the next days - Step by Step :)