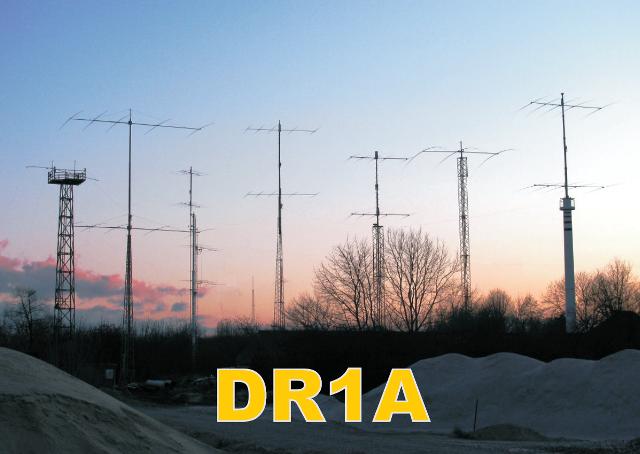 DR1A is the contest callsign of the DF0CG crew (DB6JG, DJ6ET, DJ7EG, DJ7EO, DL6FBL and friends), Deutscher Amateur Radio Club e.V. (DARC) chapter Goch, DOK L06. You can find a lot of information, pictures, videos etc. on our website http://www.dr1a.com. You can also find us on Facebook.
ALL QSOs from 2005 up till May 2013 have been confirmed over the DARC QSL bureau, whose colleagues are doing a great job. The latest batch included 40,000 cards covering around 150,000 contacts in the years 2010 thru May 2013. Those cards were handed over to the DARC bureau in June 2013, and you may expect to receive them shortly. Our QSL cards have different pictures for every year. All contacts until the end of December 2011 have also been uploaded to LotW. 2012 and 2013 will follow soon. You can also send a direct QSL request (SASE + 2USD/IRC) to:

Bernd Och, DL6FBL
Kuenzeller Str. 93
D-36043 Fulda
Germany
We are constantly improving the station for better Multi/Multi performance. We have been greatly supported in this process by DF6JC, DJ7WW, DL2OE, DL3BPC, DL3DXX, DL8DYL, DL8WPX, DL9DRA, DL9ECA, PC5A and many others. A big, big THANK YOU to all national and international supporters.
A new project is opening our RX capabilities to the public. We have set up a QS1R SDR receiver, which works together with the Skimmer Server software, and provides the decoded CW spots worldwide by feeding them to the Reverse Beacon Network (RBN). To check out which signals are decoded on the DR1A premises in almost realtime, you can either click here: (RBN website) or you can use our direct TELNET access at qth.dr1a.com port 7301 (do NOT use your Web Browser for the TELNET access (we can see from the log files that some people are trying this...). For the login, please just use your callsign.
The difference between the RBN website and direct telnet access is the quality/amount of spots to be seen. The RBN website only displays spots that have been qualified as a "CQ spot" (station is calling CQ, as identified by decoded phrases like "CQ" or "TEST"). Our direct telnet access also reveals callsigns, but even when it's not yet sure if it's really "their" frequency - or if they were just calling somebody else. That is very helpful while chasing DX-Peditions: you may quickly identify their current QSX frequency... Of course this creates a huge flood of data, but if you are able to filter it to your own desire, it may be helpful...
Please note that we are NOT using our stacked Yagis on the Skimmer, but instead our distant RX Verticals and Beverages!
Whenever you hear us in a contest, please give us a call - even if you have worked us before in the last contest! We do appreciate every contact very much. And listen closely, we are DR1A - not DL1A... :-)
73 from the DR1A team