***** DW3TRZ's LATEST WALLPAPERS *****
                                      ********************
      SKCC#16016   CQCW#486    BRF#351   IFR#342
                     ********************
          Video Courtesy of  Saitoh San JR2IUB "Take"
            ***** PSE QSL for DW3TRZ *****
* Since MAILING SYSTEM via post  at my QTH is not that RELIABLE, when sending DIRECT Please  
  E-MAIL picture(s) of your PSE QSL addressed to me with stamps on it as PROOF of POSTING/
  SENDING, I will 100% TNX QSL whether I receive your mail or not 



.
* Most AMATEURS love to collect STAMPS also, reason why I am sending TNX QSL card w/
  PAPER STAMPS or TRADITIONAL STAMPS only, but sometimes they are out-of-stock. Postal
  offices nowadays are using METERED STAMPS for convenience, so please be patient to those
  who PSE QSL...for sure you will  receive one TNX QSL.
* PSE QSL via the BURO will take some time to be handed over to me by a fellow amateur.
* If you don't find your call in the CLUBLOG LOG SEARCH, please don't hesitate to send me an e-mail
   and I will check in my paper logs...
                                     ********************
   163 Country Flags...49 US Flags...7 Canadian Regions
                 Newest Country Visitor : FRENCH POLYNESIA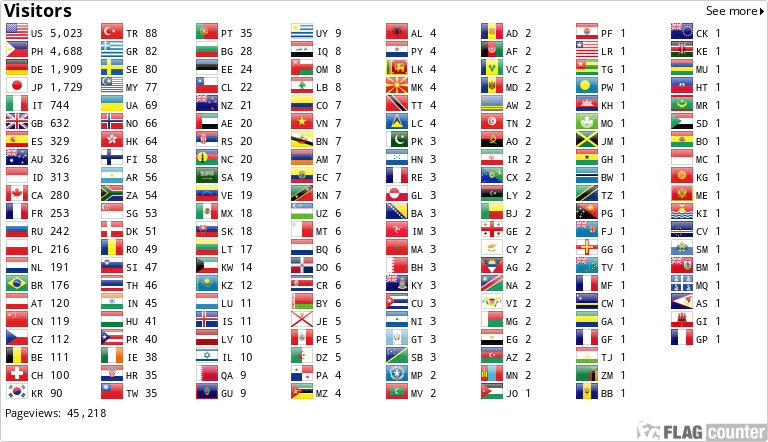 ***AMATEUR RADIO OPERATING AWARDS***
     *eAUSTRALIA  in 8 Call Areas           *eJAPAN in 10 CALL AREAS
     *eAUSTRALIA  in 9 Call Areas           *eJAPAN in 11 CALL AREAS 
                               http://www.eqsl.cc/Member.cfm
    90 YEARS OF IARU DIPLOMA on PHONE , MIX , and  40M  
           *****  HAMRADIO WORKING CONDITIONS  *****  
     Band Allocations 40M, 15M, 10M & 2M            
           ***  Works on PHONE and CW Modes Only ***
      *****   MEMBERSHIP CERTIFICATES   *****
                 & RADIO STATION LICENSES
              Thanks to Anne Dirkman KC9YL for the sponsorship... 
     " To All Admirers of a Key and Air ... "
   My Very 1st Callsign..."DU3TAZ"
           Worked abroad...travelled a while...got a family...
       then back into the hobby sometime 2014...
      As the saying goes...Once A Ham, Always A Ham...
   ***** CONTEST CERTIFICATES *****
            *** 2016 ***
                           *** 2015 *** 
   DW3TRZ started participating in the DX contest
                  September 2015...
         My very 1st Contest Certificate
                     ***************
   THERESA is fortunate enough to visit and see the wonders DOWN-UNDER Queensland and
  New South Wales in Australia, been to neighboring countries in the SOUTH-EAST ASIA
   such as Malaysia, Singapore, Hongkong and Thailand. Experienced the SAFARI and dessert life
   of the MIDDLE-EAST . Touched the SEVEN SANDS of the 7 Emirates of UAE (United Arab Emirates),
   and had a joy-ride and ARABIAN NIGHTS in Oman...   73  to all and CHEERS !!!



          Thank you for visiting my callsign page...