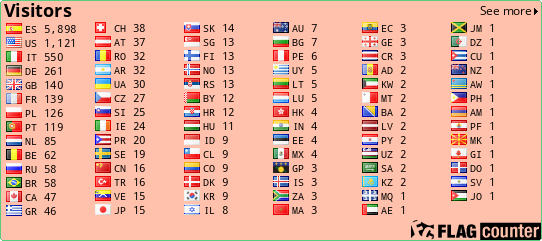 Waz 14 - ITU 34 Loc IM98SI - DME 03014 ALICANTE
I no LIke E-Qsl but if i rx any i respond but... i prefered Qsl Card on Paper TNX.
Biography for EA5FHK
Hi RadioFriends ! I'm Oficial Ham Operator from May, 29 1982.
Im active & my passion is a DXs, Contestin SSB Phone (Long Distance), Digitals Modes for example RTTY, PSK31.
My RadioShack consists in: Yaesu FT-1000MP, Kenwood TS- 450, Kenwood TS-50, Kenwood TH - 79, Icom IC-2725 VHFYaesu FT-101ZD,Amplifer Ameritrom AL - 572, Mic Heil Pro-set Plus, USB Interface II MICRO HAM ( Digital Modes, CW & CAT)
Antennas:Hy-Gain Explorer 14 (10-15-20 ) ,Cubic 2 elements 10-15-17-20-24,Tonna VHF9 elements,Diamond X-200VHF-UHF and diversus Dipoles Multibands, 80 meters,40 meters & WARC Bands, Dipole rigid 40meters.
I like the HF activities of weekend Castle, monuments, islands... Contesting specially CQWW, WPX, ARRL, and King of Spain.
My Contest:
Station grantor
* Exhibition Dollsofthe INDIA (December 01 - January 02 ) Call: ED5MDI, EF5MDI, EE5MDI
* Trophy Sculpture of Alicante (October 2000) 1º Call: ED5PTE, EF5PTE, EE5PTE
* Trophy Sculpture of Alicante (October 2001) 2ºCall: ED5STE, EF5STE, EE5STE
* Trophy Sculpture of Alicante (October 2002) 3º Call: ED5TTE, EF5TTE, EE5TTE
* Trophy Sculpture of Alicante (October 2003) 4ºCall: ED5TEA, EF5TEA, EE5TEA
* Trophy Sculpture of Alicante (October 2004) 5º Call: ED5VTE, EF5VTE, EE5VTE
* Trophy Sculpture of Alicante (October 2005) 6º Call: ED5STE, EF5STE, EE5STE
* DXpedition Tabarca Island 2002 ( Manager of the activity )
Call: ED5TII, ED5TIC, ED5TIM, ED5TIF, (alsoindicatives as: EF & EE)
* Pharaohs' Exhibition (Novenber 2004) Call: ED5AEF, EF5AEF, EE5EAF ( Manager of the activity )
* Simposium sculptures ( May - June 2005) Call: ED5SEA ( Manager of the activity )
* DXpedition Tabarca Island 2005 ( Manager of the activity )
Call: ED5TII, ED5MDT, ED5TSJ, ED5TCG, ED5PYP, ED5PSM, ED5PSR, ED5PSG, (alsoindicatives as: EF & EE)
* Trophy Towers and Fortitude of Alicante (Year 2005 - 2006) ( Manager of the activity )
31 portable activities in weekends Call: EA5FHK/P
* Exhibition " The Radio of gentle one to Internet( 2007) ( Manager of the activity ) Call: ED5REA
* Eurobasket (2007) Call: AN5EB
* Volvo Ocean Race(September - October 2008) Call: EG5SAV
* ARRL-DX SSB (March 2008) Call: AM5A Category: M/S
* CQ WPX SSB (March 2008) Call: AM5A Category: M/S
* King of Spain SSB(June 2008) Call: EA5FHK Category: S/O
* CQ WW DX (October 2008) Call: AO5B Category: M/M
* ARRL-DX SSB (March 2009) Call: AM5A Category: M/2
* CQ WPX SSB (March 2009) Call: AM5A Category: M/2
* King of Spain SSB(June 2009) Call: AO5B Category: M/M
* World Championship Formula Windsurfing 2009 (Santa Pola-Alicante) Call: AO5GWP -EG5WSP - ED5RKB
* CQ WW DX SSB (October 2009) Call: AM5A Category:M/2
* King of Spain SSB (June 2010)Call: AO5B Category: M/MCategory Cff Ca ggg444 Category:M/2
* CQ WWRTTY (September 2010) Call: AM5A Category: M/2
* CQ WW DX (October 2010) Call: AM5A Category: M/2
* ARRL-DX SSB (March 2011) Call: ED5K Category: M/2
* CQ WPX SSB (March 2011) Call: ED5K Category: M/2
* DIE Contest ( June 2011 )Call: ED5RKB
* Donations in dxpedition: SØ1R, CU5X, CU6X, CU7X, 9XØR,VK9XWW, VK9XHZ, VK9XOR, VK9XME, SØ4R
* MemberACRACB #001 Founding Associate http://acracb.com
* Member of URE #58.509 http://www.ure.es
A lot of more information in: http://acracb.com
Thank you very much for visit me, we listen to ourselves in any Ups. 73
Juan Montero - EA5FHK