READ AN ENGLISH VERSION BELOW
Estación Especial con motivo del XIIº Encuentro de Embarcaciones Tradicionales de Galicia patrocinado por la
FEDERACIÓN GALEGA POLA CULTURA MARÍTIMA E FLUVIAL.
La Federación Galega Pola Cultura Marítima e Fluvial convoca cada dos años, desde 1993, el ENCUENTRO DE EMBARCACIONES TRADICIONALES DE GALICIA entre sus asociaciones. A este evento están convidadas todas las asociaciones pertenecientes a la FGCMF y entidades afines, tanto de Galicia como de Portugal, Irlanda, Francia, País Vasco, Cataluña, Andalucía, Levante o Islas Baleares, así como particulares e instituciones de interés cultural y patrimonial.

El Encuentro consiste en una gran concentración de embarcaciones tradicionales representativas del patrimonio marítimo gallego, así como de otras zonas geográficas, acompañados de actos culturales y de ocio, jornadas de conferencias, coloquios, exposiciones, publicaciones, música y danza tradicional, artesanía, etc.

La celebración del mismo tiene por objeto principal poner de manifiesto la riqueza del patrimonio marítimo y fluvial gallego y la necesidad de conservarlo. Por otra parte, los Encuentros sirven para mostrar el trabajo en el campo de la recuperación del patrimonio hecho por las asociaciones y, al mismo tiempo, suponen una actividad de dinamización social y de ocio, convirtiéndose en una fiesta atractiva para los ciudadanos y visitantes de la villa que acoge el Encuentro.

Los Encuentros dinamizan sectores como la carpintería de ribera, la velería, los efectos navales, artesania... pero, sobre todo, en la medida en que se está a proteger, conservar y divulgar el Patrimonio Marítimo Gallego, se potencian los atractivos turísticos de las comunidades ribereñas, ayudando a un turismo sostenible, tal y como recomiendan los diversos proyectos en marcha de la Unión Europea y el reciente manifiesto mundial de los museos con motivo de la celebración del Día Mundial de los Museos.
Actividad llevada a cabo por ASORAPA - ASOCIACIÓN DE RADIOAFICIONADOS DE PADRÓN Y TODOS AQUELLOS RADIOAFICIONADOS QUE QUISIERON ACERCARSE A OPERAR LA ESTACIÓN
Operadores que han participado:
EA1CVP - EA1ET - EA1GHH - EA1HDB - EA1IJF - EA1IME - EA1NH - EA1RD - EB1IMQ - EC1CSV - EC1DJ
La Edición "XII Encontros de Embarcacións Tradicionais de Galicia" se desarrolló durante los días 9, 10, 11 y 12 de Julio en Cabo de Cruz, municipio de Boiro (A Coruña), poniendo en el aire varias referencias: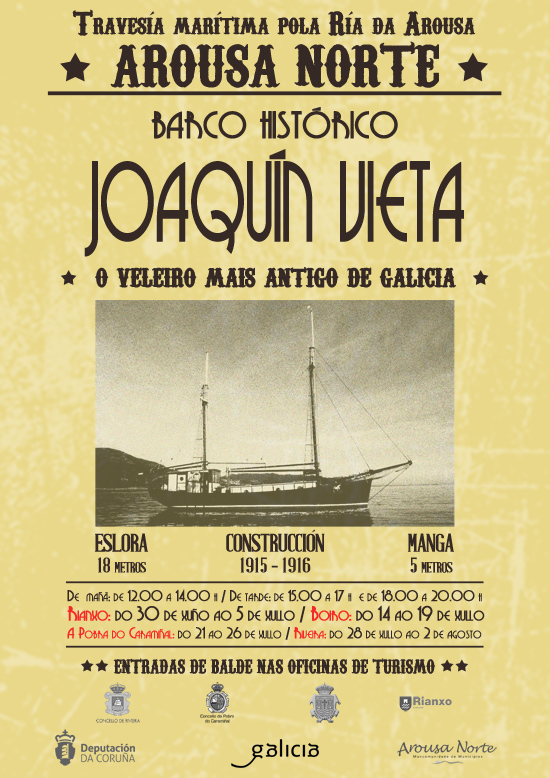 GRID LOCATOR : IN52NO - IN52NO - IN52NO - IN52NO 
EG1ETG (ubicada en el puerto) 9, 10, 11 y 12 de Julio
Diploma Municipios Españoles: DME: 15.011 - BOIRO
Diploma Comarcas Galegas: CG-002 – BARBANZA
Diploma de Puertos Náuticos: PN-C?? (Club Náutico Boiro)
EG1ETG/MM

Balandro "JOAQUIN VIETA", construído en 1916. (Amarrada a puerto y navegando)
 
IMPORTANTE:
QSL VIA EA1RCI  - buró o directa a:
Costanilla del Carmen, s/n - 15900 Padrón (A CORUÑA) ESPAÑA
Por favor, NO eQSL.Todas las tarjetas serán enviadas vía BURO siempre que sea posible.
Las QSL´s recibidas DIRECTAS sin sobre auto-dirigido y franqueo suficiente, SERÁN RESPONDIDAS, en todo caso, por buró. 
--------------------------------------------------------------------------------------------------------------------------------------------------------------------------------------------------------------------------------------------------------------------------------
ENGLISH VERSION:
Special Event Station on the air during the XII Galician Traditional Boats Festival sponsored by:
The Federación Galega Pola Cultura Marítima e Fluvial organises every two years, since 1993, the Encontros (meeting) of Galician Traditional Boats among their associations. All the associations belonging to the FGCMF and related entities, both Galicia and Portugal, Ireland, France, Basque country, Catalonia, Andalucia, Levante and Balearic Islands, as well as individual and cultural and heritage institutions are invited to that event.

The meeting consists of a large concentration of traditional boats representing the Galician maritime heritage, as well as other geographical areas, accompanied by cultural events and spare time activities, days of conferences, colloquia, exhibitions, publications, music and traditional dance, crafts, etc..

The celebration of the same aims main to reveal the richness of the Galician maritime and fluvial heritage and the need to preserve it. On the other hand, meetings serve to show the work in the field of the recovery of the heritage made by the associations and at the same time, represent a dynamic social and leisure activity becoming an attractive festival for native people and visitors to the village which hosts the meeting.

Encontros matches dynamic sectors such as the carpentry of shore, sail manufacturing, the chandlers, crafts... but, above all, insofar as it is to protect, preserve and disseminate the Galician maritime heritage, are magnified the tourist attractions of the coastal communities, helping to sustainable tourism, as recommended by various projects underway in the European Union and the recent world manifesto of the museums on the occasion of the celebration of the world day of museums.
Activity developed by RADIO CLUB ASORAPA AND OTHER HAM VOLUNTEERS.
Operators who have supported the Festival:
EA1CVP - EA1ET - EA1GHH - EA1HDB - EA1IJF - EA1IME - EA1NH - EA1RD - EB1IMQ - EC1CSV - EC1DJ
This new edition, the "XII Galician Traditional Boats Festival", took place from 9th to 12th of July, 2015 at the port of Cabo de Cruz, Boiro (A Coruña), putting on the air several Award references:
GRID LOCATOR : IN52NO - IN52NO - IN52NO - IN52NO 
EG1ETG (located at the Meeting Point - Docks) 
Spanish Municipalities Award: DME: 15.011- BOIRO
Galician Counties Award: CG-002 (BARBANZA)
Nautical Ports Award: PN-C?? (Marina Club Boiro)
EG1ETG / MM
-Sail boat "JOAQUIN VIETA",  built in 1916 (Tied to port and sailing)
ATENTION:
QSL VIA EA1RCI  - bureau or direct to:
ASORAPA - EA1RCI
Costanilla del Carmen, s/n - 15900 Padrón (A CORUÑA)
SPAIN
Please, NO eQSL. All Cards will be sent via BURO when available.
REQUESTED DIRECT QSL´s without S.A.S.E  WILL BE ANSWERED VIA BUREAU.
NOTAS:
-En el stand de operaciones, se habilitó una pequeña muestra de viejos receptores a válvulas, así como transceptores de comunicaciones y salvamento marítimo, cedidos por particulares y por el Radio Club ASORAPA de Padrón.
A su vez, se ofrecía al público información sobre nuestra actividad, los equipos expuestos y las asociaciones a las que pertenecemos.
El último paso para completar esta actividad de radio y promoción cultural, será el envío de la QSL.
Esta servirá como soporte para divulgar este "XII Encontro de Embarcacións Tradicionais"
Queremos agradecer desde aquí a la Federación Gallega pola Cultura Marítimo y Fluvial (FGCMF), a la Asociación Cultural e de Tradicións Mariñeiras "GAMELA" de Cabo de Cruz  a los propietarios y tripulación del balandro Joaquín Vieta, y al Exmo.Concello de Boiro, organizadores de este décimo segundo Encuentro, por la oportunidad de dar a conocer nuestra afición en un evento como este, y a todos los que ayudaron de un modo u otro para poder realizar esta actividad, que no podría haberse llevado a cabo sin la implicación de distintos socios de ASORAPA y amigos radioaficionados de distintos puntos del país, así como de URE con su servicio de bureau. Pero sobre todo gracias a quienes nos siguieron, muy especialmente a las estaciones que lo intentaron y no consiguieron el QSO, sin olvidar aquellos que nos visitaron en el stand.