Yes, I am not an Irishman by birth but they still welcome me in this wonderful country.  I've been coming mostly in summers since 1975 and moved here for good in 2008--Endstation for me, I hope.  This part of Ireland anyway is the most scenic place I've ever been, and the people here accept you as you are.  If you've never been, you need to try and come someday to the emerald isle.
I am a latecomer to amateur radio but have listened and been captivated by the sounds of a distant radio voice since my childhood.  This hobby is the best, and I have met the most fascinating people through it.  I enjoy a good rag-chew but CW is what I strive for.  Please be patient if I have trouble sending or receiving.
I regularly upload my log to the ARRL's LoTW which hopefully will satisfy most needs for confirmation of a contact. If you would like a paper QSL, I'm happy to exchange QSL cards via the bureau. If you want my card direct, send your card to me at the address shown above along with a self-addressed envelope--there is no need to send any payment. Please don't send eQSL or QRZ Log confirmations as I use only LoTW for non-paper confirmations.
My Worked all Ireland zone is W02 Cork and my FISTS number is 14016.
MNI TNX FER QSO OB HPE TO CUAGN.
73 de Tim Ei2KA
Visitors from top 12 countries since October 2009: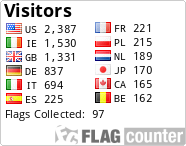 Here are a few Kilo Alphas that I've worked along the way (I've only heard KDKA Pittsburgh, claimed to be the world's first commercially licensed radio broadcast station):