EI2KC QSL policy
LoTW: Very regular uploads. Usually every day that I'm active. My most preferred method of QSLing.
eQSL: Regular uploads. Approx. once a month. I like eQSL also.
Bureau: Due to being exceptionally busy I only reply to bureau cards ONCE A YEAR AT MOST. I receive hundreds of cards every two months from the bureau. Many of these are duplicates for the same band and mode. I simply don't have the time to process this volume. Please use LoTW if possible. I also like eQSL. If you really need a card, try direct. I love the hobby, and I love getting cards, but due to volume I am regrettably unable to process and reply to these except occasionally. There is life outside the radio shack!! (Heresy, I know 

)
QRZ.com: I DO NOT use the QRZ.com logbook. If you really really really really really need a confirmation by this method, send me an email. But I don't use it as a rule. Life is simply too short to be on the air for ten minutes a day and then trying to QSL using seven hundred different methods afterwards! 

 (You know I'm right! PS: Have I told you about ARRL's Logbook of the World (LoTW)? Your QSLs on that service count towards DXCC awards and are 100% official. 

)
ABOUT EI2KC
I have been interested in radio since I was young. My first encounter with radio, apart from the commercial FM band and RTE Radio 1 on medium wave, was listening to the control tower at Dublin Airport in the 1980s. My brother became active on 11 metres and I soon became fascinated by radio propagation and later followed him onto this band. He became licenced as a ham in the early 1990s and due to lack of confidence in my mathematical abilities I never thought I would be able to pass the ham test. In the intervening years I have been an avid short wave listener and have listened to the ham bands and aeronautical HF activity for a long time. Finally I plucked up the courage to study for the licence and got my original callsign (EI8GHB) on October 30th 2009 after passing the HAREC test in Ireland. I am primarily interested in HF DX but also operate on VHF (6m, 4m and 2m, including Echolink), and also 70cm. I run a popular blog about Ham Radio in Ireland -http:/hamradioireland.blogspot.com (Pictured right).
After passing the morse test in February 2010 I upgraded my callsign from a 'B Call' to an 'A call' and was given EI2KC on March 5th, which is much easier to send in CW hi hi !! I am a member of the Dundalk Amateur Radio Society EI7DAR which celebrated its 40th anniversary in 2009. I am also a member of the club's contest team, EI0W, although I am not hugely interested in contesting. I write the "HF Happenings" column in Echo Ireland, the magazine of the Irish Radio Transmitters' Society which is distributed to all IRTS members in Ireland, and I am the IRTS social media coordinator.
MAIN INTERESTS: By far my favourite aspect of amateur radio is DXing and DX hunting. I like working All-Time New Ones (ATNOs), and have managed to work 314 countries despite having a small garden and limited antennas. I am a big fan of CW, but also dabble in PSK and RTTY, and sometimes JT65, and can regularly be found on SSB too. I am fascinated by propagation, and figuring out the best times to work various parts of the world. I dabble in contesting, but due to family commitments I am not a big contester. I make a lot of videos about amateur radio (see further down the page) and also run the blog. When I am not on HF, I enjoy rag chewing on 2 metres with the local hams. I enjoy regular visits to the EI7DAR clubhouse in Dundalk. On regular occasions, I like to do some mobile/portable HF work. I like to operate PSK from the car (while parked, not driving, of course!) and recently I have enjoyed QRP operation on 20 metres. I like to make morse paddles, although this is not a serious pursuit for me. I also occasionally operate a straight key - I am a member of SKCC (#11904).
Below left is my main shack. On right is the front of my old QSL card for EI2KC showing Mellifont Abbey. See QSL info below.
QSL INFO: I much prefer ARRL's Logbook of the World (LoTW) for QSL over any other method. If you send me a QSL card direct I would appreciate one dollar or one euro for postage to Europe and two dollars or two euro for the rest of the world. Direct cards with no return postage will be sent back via the bureau, sorry. but I have five kids and cannot fund my radio hobby HI HI ! I am snowed under with QSL cards via the bureau and would ask that you should only send me a card if you need EI on a particular band/slot/mode, thanks. I am a big fan of eQSL and would like your AG eQSL if possible.
QSL Notice: Due to a high volume of cards, and a busy life, I will only be delivering outgoing cards to the EI bureau ONCE A YEAR.
QSL Notice: IRCs are NOT accepted in Ireland. Therefore, please send 2 US Dollars for direct QSLs, thanks. QSLs sent with IRC will be returned via bureau.
NEED A SKED?: I am available for a sked if you need one. I'd be glad to help with any request, whether it be CW, SSB, RTTY, PSK. Just drop me an email at hamradioireland@gmail.com and we will make a sked. See you on the bands!
THE SHACK: The main HF rig is the Icom IC-756PRO (lit up, left), and my main VHF rig is an Icom IC-746 mostly for 6m 2m multimode. I used to use the Yaesu FT-1000MP (photo on left), but I find the receive on the Icom far superior so I sold the MP. I have an Icom 706MkII which I am currently using for mobile/portable HF and 6m work. I have an Acom 1000 linear also. I also have a CRT 2M-1 for 2 metres, and in my auxiliary shack (bedroom) I use the FT-897 and a 10m attic dipole for HF and I have the Yaesu FT-2500M for 2m and an old Icom IC-735 which belonged to Fr Pat EI5DA which I use for listening. And for portable work I have several Baofeng and Waccom handheld transceivers. These are cheap but excellent handheld radios imported from Hong Kong. I also have a Kenwood TM71E dual band transceiver in the car for mobile 2m/70cm operation. On HF I am QRV on all bands except top band. I operate 2m multimode, 4m FM and 70cm FM.
ANTENNAS: The antenna array at my QTH is restricted due to the fact that my garden is just over 10m long and about 7m wide. Plus there is an extension which takes up a good portion of that space! For the low bands, I have nested inverted Vs for 30 metres, 40 metres and 80 metres. The 80 metre dipole is dog-legged to fit around the garden and is only 30ft at the apex. My main HF antenna for the first two years of operation was a 6-band Butternut vertical for 80m, 40m, 20m, 17m, 15m, 12m and 10m and I also have an Antron 99 which I use for 15m, 12m and 10m also. 
HEXBEAM:In September 2012 I installed a secondhand hexbeam antenna covering the five bands from 20m through 10m. It replaced an old Cushcraft MA5M minibeam which had performed wonderfully for me but which had limited gain. I hope to enjoy working you with the hexbeam, which is only 10 metres off the ground. So far it has performed brilliantly, and as of October 2015 my total DXCC worked is 314.
Above is one of my junior ops, Luke, who has taken an interest in amateur radio. He is only 13 years old. If you hear him on the mic, please do give him some encouragement! On right is my antenna farm beneath the stars of the Milky Way. Below left is my antenna farm! On the very upper left of the photo is the back wall of my house, on top of which you can just about make out the 6m beam. The extension contains my shack, above which sits the hexbeam attached to the end wall. Beyond that, on the back wall of the garden, is the Butternut vertical, and in the right hand rear corner of the garden is the pole supporting my 30m, 40m and 80m inverted Vees, the legs of which are perpendicular to each other due to lack of space! The garden is just 10m (35ft) long. That hasn't stopped me working some great DX and that's one of the great challenges of working from such confined space. As of December 2014 I have worked 309 DXCC (licenced Oct 29th 2009). Below right is a photo of me in the shack in 2010 working a pile-up on 6m which is a band I enjoy working on during the summer months. (Hence the short-sleeve shirt HI)
Pictures above show: (Left): The shack in 2011; (centre) me operating EI7DAR special event, June 2009; (right): The shack in 2010.
(Left): Tony EI4DIB and Jim EI2HJB installing my 6m and 2m beams; (centre) me fixing the MA5B, my first beam!; (right) The shack in 2010.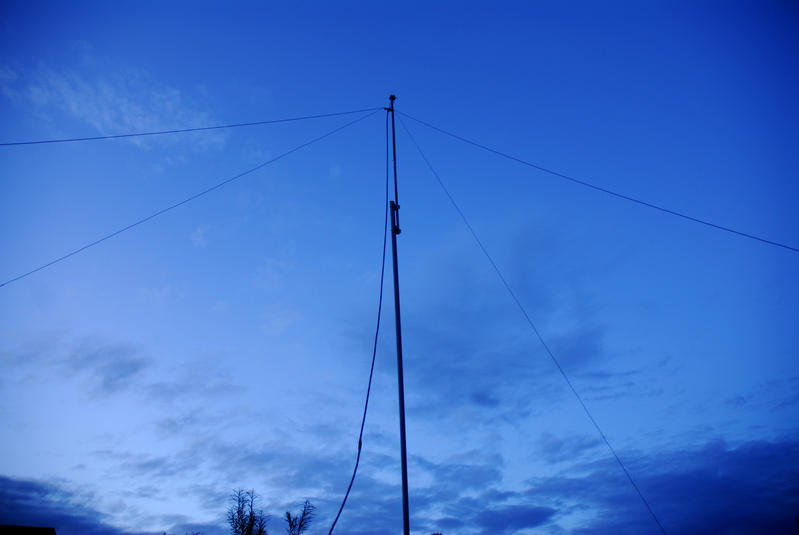 (Left): My inverted vees for 30m and 40m. (centre): The Icom IC-746; (right): The VHF array.
(Left):I'd be lost without these guys (and others), who help put up my antennas, Thos EI2JD, Pat EI2HX and Tony EI4DIB;
(Centre): Me with some of Ireland's top DXers, Ark EI9KC, Don EI6IL and Thos EI2JD; (Right) At Newgrange with the film crew from The History Channel.
(Left):The shack in 2011 before the shelving went in; (centre): my old MA5B under the stars; (right) my first shack in October 2009 when first licenced as EI8GHB;
EJ7NET DXPEDITION TO INIS MÓR (ARAN ISLANDS) IOTA EU-006 2013:
In May 2013 I was invited to activate Inis Mór on the Aran Islands with the EJ7NET Westnet DX Group. It was a great pleasure to take part in my very first IOTA activation and dxpedition. Above left is the QSL card and the group shot, taken at the end of the activation. In centre is me operating CW, while on right you can see our ground plane antennas and the lovely QTH we worked from. QSL via HB9ASZ. Thanks to Declan EI6FR for the invite!
EJ7NET DXPEDITION TO CAPE CLEAR ISLAND IOTA EU-121 2014:
In July 2014 I was back in action with the EJ7NET IOTA team, this time on Cape Clear Island (EU-121), off the southern coast of County Cork. Above you can see (left) the QSL card for the dxpedition, designed by me, with my photography too. In centre are some of the antennas at our QTH and on right you can see me operating CW. The island is the most southerly "part" of Ireland. You cannot get any further south and still say you're in Ireland. Next stop Spain!!!
EJ7NET DXPEDITION TO GOLA ISLAND IOTA EU-121 2015:
In August 2015 I went to Gola Island, Co. Donegal, with EJ7NET. That was the best trip I've had with them so far. We made 4,500 QSOs and had good runs on most bands. The QTH was fantastic, close to the ocean, with lovely views looking back towards Mount Errigal in Donegal on the mainland. Below is the front of the QSL card (left), me operating CW (centre) and (right) the team: EI2KC, Rolf HB9DGV, Gordon GM7WCO, Liam EI7DSB, Tony EI3HA and Declan EI6FR.
HOME-BREW EI2KC HACKSAW BLADE MORSE KEYS:
Many hams enjoy a bit of "home-brew", or construction. I do not have the dexterity, the knowledge or the patience, for building radios or amplifiers. However, being a big fan of CW, I have dipped into making some home-brew hacksaw blade Morse paddles. I have made several with miniature hacksaw blades, but have recently made some paddles with larger hacksaw blades. These work very well. They are made from materials either purchased, donated, or found lying around the shack. The Mark I was excellent, but was not altogether cosmetically perfect, so I made a Mark II version which had an improved contact support mechanism and looks nicer and cleaner. You can see them both in the photos above. The Mark II version is on the left, being held in my hand. In the picture on the right, the Mark II is on the left, and the Mark I is to the right.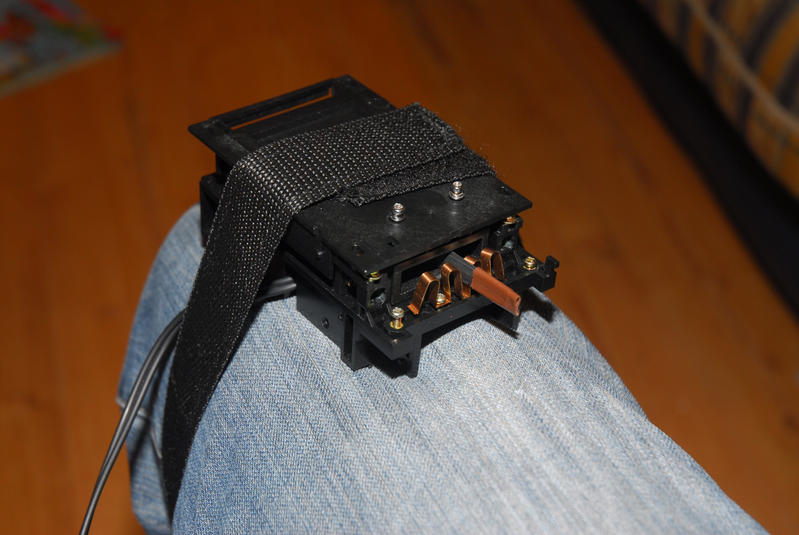 Some previous home-brew morse paddles that I made. On left is my leg-strapped mini hacksaw blade paddle. This proved a bit flimsy and was eventually scrapped. On the right is my first effort at a mini hacksaw blade key, back in 2010. Several improvements were made to that design. Another variation of the mini hacksaw blade design can be seen in the video below left. The video in the centre shows a contact with another vartiation. And on right is a video of the new Mark II key being tested.
CONTESTING: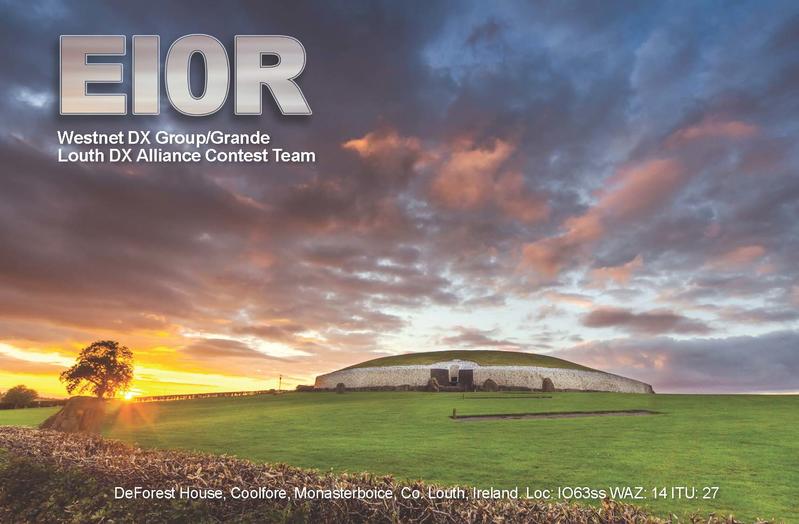 I enjoy a limited amount of contesting - limited mainly because of other commitments. I have enjoyed taking part in many contests, but in particular CQWW (CW and SSB), ARRL, and some of the IRTS contests, among others. I was introduced to contesting by Thos EI2JD and the EI0W team. More recently, I'm a member of the Westnet DX Group and Grande Louth DX Alliance Contest Team. Our first outing was in the CQWW 160 contest in January of 2016 as EI0R. Participants were Declan EI6FR, Doug EI2CN, Brendan EI6IZ and me. I look forward to more contest activity with this team. The EI0R QSL card is shown on right. The photo is that I took one of the Newgrange monument. I hope you like it.
VIDEO AND FILMS:
Above right is a short film made by Tony Flynn called "Radio Waves". It's a film about amateur radio in Ireland, featuring Thos EI2JD and me. The video on the left shows me running a  pile-up on 40 metres for the EJ7NET activation of Gola Island in August 2015. I have made a number of videos featuring aspects of amateur radio which can be found among lots of other stuff on my YouTube channel.
MY
BOOKS: A lot of hams have asked me to say a little about my books. Well, here goes. They've got nothing to do with amateur radio by the way!! In 1999 I met the artist Richard Moore and we soon discovered we shared a huge interest in the 5,000-year-old Stone Age monuments of the Boyne Valley (including Newgrange, Knowth and Dowth). We spent the next eight years together researching the apparent complex cosmology underlying the construction of these huge monuments, some of which were built long before Stonehenge and the Pyramids. The resulting publication, entitled 'Island of the Setting Sun - In Search of Ireland's Ancient Astronomers', became an instant hit with everyone and anyone who had an interest in archaeology, astronomy, mythology, etymology, Irish culture and lots more, and sold out in a year. It has since been republished as a revised, expanded edition in 2008. We have been featured on many TV films and documentaries and radio shows. The book is available to buy on Amazon.com and Amazon.co.uk. Second-hand first editions have been fetching 200 euros and more.
While the prevailing view among academics holds that Newgrange is merely a tomb, used to bury the dead, it is clear that the monument, and many of the other monuments from that period, represent a grand endeavour to unite heaven and earth, as if they were the expression of some cosmic ideal which held that everything that happened on the earth was governed by everything that happened in the sky. Some monuments are aligned precisely on the solstices and equinoxes, others on the old pre-Celtic "cross-quarter" dates. Others still commemorate some significant star or constellation rising. Ultimately, the people who built them believed in an afterlife among the stars, in an ancient Irish heaven which was known under different names - Tír na nÓg (Land of Youth), Mag Mell (The Plain of Happiness) and Tír na mBeo (Land of the Ever Living Ones). In time, I hope to write a novel which would incorporate much of this cosmology, which is really a happy union of science and spirituality. Here is a quote from the preface to the second edition of Island of the Setting Sun:
Today, we who are the descendants of these people have only the barest understanding of their knowledge and capabilities. Our own cosmic view is concealed by the trappings of modern life, and by the pollution which obscures the heavens from our eyes. Now, only in our dreams is it possible to envision their wonderfully dark skies. Despite our apparent technological mastery, we are still reduced to humility by their achievements.
My second book, called 'Newgrange - Monument to Immortality', was published by The Liffey Press in November 2012 and is currently selling well. It is available on Amazon.com and in all good bookshops. Many people who visit the ancient and magnificent Newgrange monument in the Boyne Valley are driven by some deep longing to connect with their most distant roots. The giant 5,000-year-old megalithic construction evokes awe and wonderment, and a keen sense of melancholy for the community of people who created and fashioned it from stone and earth in the remote past, a people now lost to time. For the past three centuries, archaeologists, antiquarians, writers and researchers have been probing Newgrange in the hope of revealing something about its purpose, and something about the mysterious people of the New Stone Age who created giant structures using primitive technology. What has become clear from these investigations is that Newgrange is a uniquely special place, and that its construction was carried out not by a grizzly mob of grunting barbarians, but rather by an advanced agrarian community who had developed keen skills in the sciences of astronomy, engineering and architecture. In Newgrange: Monument to Immortality, writer and researcher Anthony Murphy goes deep into the mind and soul of his neolithic ancestors to attempt to draw forth some answers to these questions. In a deeply moving, poetic and philosophical exploration, he looks beyond the archaeology and the astronomy to reveal a much more profound and sacred vision of the very spirit of the people who were driven to such marvellous and wondrous efforts.
MY WEBSITES:On left is a photo of the world-famous Stone Age monument Newgrange, which is located about 5 miles from my QTH. This photo shows a faint green aurora borealis behind Newgrange so I like to think that this image combines my interest in ancient Ireland with my interest in radio. That was the image that was used on the cover of my Newgrange book.I also run some popular websites about ancient Ireland:
http:/www.mythicalireland.com / http:/www.newgrangeireland.com / http://landoftheeverlivingones.blogspot.ie/
ANTHONY EI2KC's NEW BOOK 'LAND OF THE EVER-LIVING ONES' AVAILABLE ON AMAZON KINDLE
My new book, and my first work of fiction, called 'Land of the Ever-Living Ones', has just been published on Amazon Kindle, and is also available in print. It is my first foray into the world of fiction, and is a novella which draws on ancient Irish wisdom and spirituality. It has received wonderful reviews. If you would like to purchase and download the Kindle edition of Land of the Ever-Living Ones, visit the book's Amazon Kindle download page. You can read the reviews here and here.
You can also purchase a printed copy of the book at this link:http://www.mythicalireland.com/landoftheeverlivingones/land-of-the-ever-living-ones.html
Here is a synopsis of the book: Land of the Ever Living Ones is an extraordinary dialogue between an old man and a young boy that reaches into cosmic and spiritual realms. In one fireside conversation, they sweep the universe with discussion about many different things, including natural phenomena, the mysteries of life and the question of what happens to us when we die. The old man (sean-draoi) has gained much knowledge and wisdom during his life, and readily imparts it to the eager young boy, who is full of questions.
Tír na mBeo (Land of the Ever-Living Ones) was an ancient Irish name for the otherworld, the place to which the soul was believed to have gone after death. In this wide-ranging conversation, the man takes the boy on a journey into his own ancestral past, and through lesson, metaphor, story and dream, creates for him a stunning insight into his spiritual existence and his quest for eternity. The journey is a magical and powerful one, evoking both ecstasy and melancholy, for lost ancestors, for the frailties of mankind, and for the sometimes harsh lessons of worldly life. However, it is an optimistic tale, one that stirs up great hope for the eventual destiny of the boy, and for all his kin.
You can hear an interview I did on LMFM radio about the new novel here:
In 2017, my fifth book and third work of non-fiction, entitled 'Mythical Ireland: New Light on the Ancient Past', was published. It is the product of about four years of writing and is very richly adorned with my colour photography. The book is available through my website www.mythicalireland.com, through Amazon.com and in all good book shops.
My hobbies include: Writing, internet/computers, photography, video and film making, astronomy, music (I am the solo euphonium player with Drogheda Brass Band, champions of Ireland SIX years running 2007-2012!), and I have a huge interest in ancient Ireland. Below is a video of me playing a duet:
In addition to playing the euphonium, I am also the conductor of the Drogheda Youth Brass Band. The band won the South of Ireland Band Championships Junior section on our first outing to that contest in July 2015. Below is a video of one of the pieces they played with me conducting. It's called "Invention":
OTHER INTERESTS: I am a keen amateur photographer, specialising in landscapes and monuments. My work has been featured in my books and on many websites and social media sites. I have been taking photographs for over 20 years and am always seeking to improve my skills. The monuments of the Boyne Valley provide much material for this hobby. This photo was taken while on a radio trip to Tory Island, nine miles off the Donegal coast in the Atlantic Ocean, with the EJ7NET team:
You can view my photographs on several sites:
https://www.facebook.com/mythicalireland/
https://www.flickr.com/photos/mythicalireland/
https://500px.com/mythicalireland
WORK / FAMILY: In my professional I am a newspaper journalist of over 20 years. I am currently working as a sub editor and graphic designer for the Irish Farmers Journal and The Irish Field newspapers. I was formerly the Editor of the Drogheda Leader newspaper and also the Dundalk Democrat. I am married to Ann, who has shown great forebearance in accepting my multiple hobbies!! We have five beautiful children, Amy, Luke, Josh, Tara and Finn, who are all remarkable in their own individual way, and great fun to be around!