I'm F4DXV,  JérOmE  
  from JN04iu,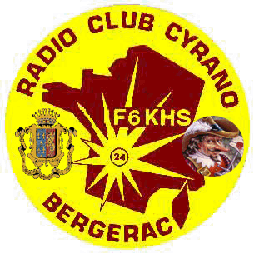 I'm interesting by the radio since more than 22 years ago now. Active on ham bands since September 2002 on HF, 50, VHF, UHF but mostly on Satellites. I enjoy very much also the portable activity because I'm living in a deep of the "Dordogne" river valley at LALINDE (24) with hills arround & also heavy electrical noise level from power lines, factories & houses very close to my antennas.
My SAT setup:  YAESU FT-847 + MD-100 + X-QUAD VHF 2x 10elts (V-H-RHCP-LHCP), LNA MVV-2 & LPF-144 + X-QUAD UHF 2x 21elts (RHCP fix) & LNA MINI-70 & LPF-432.
Manual tracking (doppler & directions) with small TV rotors for azimut & modified STOLLE for elevation. Cleared for "DX" SAT only from N-West to South direction (NA to Africa) for me with a minimum of 2.0° elevation at my best direction, for others need many more (~10/12°) due of hills, trees, houses.  
Portable SAT setup: YAESU FT-847 (2,5-25W) + UV-74 cross YAGI with an 10 years old used 60Ah car battery or LiPo 9Ah! For "extreme" qso on very low pass, i'm using home-made dualband V/U cross Yagi "DK7ZB" design with 2m boom length mounted on a camera tripod.
Pedestrian SAT setup:  YAESU FT-817s (0,5-5W) + ARROW II 10WBP + headset mike
I found an excellent spot in "JN05" grid with perfect horizon for Center/NA directions. Located very close to the 45th North parallel line with a deep for NA below horizon, at only 30 min from my home QTH ! 
I use LoTW for SAT QSLing. Pse note that I record all my contacts as F4DXV only (even if I was /P, /M on air) because if not so much confusion and unfortunately so many not matched qso ! 
Paper QSL card only for Satellite QSO Pse. For any QSL received via buro or direct without SAE+$, I'll send mine via GlobalQSL (Pse be patient for delivry time) because i'm not member of the French buro for dispatch
Since 2002, I had the pleasure to worked over than 100 DXCC & 500 grids with an AMSAT World Record distance QSO, and this on 27 differents (voice transponders) SATELLITES:  A0-7 A&B, UO-14, RS-15, FO-20, FO-29, AO-27, AO-40, SO-50, AO-51, VO-52, SO-67, HO-68, AO-73, ISS repeater, EO-79, AO-85, LO-87, UKube-1, EO-88, Chineese XW-2A, 2B, 2C, 2D, 2E, 2F & 2H, BY-70 & hope soon on new sat !   
Since 2016 , date of my come back on satellite, i worked 72 DXCC & 386 grids on LEO's sat !
My farthest QSOs Thank you all friends for these awesome QSOs on "birds"!
AO-7B: AL7RS (AP65tg: 7710km!);           FO-29: KG5CCI (EM35if: 7608,1km! #1 AMSAT WR!) 
AO-7B: KG5CCI (EM34st/JN04iu: 7597km!); PV8DX (FJ92pt/JN04iu: 7578km! & JN05ha: 7576km!)
FO-29: KG5CCI (EM34st/JN05ha: 7588km! #3 best WR QRB); KO4MA (EL88pg/JN04iu: 7354km!)
Hope to see you soon on "birds",   73's  Jérôme F4DXV