Hi,  I'm Jérome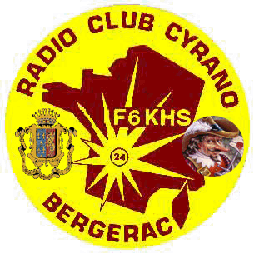 Interesting by the radio since 1995 and on air as F4DXV (HF to SHF) since 2002, but mostly on Satellites ! I enjoy also the /P activity because I'm living in a valley at LALINDE (24) in SW of FRANCE with heavy local electric QRM & urban noise.
HF/50/70 setup: ICOM IC-7300 with full size vertical Delta-Loop (40m), Center-Feed 2x31m (160-10m), vertical ant (40-10m), 6m J-pole, dual-band YAGI 4+4elts 50/70mhz
      
My SAT setup: YAESU FT-847 (2,5-50W) + X-QUAD VHF 10elts (V-H-RHCP-LHCP) & X-QUAD UHF 21elts (RHCP fixed) + 2m&70cm LNA, manual tracking (doppler, AZ & EL)
Cleared for "DX SAT" only at NW to South (NA to AF) with ~2.0° elv min at my best direction (West), for others directions need more until ~12° elv due of local hills
Portable setup: YAESU FT-847 (2,5-25W) on LiPo 3s 12V battery + "ALASKAN" ARROW
Pedestrian setup: YAESU FT-817s (0,5-5W) + ARROW II + LiPo battery & Headset/Mike
I've operated since 2016 on Satellite rover: IN93, IN94, IN95, JN03, JN04, JN05, JN14
My next SAT rover plans should be for next the spring 2018: JN06, JN15, JN16. Maybe JN07 during hamfest travels. And then my biggest rover next summer 2018 during my Italian holidays travel: ~10 grids & 4 DXCC ( F, 3A, I, T7 ) !!!
I use LoTW for SAT QSLing. I record all my contacts as F4DXV only (even if I was /P on air) because so much confusion unfortunately and many QSO were not matched
I have some excellents spots for trying some nice AMSAT qso until the limits of the satellite coverage. So if you're interrested, please contact me for a schedule plan.
Since 2002, I have been worked over 100 DXCC on 29 differents SAT: A0-7 A&B, UO-14, RS-15, FO-20, FO-29, AO-27, AO-40, SO-50, AO-51, VO-52, SO-67, HO-68, AO-73, ISS, EO-79, AO-85, LO-87, UKube-1, EO-88, XW-2A, 2B, 2C, 2D, 2E, 2F, 2H, BY-70, CAS-4A &B
Since my come back in 2016, I worked 82 DXCC on LEO's SAT (52 confirmed LoTW)
My farthest "SAT" QSO's 
AO-7B: NJ7H (EM04rr/JN05ha: 8003,2km !)                
NJ7H (EM15en: 7880km!) with 5w & Arrow antennas on both sides !!!
AL7RS (AP65tg: 7710km!); KG5CCI (EM34st: 7597km!); PV8DX (FJ92pt: 7578km!)
FO-29: KG5CCI (EM35if/JN05ha: 7608,1km !  (AMSAT WR !)
KG5CCI (EM34st: 7588km!) with Arrow antennas on both sides !!!
Paper QSL card only for Satellite QSO Pse. For any QSL received via buro or direct without SAE+$, I'll send mine via GlobalQSL (Pse be patient for delivry time) because i'm not member of the French buro for sending
See you soon ,  
    73's Jérôme