73  turns  since April 22th, 2014
I arrived in this world in 1941.
My father was a tailor and my mother was taking care of me.
We lived in Sicily, in the town of LERCARA FRIDDI, in between Palermo and Agrigento (Temples valley)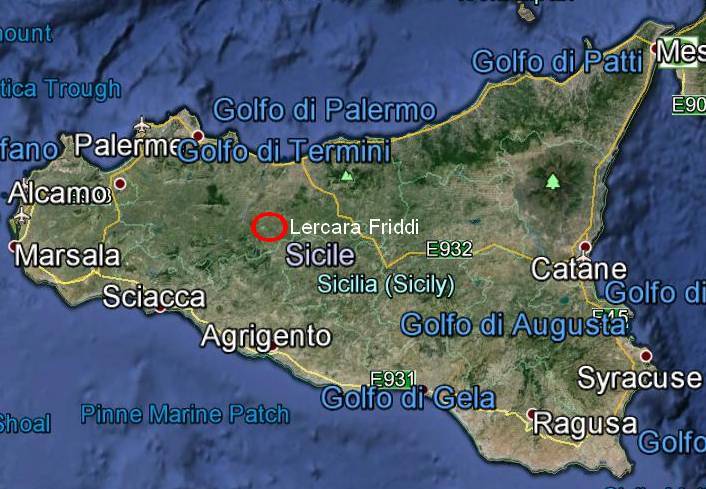 Area especially dedicated to agriculture with few sulfure mines which exploitation stopped quite a long time ago.
After the war, in 1947, the family landed in Piémont in a small town : CHIERI, not very far from Turin.
It was then time for school and attendance to the patronage of parish. It was there that I was reading  a periodical for teenagers: Il Vittorioso.
One day, an article dealing with radioamator stations in US with pictures and descriptions grab my attention.
The virus was entering in my system!
Of course this was only a dream but as soon as there were something to read about radio I was interested.
This is only after my return in the native land that the brain wave occured. While continuing studies, I began to listen to short waves with the family radio device.
At home, we had a beautiful radio set GELOSO with not less than 5 short waves bands, apart from Medium waves.
I was listening to the broadcasts from the whole world because, to make well, my father had installed an antenna, simply a wire of about twenty meters long which linked the post and was route on a terrace where it was hung on the top of a pole.
Trying to understand other languages was already an adventure !
'Ici Paris... la Tour Eiffel.." the marine radiotelephonic service from ROMA radio..
The VOA (voice of America)... Radio Beijing... National radio from Spain...
I had a preference for French language because I studied it at  high school.
I remember myself of an early morning broadcast from Radio Monte-Carlo.
During almost one hour listening only  accordion music!
Moreover I sometimes listen to accordion music broadcasts. Unfortunately only on Sundays mornings.
Until then I had never heard amateur broadcasts.
And one day ... my neighbor confide a quite small TELEFUNKEN radio device which did not work anymore to me.
Naturally I put myself in duty to repair it  (a vacuum diode had given up the ghost).
By trying it, I stayed amaze listening to a certain jargon used by funny people.
I thus took some notes, one of the OM (!) had given his address for exchanging cards, I hurried to get to know him as he was living in Palermo.
And the magic operated .. the view(sight) of devices, dials, maps stuck on the wall ... It looked like what I had seen in Vittorioso magazine few  years before.
The virus woke up and began its work
Following the advices of other radio amateur friends, I started to listen on OM bands and taking notes on a notebook.
With my savings I bought a device from the British army surplus,  the famous R-107.
I was sending reports on postcards in order to get qsl and I was so happy when I received some cards from various countries.
Until then I had never heard amateur broadcasts.
Following the advices of other radio amateur friends, I started to listen on OM bands and taking notes on a notebook.
With my savings I bought a device from the British army surplus,  the famous R-107.
I was sending reports on postcards in order to get qsl and I was so happy when I received some cards from various countries.
I had received a direct qsl with beautiful stamps, of an Argentine OM of Italian origin the area code of which was LU1TM.
It lasted almost five years and  the acquired experience was well used having obtained my operator's certificate in 1961.
My first one qso date from March 19th, 1963 : dates of the reception of the radio license, with F9QT Alfeno from Grenoble, journalist photographer at Dauphiné Libéré ...then ..  departure for the great adventure and the experiments.
Then came the military service ..
Still there a small anecdote: Even if I had well filled in a form to express my wishes for affectation. When I passed in front of the attribution committee, a colonel assigned me at the Republic presidency guard only because I was tall.!
I pointed out to him that I would have wanted to be in the transmissions and I was a holder of operator's certificate radio ham ... and  without letting me even finish, he gave the necessary orders. I was allocated in a unit of battalion of assault to the South of Italy in a coastal zone of the Adriatic Sea in a HQ of the transmissions of the Apulia.
Operating daily basic service of listening of certain frequencies of traffic in particular the reception and the emission of messages coded during the exercises in association with the NATO.
I then worked as instructor to train new operators on morse language at the school of the transmissions of San Giorgio a Cremano, around Naples.

Here, I had the permission to make of the traffic radio ham according to the availability of devices and timetable.

 

Return in the initial base where this time, having taken some rank, I had more freedom in the organization of my time, so I could go, from time to time, see the om of the region and spend pleasantly a few hours in good company.

 

Then the end of military service and few month later, the departure for France to Annecy in Haute Savoie.

 

At the beginning of 1967, I get to know  F5IC, André .F5RZ, Gilbert .F5RX, René … F3NB and so many others.
During my stay at MJC des Marquisats (YOUTH ASSOCIATION), I had had the permission to use the station F5KY equipped with a AM station and Maria Maluca antenna.

 Qso which allowed me to discuss with the OM of Sicily, and friends of Palermo also.

 

Then in 1968, I met Nicole, future xyl.
She was not yet aware but one day I taught her that I had a mistress and that I did not intend to drop her.
I thus told her: you will be my wife but the radio will always be my mistress.

 

In 1971, I asked to pass the exam (at that time reciprocity from one country to another was not existing yet) and in February 1972 F6BUL started to transmit.

 

Since there was practically no interruption.

Unfortunately my XYL passed away end of 2016.
Page updated on March 2017

 
73 spires au PA depuis le 22 avril 2014
Je suis arrivé dans ce monde en 1941.
      

Nous habitions en SICILE, dans la ville de LERCARA  FRIDDI, à mi-chemin entre PALERME et AGRIGENTE (la Vallée des temples).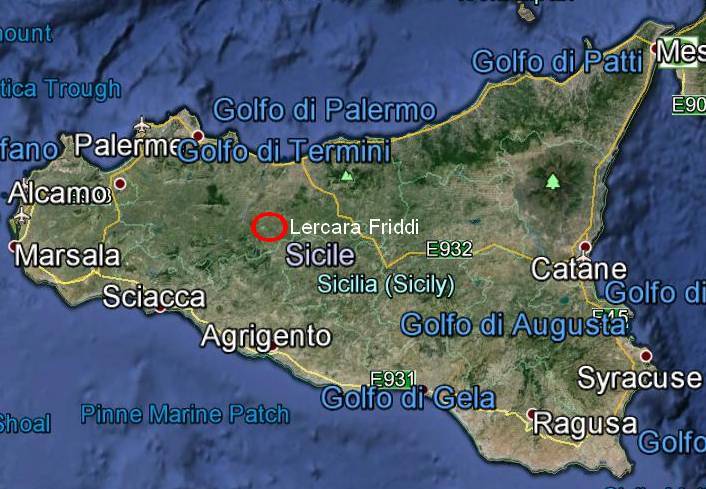 Zone particulièrement agricole avec quelques mines de soufre dont l'exploitation a cessé depuis bien longtemps.
Dans l'après guerre, en 1947, la famille débarque en Piémont dans une petite ville : CHIERI, pas très loin de TURIN.



C'est donc l'école et la fréquentation du patronage de la paroisse.
C'était là que je lisais un périodique pour ados : Il Vittorioso.

Un jour, mon attention se reporta sur un article concernant les stations de radioamateurs des USA avec des photos et descriptions.
Le virus entrait dans mon système ! Bien sûr cela ne restait qu'un rêve mais lorsque il y avait quelque chose à lire sur le sujet de la radio j'étais preneur.

C'est seulement après le retour dans la terre natale que le déclic eut lieu.

Tout en continuant les études, je commençais à écouter les ondes courtes avec l'appareil radio familial. Il y avait à la maison, un très beau poste GELOSO avec pas moins de5 bandes d'ondes courtes, à part les Onde Médie (petites ondes).



J'écoutais les émissions du monde entier car, pour bien faire, mon père avait installé une antenne, simplement un fil d'une vingtaine de mètres qui partait du poste et allait sur une terrasse ou elle était accroché au sommet d'un poteau.
Quelle aventure d'essayer de comprendre les langues !

Ici Paris….la tour Eiffel….le service radiotéléphonique maritime de ROMA RADIO… La VOA (Voice of America)…Pékin Radio…Radio National d'España… J'avais une préférence pour le français puisque je l'étudiais au lycée.
Je me rappelle d'une émission très matinale de Radio Monte-Carlo.Pendant presque une heure que de l'accordéon !

D'ailleurs il m'arrive d'écouter des émissions de musique d'accordéon encore aujourd'hui….hélas seulement le dimanche matin.
Jusqu'alors je n'avais pas encore entendu les émissions d'amateur.
Et puis un jour……ma voisine de palier me confie un tout petit appareil radio TELEFUNKEN qui ne fonctionnait plus.
Naturellement je me suis mis en devoir de le dépanner (un tube redresseur avait rendu l'âme).
En l'essayant, je suis resté émerveille à l'écoute d'un certain jargon utilisé par des drôles de personnes.
J'ai donc pris des notes, l'un des OM (!) avait donné son adresse pour l'échange de carte, je me suis empressé de faire sa connaissance puisque habitait Palerme.
Et la magie opera…..la vue des appareils, des cadrans, des cartes collées au mur….Cela rassemblait à ce que j'avais vu dans le Vittorioso bien des années avant.
Le virus se réveilla et commença son œuvre…..
Sur le conseils d'autres amis radioamateurs j'ai commencé à faire de l'écoute sur les bandes OM et tenir un cahier.
Avec mes économies j'ai acheté un appareil surplus de l'armée britannique, le fameux R-107….



J'envoyais des reports sur cartes postales pour obtenir des qsl et grande joie lorsque j'en recevais venant de tout horizon.
J'avais reçu une qsl directe avec des beaux timbres, d'un om argentin d'origine italienne dont l'indicatif était LU1TM.
 
Cela a duré presque cinq années….et l'expérience acquise a été bien mise à profit après avoir obtenu mon certificat d'opérateur en 1961.
Mon premier qso date du 19 mars 1963 date de réception de la licence, avec F9QT Alfeno de Grenoble, journaliste photographe au Dauphine Libéré… ensuite….. le départ de la grande aventure et les expériences.
 
Puis ce fut  le service militaire…..
Encore là une petite anecdote : j'avais bien rédigé un imprimé ou exprimer mes desideratas quant à l'affectation dans un service.
En passant devant la commission d'attribution, un colonel me désigna pour m'envoyer chez les gardes de la présidence de la République seulement parce que j'étais grand de taille…. !
Je lui ai fait remarquer que j'aurais voulu être dans les transmissions et j'étais titulaire d'un certificat d'opérateur radioamateur….et sans même me laisser finir, il donna les ordres nécessaires.
J'ai été affecté dans une unité de bataillon d'assaut au sud de l'Italie dans une zone côtière de la mer Adriatique dans un QG des transmissions des Pouilles.
Permanences journalières d'écoute de certaines fréquences de trafic en particulier la réception et l'émission de messages codés pendant les exercices en collaboration avec la NATO.



 
Passage à l'école des transmissions de San Giorgio a Cremano, dans les environs de Naples en tant qu'instructeur de morse pour la formation de nouveaux opérateurs.
Ici, j'avais la permission de faire du trafic radioamateur selon la disponibilité des appareils et l'emploi du temps.
 Retour dans la base initiale ou cette fois, ayant pris du grade, j'avais plus de liberté dans l'organisation de mon temps, ainsi je pouvais aller, de temps en temps, voir les om de la région et passer agréablement quelques heures en bonne compagnie.
Puis la quille et quelque mois après, le départ pour la France, à
Annecy en Haute Savoie.
Début 1967, connaissance de F5IC, André….F5RZ, Gilbert….F5RX, René…F3NB…et tant d'autres.
En logeant à la MJC des Marquisats, j'avais eu la permission d'utiliser la station F5KY équipée d'une station AM et antenne Maria Maluca…. des qso qui me permettaient de discuter avec les OM de Sicile, et des copains de Palerme aussi.
 
Puis en 1968, connaissance de Nicole, future xyl.
Elle ne le savait pas encore mais un jour je lui ai appris que j'avais une maîtresse et que je n'avais pas l'intention de la laisser tomber…..
Je lui ai donc dit : tu serais ma femme mais la radio sera toujours ma maîtresse.
Cela dure depuis plus de 46 ans !
 
En 1971 j'ai fait la demande pour l'examen ( à cette époque il n'y avait pas encore la réciprocité entre les pays) et en février 1972 F6BUL commençait à émettre.
Depuis il n'y a eu pratiquement pas d'arrêt.

Malheureusement mon XYL est décédée fin 2016
Page mise á jour mars 2017
Sono nato nel mese d'aprile 1941.

Mio padre era sarto e mia madre mi accudiva.

      

Abitavamo in Sicilia nel paese di Lercara Friddi lungo la strada che collega Palermo ad Agrigento (la valle dei templi) ;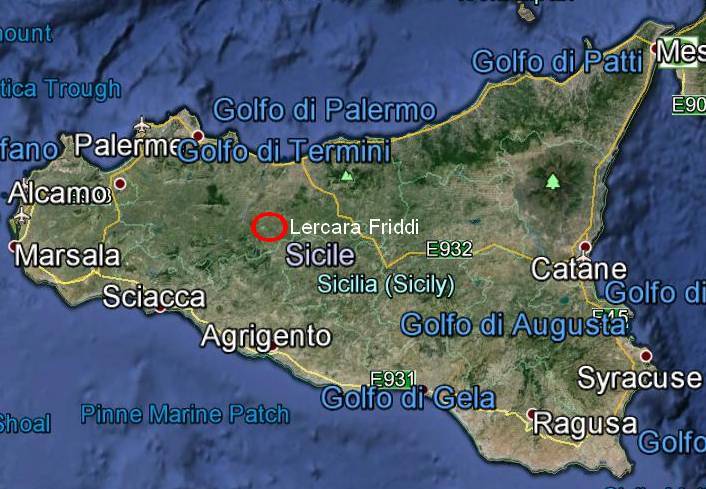 zona principalmente agricola e miniere di zolfo che
ormai hanno cessato l'attività.
Nel dopoguerra, 1947, la famiglia si trasferisce in una cittadina piemontese Chieri nelle vicinanze di Torino.



E cosi passa qualche anno sopratutto con studi elementari.
Verso gli anni 50, frequento la parrocchia nella quale diverse attività
davano sfogo all'impeto giovanile.
Ed è proprio li che un giorno, leggendo '' Il Vittorioso'' la mia attenzione fu
attratta da un'articolo concernente i radioamatori americani, con foto e descrizioni.
Il virus entrava nel moi sistema !
Certo cio' non era che un sogno ma quando c'era qualcosa da legger sulla
radio avevo piacere.
Solo dopo certe vicissitudini famigliari e ritorno in Sicilia, e continuando gli studi
Cominciai ad ascoltare le onde corte con l'apparecchio radio di casa.
Avevamo un bel Geloso con le onde medie e 5 bande.
Ascoltavo le trasmissioni da tutte le parti del mondo e moi padre aveva installato un'antenna, un semplice filo d'una lunghezza d'una ventina di metri che finiva in  terrazza su un palo.
In ricezione il più bello era di comprendere le varie lingue….Ici Paris, la tour Eiffel…il servizio radiotelefonico di Roma radio… la VOA (Voice of America)…Radio Tirana…Radio Nacional de Espana….
Avevo une preferenza per il francese che studiavo alle Medie.
Ho ancora il ricordo di Radio Montecarlo che la mattina di domenica trasmetteva
un programma musicale con fisarmonica.
Non avevo ancora sentito i radioamatori.
Poi, giorno, una mia vicina di casa, sapendo che ero appassionato di radiotecnica,
mi chiede di riparare una piccolo radiolina Telefunken.
Naturalmente ho effettuato la riparazione e provandolo, sono stato interessato di un certo strano parlare tra certe persone.
Ho quindi preso nota di cio' che dicevano e dato che uno dei corrispondenti abitava
nella stessa mia città, è stata mia premura d'incontrarlo.
Entrando nello sgabuziono di IT1TAI (Domenico), alla vista degli apparecchi, gli strumenti, le cartoline al muro….tutto cio' era quello che avevo visto molti anni prima nel Vittorioso.
Fu certamente in quell'occasione che il virus comincio' la sua opera….
Sui consigli di altri radioamatori ho cominciato l'ascolto delle bande radioamatoriali e tenere un quaderno con varie annotazioni.
Con le economie personali ho acquistato un apparecchio ricevitore surplus dell'esercito britannico il famoso R-107…



Inviavo rapporti d'ascolto su carte postali per ottenere di ritorno le qsl di lontane contrade e la grande gioia quando sopratutto ho ricevuto la qsl di LU1TM, radioamataore argentino d'origine italiana.
Cio' durante quasi cinque anni per approfondire le conoscenze del traffico e le diverse procedure…per poi acquisire la patente di radiooperatore nel 1961, la licenza mi è stata rilasciata il 19 marzo 1963 e il primo collegamento effettuato con F9QT, Alfeno di Grenoble, giornalista reporter presso un giornale regionale.
Fu l'inizio della grande avventura e le esperienze.
Poi il servizio militare…davanti alla commissione d'attribuzione in un corpo, un colonnello voleva inviarmi nelle guardie del Quirinale solo perchè ero d'alta statura…
Al che ho fatto valere che avrei voluto prestare servizio nelle trasmissioni dato che ero titolare del certificato di radioamatore….il mio desiderio è stato esaudito e sono stato mandato in un battaglione d'arditi nella zona costiera delle Puglie.
Dopo la prassi abituale per imparare le basi della vita militare, ho cominciato quasi subito l'ascolto e le trasmissioni dei messaggi codificati sopratutto durante le trasferte e gli esercizi in collaborazione con la NATO.



Durante un certo periodo, sono anche stato istruttore telegrafia presso la Scuola Trasmissioni di San Giorgio a Cremano nei pressi della bella Napoli.
Qui avevo ottenuto la possibilità d'utilizzare gli apparati per il traffico radioamatoriale secondo la disponibilità del tempo a mia disposizione.
Poi il congedo dopo 14 mesi e cinque giorni.
Due mesi dopo partenza  per la  Francia, in Alta Savoia, nella città di Annecy.
Al principio del 1967 ho fatto conoscenza di radioamatori locali : F5IC (Andrea), F5RZ (Gilberto), F5RX (Renato) ed altri.
Avevo preso alloggio in una struttura per giovani lavoratori ove c'era un locale adibito al Club Radio F5KY…
Avevo ottenuto il permesso d'operare la stazione in AM con un'antenna direttiva tipo Maria Maluca, naturalmente collegavo sovente gli om siciliani.
Nel febbraio 1968 ho conosciuto Nicole e un anno dopo ci siamo sposati.
Nel 1971 ho fatto la domanda per rifare l'esame per ottenere la licenza ei il nominativo francese dato che non c'era ancora la reciprocità tra I paesi. In febbraio 1972, F6BUL….. e da quel momento l'attività non è mai cessata.
sfortunatamente XYL é passata a migliore vita fine 2016
Pagina aggiornata marzo 2017