Update 20th of Feb 2018: We have finalized our dates.
21-Feb-2018 - 26-Feb-2018 : Lifou Island : OC-033
26-Feb-2018 - 02-Mar-2018 : Mare Island : OC-033
02-Mar-2018 - 03-Mar-2018 : Noumea : OC-032
*********************************************************
I will be returning to New Caledonia from the 17th of Feb 2018 until the 3rd of March 2018. Once again it will be a holiday-style operation. This year I will once again operate from Grande Terre (OC-032) but will also be operating from Lifou and Mare islands. Both Lifou and Mare are OC-033 IOTAs. I intend to stay 3-4 days on each island but the exact timing has not been decided as it is typhoon season and we will be weather-dependent. My friend Yves, FK4RD, will join me again. If anybody else joins us I will update this page.
The working conditions will most likely be a vertical with 100w or less. I will be working SSB mostly between 40m and 15m. Given what the HF conditions are at the moment we will do our best but are not expecting fabulous conditions. Hopefully we will get some interested stations throughout Asia and Asia Pacific. Maybe we will get lucky via LP towards Europe as well. NA tends to be a bit touch-and-go depending on where were operate from but fingers crossed for a few QSOs in the log.
I may try to activate a few SOTAs but since my time on Grande Terre will be limited and since I am travelling with my family I think that at this stage the probability is fairly low. Never say never though!
I will be bringing with me an ID-51 with a portable hotspot as well. So for those keen on DStar, you may be able to see my GPS position on aprs.fi (most likely JG1XMV-7) and feel free to give me a shout on the radio as well. It will all depend on how spotty conditions are for 3G/4G on the islands.
Regarding QSLs, I reply 100% even if it is not always right away. I will upload my logs to eQSL, LOTW. I will also reply to direct and bureau QSLs (sent via JG1XMV please).
I will update this page with new information as it becomes available, including when we will make it on Lifou and Mare islands.
Looking forward to meeting many friends on the air!
73,
Arnaud
Information for the Feb-Mar 2018 New Caledonia trip are above:
********************************************************************************************************************************
Information for the Feb-Mar 2016 New Caledonia trip are below:
LOTW => OK, uploaded.
eQSL => OK, uploaded.
Direct & Bureau : 3 outstanding.
93 QSL cards processed so far, 3 outstanding.
QSL Cards Update 20-Nov-2017: All outstanding QSLs have been replied to so far. Bureau QSLs have been replied to via the bureau as well on my side, so you will obviously need a little bit of patience. See the list below of received QSLs. A callsign in bold means the QSL card has been sent out.
Direct QSLs received so far 22 (Thank you): JJ0JDK, DJ9IN, WC6DX, JH3GFA, CT1EKY, HB9BEM, JA8COE, HS1JZT, JP3AYQ, W9CLA, UA0CW, I2ZBX, JA4SCQ, S55SL, VK5MAP, JJ1DWT, RA0APW, F4CYZ, JA6FIO, R8DX, JF2TOG, VK5MAP.
QSLs via the Bureau so far 74 (Thank you): JA8GAK, JA1UXC, JE6KYA, JA1DCO, DL6CNG, JA1BOQ, JA2GWL, JI1FXS, JA8XOK, JE3GRQ, JA1QVR, JH1CMW, JK1CKG, JF3BHV, JH8GAU, JA7GFN, JR8FNO, JF1SEK, JA5AQC, JH7WER, JA2LHG, JA1GLM, JA3NFA, JA0WIU, JJ1PLS, DF6QP, DL8JS, R1OAL, UT5URW, F6GCP x2, F4FYE, JK7RKF, JA2OZM, JE3JRA, JA9GLW, JA2XYO, JH1EVD,JH1MXV, JA1UII, VK3LPG, OH1ECQ, SP9AI, DK5IR, DS2CYI, JF1EHM, JE1CCD, JE1SYN, JR1GTF, F5BZB, FW1GJ, HA30K, SN90LKK, 7L1WII, JH0JDV, F8DVD, S57S, OK2PDE, IZ3LEV, RW0CR, SP9KR, IK2WZM, JR0WZR, JA1NVF, JF1WRV, JH0DSX, JA8WY, RZ3AM, DH7RD, DJ9IN, JR8TFN, DB3LO, UW1HM, UR3HC.
2nd of June 2016: It has been a while but here a video of what the trip looked like:
Operation update: We were using a friend's very old IC 706 and thought we were putting out 100W when operating on Ile Des Pins and Ouvea Islands. The other day, Yves decided to try to add a small amp when operating mobile and checked the power output of the transceiver before connecting the amp. To his amazement, the IC 706 we were using was only putting out 30W at full power. So it means that all our QSOs from Ile Des Pins and Ouvea Island were made with only 30W! Truly amazing given the tough propagation. I cannot believe the signal reports we were getting... All this with our little SD-330 from Diamond. What a great little antenna.
Log Update 11-Mar-2016: All my QSOs should now be in HRD / HRDLog. To check whether you are in the log or not you can go to my JG1XMV profile in QRZ.com and then search for you call in the HDRLog window which will also contain the FK/JG1XMV QSOs listed there.Please let me know if I made a mistake on your call sign. Yves is now feeling better and will start attending to his log. I have managed to upload to eQSL. I am trying with LOTW as well but nothing on that front so far. Direct QSLs will take longer as mentioned before.
Many thanks for the many SWLs as well! 73, Arnaud.
***************************************************************************************************
QSL CARDS: I have started working on them. The design for the Noumea QSOs should be pretty much finished.
Noumea QSL card front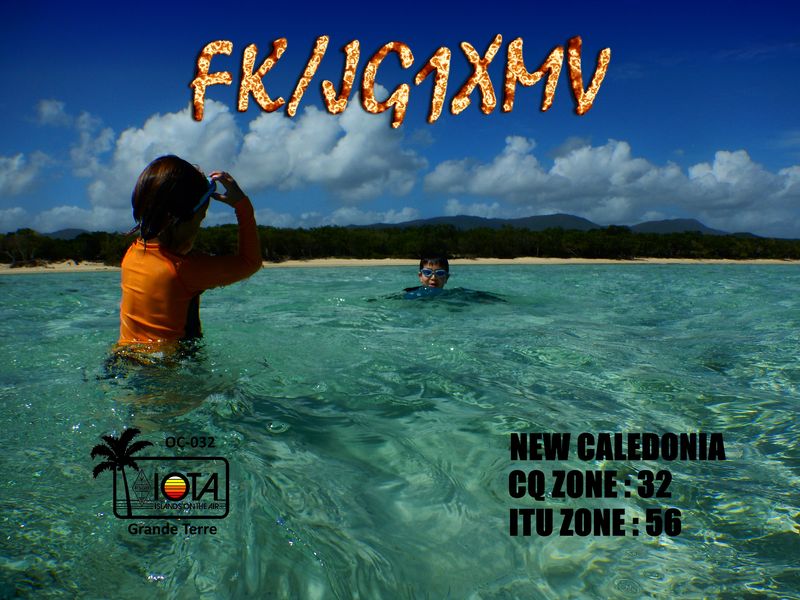 Noumea QSL card back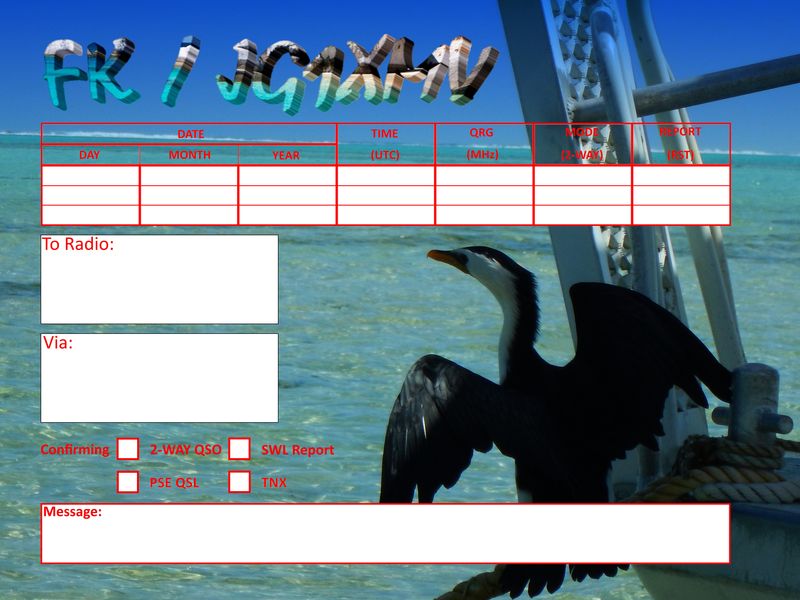 Ile Des Pins QSL card front: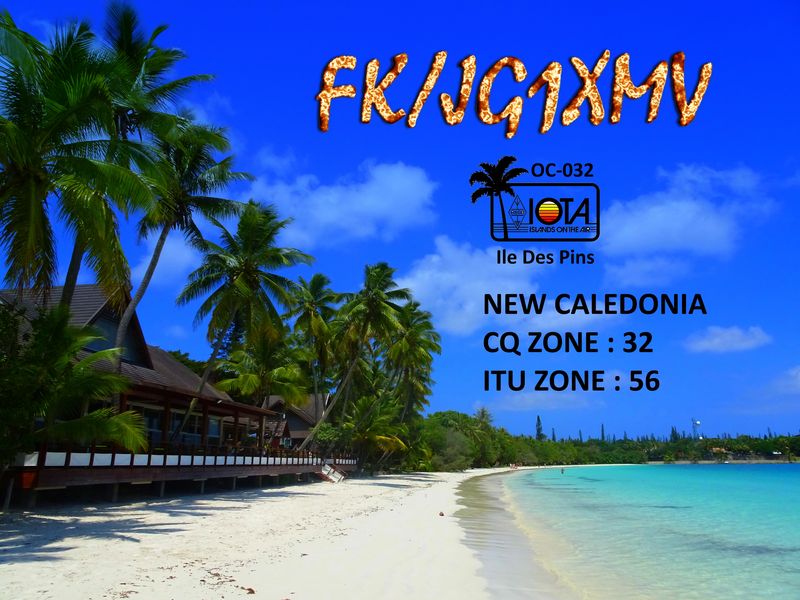 Ile Des Pins QSL card back: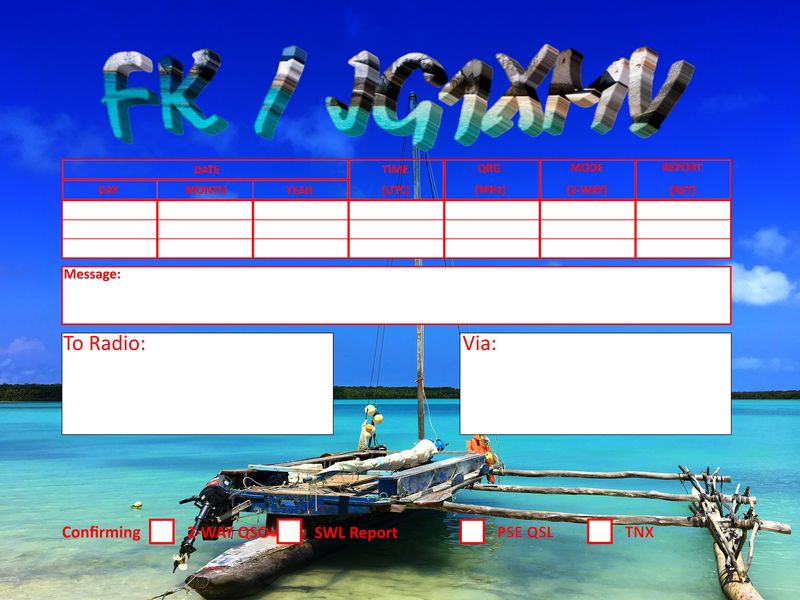 Ouvea QSL card front: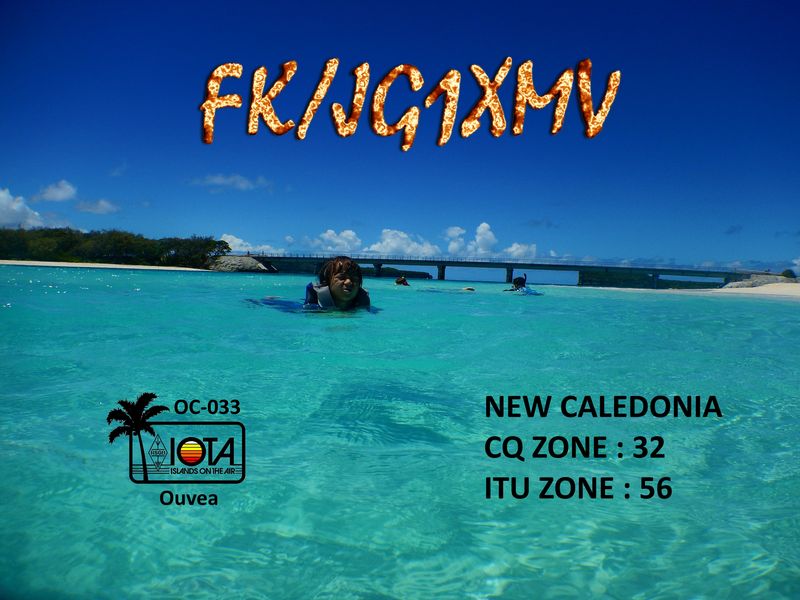 Ouvea QSL card back: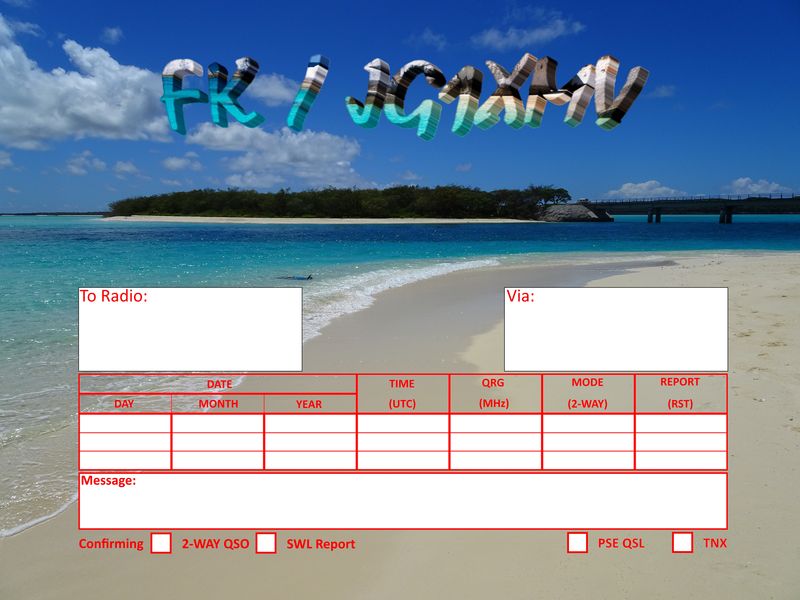 The QSL cards' designs are finished. I now have to figure out how and with whom I am going to print them. I will update once I have the printed cards in hand and I am ready to send them out.
***************************************************************************************************
21-Feb-2016 <=> 25-Feb-2016 : Noumea OC-032
26-Feb-2016 <=> 29-Feb-2016 : Ile Des Pins OC-032
01-Mar-2016 <=> 03-Mar-2016 : Ouvea Island OC-033
03-Mar-2016 evening <=> 04-Mar-2016 : Noumea OC-032
Together with FK4RD, Yves.
Diamond SD-330, 100w max.
The dynamic DX'ing friends:
29/02/2016 Update: We are back in Noumea for a few hours with internet access. We started the activation of the Ile Des Pins 24 hours late due to equipment failure. Many thanks to Philippe, FK4QX, who sent us the spare parts on the 1st plane the following morning. We are flying to Ouvea early tomorrow morning and should be QRV late afternoon as we are operating there holiday style with the family in tow. Many thanks to all the stations who have called us so far. I will start updating the various logs on the week-end of the 5th of March.
Bourail, main island New Caledonia:
Jetty near Kuto Bay, Ile Des Pins:
Update 01-Mar-2016: Yves, FK4RD, and myself have made our first QSOs from Ouvea today. There was good propagation to Europe before we had to go QRT for dinner. Many thanks to all the stations who have called us so far. Dinner is now finnished, time to get back onto the air! Many thanks to all the stations who have called us so far.
Mouli, Ouvea:
I am now back in Japan with a lot of wonderful memories. Thank you to all the stations who called us and looking forward to hearing you on the air again.
73, Arnaud