FK8DD

New Caledonia




Login is required for additional detail.

QSL: QSL VIA Buzz NI5DX

Email: Login required to view

Ham Member Lookups: 266218



FK8DD grid locator: RG37FS (22°14'29S 166°26'01E)
QSL via Buzz NI5DX. See QSL conditions on his website.
*** Note from eQSL.cc manager to eQSL.cc Users ***
Please upload QSO's made with FK8DD/M to my FK8DD/M account, not FK8DD, and vice-versa.
***Important ***
Due to

No OUTGOING QSL BUREAU SERVICE

,
FK8DD and his associated callsigns (TX1A, TX1B, TX1CW, TX3SAM, TX8B, TX8C, TX8D, TX8DD, TX8F, TX8NC, TX90IARU, TX8JOTA)
replies only to QSL cards via DIRECT or via QSL manager NI5DX.
Again, I do not accept QSL cards received through the FK Bureau, otherwise all QSL cards will go directly to  RUBBISH. For info I have received 13 kg of QSL cards via bureau, so how could I answer them? The postal rates from New-Caledonia are absolutely high. As desired by all of you, I have loaded my FK8DD log on eQSL.cc, ClubLog and LoTW, so if you really want to get the QSL paper, send yours via NI5DX or directly to my mailbox with enough Funds for returning by mail. Thank you to all of you for understanding.
Rig: Yaesu

FT-897D  and FT-857 in mobile

and

IC-7600 at home

,
Home Antennas: SPIDERBEAM 10/12/15/17/20m, MOSLEY SF-402A 2el YAGI 40m, EAntenna 30mDY1 Rotative dipole, 50 Mhz
3el HB9CV, MFJ-1526 vertical Duo-band antenna for 144/148 - 430/440 Mhz.
Mobile Antennas: MFJ-2286 Telescopic Multiband Whip, COMET HR-7 Mono-band 7mhz , Various mobile Helicoidal monobander whip antennas from MFJ, BUDDISTICK multibands antenna.
Portable operation: BUDDIPOLE Multibands antenna, SUPERANTENNAS YP-3 3 elements 6bands antenna, COBWEB 6bands antenna.
Useful infos to work FK land on HF (Depending on HF Prop):
00:00utc to 09:00utc: Europe, Africa, 15,17,20,30,40m
10:00utc to 22:00utc: North and South America, 15,17,20m
00:00utc to 08:00utc: North and South America, Asia, Oceania, 10,12m
19:00utc to 22:00utc: Europe, Africa, Asia, Oceania, 15,17,20m
***All QSO's with FK8DD/m are uploaded on LoTW under my normal call ("FK8DD" without "/m"), if you dont appear in LoTW, don't hesitate let me know your request

HERE

.
ClubLog
***FK8DD online Log 2006 to 2018***
Maybe some QSOs had not been correctly uploaded in this log, if so, please send me your request

HERE
July 04th, 2017  2 new antennas on my tower. Mosley SF-402A 40m 2el yagi at 17mH and EAntenna 30MDY1 30m Rotative antenna at 18,50m mH.
5bands Spiderbeam antenna at 20mH, EAntenna 30m Rotative antenna at 18,50mH and the Mosley SF402A 40m 2el yagi at 17mH.
Sam FK8DD in the Nacelle to make antennas tuning easier on the tower.

May 03rd 2016 - Preparing 5bands Spiderbeam antenna set-up on top of the tower
May 10th 2016 - 5bands Spiderbeam antenna now at 20m above the ground
May 13th 2016 - The concrete base: L150cm x 150cm x D150cm
This is my Radio shack: IC-7600, AL-811H, MFJ-989D and FTM-350E VHF/UHF
Icom IC-7600 100 watts
Amplifier: Ameritron AL-811H 800w Pep
Tuner: MFJ-989D 1500 watts SSB/CW
FK8DD Sam, happy to say hello to all my Ham friends, drop me a call when you hear me!
Below, my last mobile set-up uploaded on this website on 29th of December 2013
Here is my last set-up uploaded on QRZ.com on 29th december 2013
A View of my mobile Station from the Left side (29/12/2013)
Another view of the station from the right side (29/12/2013)
QRV on CW PSK RTTY and SSB (29/12/2013)
Laptop 11,6" with N1MM Logger for Normal and Contest use (29/12/2013)
I use HRD-DM780 when I operate on PSK, RTTY and sometimes for CW logging (29/12/2013).
A view of my MFJ-2286 Whip antenna in front of the car
MFJ-2286, is actually used with a system of 7pair of radials, 5m length each (total of 14 radials), and extended to 4 additional 5m length radials when operating on 30m and 40m.
If this can help everyone with the pre-tuned marks on the MFJ-2286 Coil (09/01/2014).

This is my Pre-tuning Chart, a TUNER is needed for 30 and 40m bands (09/01/2014)
Below, my 5bands Spiderbeam antenna at Home QTH
5bands Spiderbeam in low position, at 2.50 meter on the roof.
The Spiderbeam at 15 meter above the ground.
Below Was all my set-up from 2009 to november 2013
SSB QSO during last CQWW SSB contest, on november 29th, 2011.
10m whip in front of the car, and 20m band whip in the back of the roof.
This spot called "Tour Mobilis" is located on a small mountain, on the
Noumea-city highs, and

it's about 116m above the sea level.
There are 4 antennas supports on my car with SO-239 and 3/8 base connectors.
FT-857 is screwed on the rear passenger seat. The battery is a 12V/68Ah.
Closed view of the 2 position coax switch.

FT-857 detachable front panel with YSK-857 remote cable.
FK8DD/M operating position with 10 in. computer on the right,
and Bencher keyer on the left hand.
Details of the equipment:
- FT-857 Yaesu transceiver running 50 watts on CW and 30 watts on Digimodes
- MFJ-904 travel Tuner with cross needle meter
- MFJ-4403 Voltage conditioner
- CF-50S Comet low pass filter
- Signalink USB for digimodes
- Multiple whip antennas for 6-10-15-17-20-30m and 40m bands (12m coming soon!)
*** This DC/AC converter is only used for computer when low in charge!
On july 31st 2012 and 02nd of august, i've tested this Buddistick antenna
on 20m band, directly

mounted

on the

trimagnet support at the rear part
of the car. Keep in mind that all the settings here-below and adjustments
have been made

by considering the various connections between devices
(transceiver,

low pass filter, Tuner/swr-meter and of course the dualposition
antenna's

switch).
For all bands: Coil lenght 11.5 cm (4.53 in.) and One small arm 27.5cm (10.83 in.)

20m

, adjust long whip lenght to

228 cm

(89.76 in.)

clip to red tap

13 turns

20m band entirely covered from 14000 to 14350 khz, swr <1.1

17m

, adjust long whip length to

183 cm

(72.05 in.)

clip to green tap

11 turns

17m band entirely covered from 18068 to 18168 khz, swr <1.1

15m

, adjust long whip length to

199 cm

(78.35 in.)

clip to black tap

7 turns

15m band entirely covered from 21000 to 21450 khz, swr less than <1.3

10m

, adjust long whip length to

219 cm

(86.22 in.)

clip to yellow tap

2turns

10m band entirely covered from 28000 to 29000 khz, swr lest than <1.3
Find the long whip (10 ft) on Buddipole website, see link below
**Caution

: this antenna not to be used when the car is moving.
Only for mobile stationary use.
For more comfort, a small table, on which i have my 10 inches computer
and Bencher morse key, becomes necessary,no that is not a luxe hi..!
August 15th, 2012. Well !Now the detachable Front Panel is fixed
on a mobile phone holder, placed on a thin glass (14x18cm).
Yes !!!!!!

On 31st of August 2012, i've got my New Battery 12V/140Ah/800A, LxlxH = 50cm/19cm/20cm, weight is about 35kg. T

his will give me more Power for mobile operation...
My homebrew vertical antenna G5IJ is attached in the front
of the

car, it's mainly used for 30m and 40m bands.
It's not very nice but it looks very efficient!
A close view of the U bolts and the PVC tube protection of the fishing pole.
The double aluminium plate to ensure a maximum tightening on the towing hook!
In front of the car, are the 17m black vertical modified buddistick antenna, and at the opposite side in retracted position, the green G5IJ antenna for 30m.
In front of the car, the buddistick modified quarter wave vertical for 17m band.
The blue single quarter wave radial for 17m band, the antenna is 4,06m total length including PL-259 - 3/8 converter. During different try no any difference noted in receiving or transmitting signals with or whitout radial (swr 1:1 on entire band), but 6 or more radials are, without any doubt, more efficient !
The 17m quarter wave whip antenna is the best one for DX operations, very low noise, and it can be easily tuned for 15m and 20m bands.
On 17th june 2013, It was really a very sad day! Wind blowing by gusts to 40 knots and over!
I like to play radio in bad conditions hi!
Since 15th june 2013, my new set-up, the FT-897 is a very nice transceiver for mobile or portable operation. All CW and SSB filters are ready to be used.
Send me a call me if you are able to hear me, test your antennas with FK8DD/m New-Caledonia Hamradio Mobile Station!
New antenna set-up with the Telescopic Whip of MFJ-2286 without Coil, (for 10, 12 and 17m)
The Radial System with Easy and Quick Electrical Connectors, in order to make Radial wires extension on demand, mostly for 30m or 40m bands.
The 14 Radials, 5m lenght each in 7 pairs, laying by 180° directly on the ground
The MFJ-2286 Big Stick on 20m, this item is particularly effective on 30m and 40m bands.
Below FK8DD Flag counter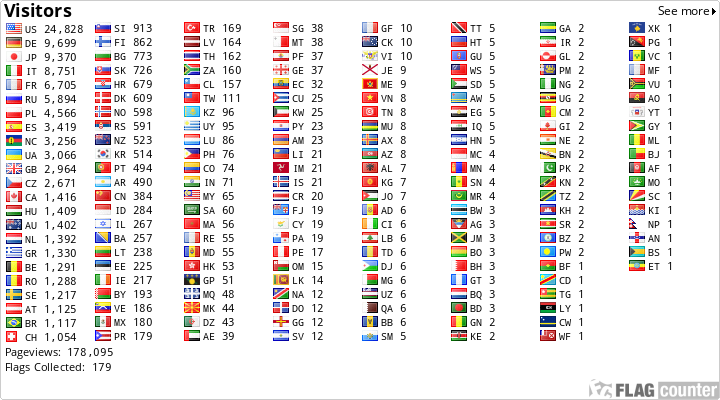 8554011 Last modified: 2018-01-02 17:09:22, 41401 bytes
Login Required

Login is required for additional detail.
You must be logged in to file a report on this page
Public Logbook data is temporarily not available for this user
World Continents Award

#20101


Granted: 2018-03-05 21:56:02 (FK8DD)



Endorsements:

17 Meters Mixed

20 Meters Mixed