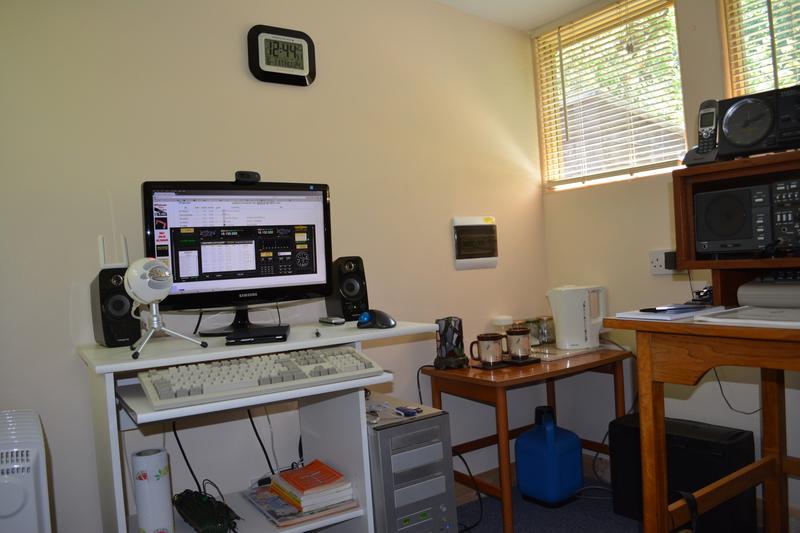 I
I was first licensed in March 1985.

For various reasons; including cable damage by squirrels, I have been absent from the hobby for twelve years, but recently I decided to dust off one of my old radios, a Yaesu FT 707 which I purchased new in 1983. I hooked it up to a 'G' whip end fed antenna for 20m and got some very good dx signal reports.
What can I say, I have caught the bug again. Using the Yaesu brought back old memories, I operated with it in Brazil a number of times using the call sign PY1ZCJ out of Rio De Janeiro, I also operated portable from my late friends Beach House at 'Manguinhos' Near Vitoria, the now Silent key Patrick - PP1BG.who will be greatly missed.

During my previous active years I used a Strumech P60 lattice tower with a Jaybeam 3 element TB3 tribander which I purchased in 1985, I disposed of the P60 which I now regret. I have recently purchased the excellent 12m Tennamast, which I have repositioned from the original tower site, resulting in a substantially reduced coax feed. I have repaired/renovated the Jaybeam TB-3 and swear it is performing better than before.

I have a lot of work to do with the new Radio shack, extremely wet/muddy conditions are delaying progress, but hopefully I can become more active next Spring I will be putting my vintage 1985 Trio TS 940s & Trio TL-922 in line with the SP-940, SM-220 & SW-2000. My ATU is the excellent rugged CAPCO S.P.C. 3000.  Microphone is the Kenwood MC-85. I use a Adonis AM-502 with the FT-707
I have had a lot of tree work done, and hope to get dipoles up for 40m & 80m at about 50/60ft above ground in future, with antennas for other bands to follow.
Hope to catch you on the air.

 
73 de Paul
UPDATES
11.06.15 
The  new shack is complete and I am becoming more active  -  I have put up a inverted V for 40m, which seems to be working very  well.. Working with both the TS-940s & FT-707 100w pep - I hope to get the TL-922 in operation soon.    
30.06.15 
The picture added contains my 1985 vintage set-up. Nothing much has changed, apart  from moving it all to the new radio shack. I'm tempted to get one of the latest tranceivers, but whilst it all continues to function well; plus the decline of the present solar cycle; I'm going to keep my museum exhibits hi hi.
Just put my TL-922 in line  (not used for 12 years) and it's running sweet.