6m DX (2017) from IO90wx: DXCC = 90____Continents = 5____Best DX = JE1BMJ in QM05br@ 9623 Km
Best all time 6m DX = VK8ZLX @ 15,056 Km:_______W7GJ in DN27ub @ 800,000 Km via EME
Ham Radio is the most expensive form of FREE communication
A selection of 6m QSL card confirmations 
"The needs of the many outweigh the needs of the few" Spock - Star Trek II,  1982
QSL LoTW & Eqsl only. No Bureau
Web: www.mwadui.com
Author "Escape from Hong Kong"
| | |
| --- | --- |
| VHF Aurora : | |
| 70 MHz Es in EU : | |
| 50 MHz Es in EU : | |
| Today's MUF & Es : | |
Below G0LFF working the 6m grey line TEP with PY2XB
Peter VK8ZLX was having a rag-chew with his mates in Alice when they got an unexpected "G'day mate" from G0LFF 15,000 Km away :-)
In July 2011 I heard a slow weak CQ, India calling, India calling
Cyril FR4NT is a regular during the month of May on 6m
Middle East stations are in during most summer Es
Peter PJ4NX is a regular during both summer and winter Es
Below is a true QRP station with 1w SSB to a 3 el homebrew yagi over a 9,360 Km path
David 7Q7DFC came out of nowhere one eve and wkd G4ELJ & myself before dissapearing back into the mud
I worked Roy 5N29/G3GJQ 59/59 (F2) in October 1989
Northern Republic of South Africa stations were regulars on extended TEP (+Es) 
E4X was a rare 6m DXpedition in 2010
Nick UN3M is a reliable 2-3 hop 6m Es station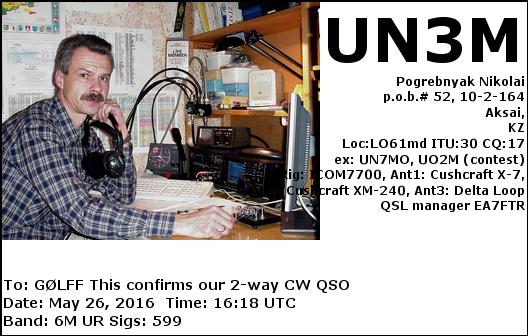 ZC4 is  a rare prefix on 6m
Extended TEP  conditions to southern South America
Worked all Continents from IO90wx on 6m. 1989 (Single short boom F9FT 5el)
Now QRV with WSJT modes.
I recommend Logbook of The World (LoTW) a free service by the ARRL for fast DXCC confirmations.
6m Worked all Continents 1990
Below is the ultimate 6m DX, 800,000 Km via the moon with 90w into a single 5el LFA yagi without elevation.
1st 6m EME qso 22nd Oct 2011 G0LFF-W7GJ with 90w into short boom 5el LFA, no elevation
Ham Radio Kit for for Sale
Click here to download items for sale
Icom FL-101 9MHz narrow 250 Hz CW filter for ICOM IC-756, IC-746, IC-706 and many other Icom IC range of rigs £49.99
6m B.N.O.S. LPM50-10-100 amplifier with original packaging £99.99
Dell Inspiron 530 PC, 4gb RAM, needs HDD or SSD with OS. Ideal for shack use. Offers
3 element 28Mhz Yagi (OP-DES Yagi 2.1m boom manufactured by Innovantennas [G0KSC] A 3 element wide band 28-28.7MHz OP-DES (Opposing Phase Driven Element System) Gain = 7.47dBi F/B = 13.44.                                                Pile-Up Buster bargain at £99.99
50Mhz five element LFA Antenna N Type (Best DX on this single antenna = 800,000 Km EME qso with just 95 watts.         Pile Up Buster bargain at £74.99
50Mhz 2 port 1/4 wave 50 ohms power divider for stacking/baying 50Mhz antenna's N type as new. Can be used with any 2 equal lengths of coax for stacking or baying & phasing antennas. £49,99
50v 5amp ex GPO PSU, Ideal for 6m amp. £24.99
Kenwood (Trio) TR-7800 2m FM rig 5/25w with service manuel, Ideal for Base as well as mobile, a very good solid 1980s rig £45.99
Standard C528 2m & 70cms hand held,with base charger & 12v cigar lighter lead,( needs new battery) £24.99
6 inch (diameter) celestial telescope with motor drive, instruction manuel, & original packaging/boxing. £99.99
2No used brass N type connectors for Andrews LDF4-50  £9.99
Contact: G0LFF@mwadui.com or G1CWP@mwadui.com