G4TRA is located in the Wiltshire countryside near the hilltop town of Malmesbury. Famous for it's 675AD Abbey that hosted Eilmer the famous Flying Monk, Malmesbury is recognised as the oldest continually inhabited town and borough in England.

Indeed The Old Bell next to the Abbey has been offering rest to travellers since 1220 and is reputedly England's oldest hotel.  During the war Ekco moved part of its operations to Malmesbury, to avoid the danger of bombing. The company established a shadow factory, to produce the essential new technology radar equipment. More recently Dyson (look in your cupboard) made his headquarters here, and where else would you find the famous "Naked Gardeners" and a pub in the High Street called the Smoking Dog? And all a stones throw from Prince Charles pad too!

Having been introduced into amateur radio in 1960 I spent 21 years as a short wave listener gaining my first B class license (G6BDJ) in 1980. There are some real fun pictures of the early days further down. Above is the station of G4TRA in it's 2016 form. I operate all bands from 160m to 70cms from a quiet rural hill top site. On 144MHz alone I have achieved WAC, and worked 65 countries and 485 QRA squares since 2014, using my 30 year old TS790E and a little 11 element antenna.
Transceivers
HF: Icom IC7800, Yaesu FT1000mp Mk5 and FT990, Icom 746 and Kenwood TS830.
6m: Yaesu FTV1000 200 watts transverter for Mk5
4m: Philips FM1000 plus Pye A200 amplifier
VHF: Kenwood TS790E, TR751E, TR9000.
UHF: Kenwood TR9500, Icom IC-E2820 D star radio. 
Power & PAs
HF and 6m:400 watts: Acom 1000.
2m: 400 watts Beko HLV1000. 150 watts Diawa LA-2155E
4m: 60 watts PYE A 200
70cms: 100 watts BNOS
Audio.
Choice of Heil Goldline GM4 and GM5 microphones, through W2IHY audio equaliser and noise gate
Antennas.
160m: Half wave, end fed, slopper @ 35-60', through home brew parallel ATU.
80-10m: 80m half wave V dipole @ 35' fed with 300 ohm feeder through a Palstar AT 1500CV. 
6m:Colinear @ 35'
4m: Folded dipole @ 30'
2m: 11 Element Tonna @ 35' with SSB Electronics SP200 LNA
70cms: Tri band colinear @ 35'.
---
The History of G4TRA, a lifetime on the edge!
1951
My first recollection of short wave radio was when I was four. My elder brother, already in the Air Force  had access to a most amazing thing with a coloured dial and a green shimmering eye. It turned out to be a R1155. Saved from the RAF scrap "pit" and coupled to a tank arial on the roof of our Totland Bay flat it produced wonderful sounds. However at that age nothing was taking the place of my teddy bear!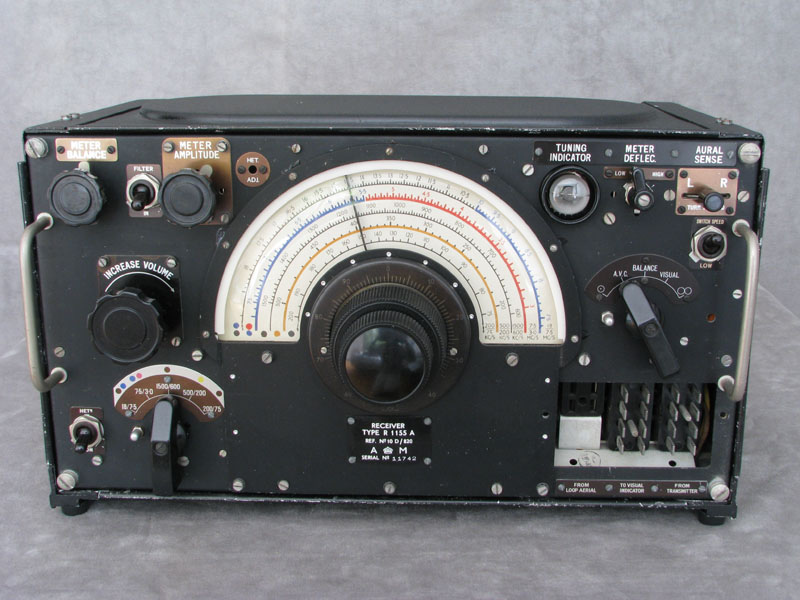 1960
My first radio was a 6 valve Crosley with short wave, that produced odd signals on 20m am. A man who said he was in my town of Weston Super Mare was talking to a man in America who I couldn't hear. I was located in a cupboard under the stairs, could this be the problem or maybe the 10' of old toaster flex going up the stair banister needed looking at. So what was this all about then.......
1962
Of course I went on to find out it was amateur radio and here's the first picture that I have of my expanding SWL station, where two Halicrafter receivers dominate the dining table. At over 100 lbs the SX28 (From Smiths in Lisle St) in the middle, was a heavy beast and to the left the old SX24, a gift from the late G3HSR (VK9NS), was well modified. Even that old HMV broadcast set would be a two man lift in these H&S deluded times. The antenna, a random length of lighting cable snaked across the bedroom ceiling, down to the bottom of the garden and into a small chestnut tree. The tape recorder is an Elizabethan LZ29 which had a phenomenal rewind speed, quite dangerous really. This was a time when Britain ruled the Hi-Fi waves and was just before my love affair with Quad, Shure, SME and Ferrograph.
1963
I think "Journey into Space" might have influenced this bedroom Cape Canaveral look-alike console arrangement shown below. The Geloso front end was a good addition to the SX28 IF making a triple superhet arrangement very sensitive indeed. Note the delightful, mainly two-pin mains distribution system in both pictures and also the home brew Philips 5-10 and 5-20 (in 19" rack) audio amplifiers and five channel mixer. By now I had joined the ISWL (G10214), however, the whole thing was getting a bit out of hand as a scrap BAE 6' 19" rack was coming soon and it was getting hard to find the bed. Mother was not well pleased!
1980
G6BDJ (Bristol Disc Jockey) arrives through the post and I am QRV 2m SSB with a half wave dipole on the chimney. This was soon replaced by a 9XY mounted on a precariously swaying un-guyed 40' mast. That box at the top contains a coax relay changing the 9 XY polarisation and the Slim Jim in plastic conduit was rotatable too! 
1983
My first HF station wth a new call: G4TRA and a TS830S joins my 2m TR9000. The antenna was a 132' centre fed doublet using tuned 600 ohm feeders carried telephone manner on little posts with insulators around the side of the house. The guyed 16 element at 40' plus 100 watts put a potent 2m SSB signal out from Winterbourne, Bristol. A Creed 7B clanking teleprinter with home brew modem saw me making a few contacts through the RS6 satellite on RTTY
1984
Activating the rare west coast Irish squares as EI3VED with a 13 element portable 2m Tonna from my Ford Sierra was a great laugh. Ask me about the mountain top peat cutters!
1987
In Marshfield at 600'asl with a 60' Altron mast VHF'ing doesn't get much better, until the hurricane of that year bent all the antennas somewhat.
1995
Five years into my move to Wotton Under Edge and a superb FT990 joins the shack. Odd bits of wire and a colinear get me a feeble signal out from this black hole. It was to be another year before a computer was added for SSTV.
2005
Some decent VHF antennas plus 23cms ATV make for some fun, even though activity is low in the direction I could get out: just South to West, all of 90 degrees. However EA8 on 2m SpEs makes me a little happier.
​
2006
A FT1000mp Mk5 and an Acom 1000 amplifier made a loud signal on 80m. This was the night before all the shelves gently pulled their way off the wall and deposited this lot around my ears, necessitating a total shack rebuild. I must admit the resultant shack rebuild was most impressive.
2012
A move to Malmesbury means another shack rebuild and new antennas. A wet piece of 66' wire and biscuit tin 7/8 on 2m do quite well in this noise free rural enviroment to start with. Lessons learnt from 2006 mean a more substantial floor to ceiling racking system this time.
2016
​The new site proves to be excellent for VHF and although not high (100m) the clear take off and low noise rural environment produces much DX from around Europe on 2m using my little 11 element Tonna and 30 year old TS790E.
But could I do even better? With a little encouragement I was persuaded to try lower down the band and have a go at EME, regarded by many as the ultimate weak signal DXing and a severe test of a station's capability. With no elevation and a small antenna I certainly wasn't expecting much, but here's the result of the first nights moon rise activity. To say the least I am somewhat surprised what can be achieved:
2017
Even with this little single antenna station I am able to work highly sought after DXpeditions, more attributed to HF opertation. Mind you don't expect to work them on the first day of their activity, for this will never be a pile up breaking EME station!
2018
2m EME becomes a bit addictive with 182 initials now made, plus I make my first single yagi QSO off the moon with UA1OEJ. Yes that's a single 11 ele to an 18 ele over 730,000Km distance using JT65B with signals at -23 and -26dB respectively.
ZL3NW also gets in the log for a 19,029Km terrestial path, but he had four Yagis to help.
500 QRA squares on 2m now looks possible and too much time is spent baying at the moon, but without any elevation I do manage see the YL some times. 
---
Interference and Noise
Are you finding it more difficult to operate due to high noise levels? Can you only hear S9 signals? Is it impossible to operate on the lower frequency bands? Switch Mode Power Supplies, Power Line Adapters, LED lighting, Plasma TVs, Games Consols and other electronic equipment poluting the RF spectrum can be dealt with by OFCOM: you are a protected user from these spectrum abusing devices. DO NOT put up with this sort of interference. Many radio amateurs have been forced off the air because they simply did not know their rights.
However you will need to do some preliminary investigation and sourcing of the offending noise yourself before calling for the assistance of OFCOM.
To assist, then check out these two websites for  QRM identification:
Lots of descriptive assistance here regarding PLT QRM :http://www.ban-plt.org.uk/
The original site for general unlicensed QRM support :http://www.ukqrm.org.uk/
Also, available from the RSGB book sales department is "Elimination of Electrical Noise" by Don Pinnock G3HVA ISBN 9781-9101-9314-3 This excellent little book can help you identify, source and eliminate noise and importantly defend against further ingress.
---