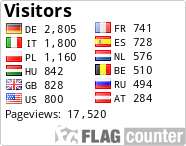 I am not member of HA QSL bureau.
If you need paper card, please send via direct with 1 IRC !
I confirm any contacts via e-QSL and upload any logs to my Homepage ( www.qsl.net/ha7ul ) and to HAMLog ( www.hamlog.eu ) and to SOTA / WFF site.
---
I interesting for HSCW, award huntings and meteor scatter.
Favourite bands is 7-SSB/PSK/CW, 14-SSB/PSK/CW, 50-SSB/PSK/CW and 144-SSB/PSK/CW.
I like QRP and SOTA / WFF activity.
Member of:HSC *1237, VHSC *300, SHSC *127, DIG *4373, RTC *104,
AGCW-DL *1355, U-CW-C *609, U-QRQ-C *124, MARCONISTA *214,
HA-CW-G *018, WAB *12363 *15254, BCOC *030, SM-HSC *129,
BTC *296, HA-QRP-C *021, HA-DX-C *167, EPC *1064 / area HG17 /,
CTC *1197, RCC, CDG *211 and NAQCC *1873