Hi,
My favorites bands are 10m, 12m, 15m, 17m, and 20m. Sometime on 40m, but rarely.
I'm QRV on SSB and digital modes, like JT65, SSTV and DRM SSTV.
I'm looking for trying DV D-star mode on HF bands, if you're equipped, send me a message or call me on displayed frequency bellow (only appears when I'm online) !
I hope to hear you on frequency !
Best 73's
@Home :
Icom IC-9100 Dstar + Icom SM30 Microphone + Icom SP23 : 100w

Icom IC-7700 + Heil PR781 + Icom SP20 : 200w

Icom ID-5100 VHF UHF DV

Kenwood TS-590S for Digimodes

FlexRadio Systems Flex-1500 QRP 5W

​Power Supplies :

Samlex SEC-1235

PSU1250

​Diamond GZV4000

MFJ-993 Auto antenna Tuner

Old DSP Datong FL3

Signalink USB for Digital modes

MicroHAM USB3 for Digital modes

Era Microreader CW decoder

Digipeater APRS :

​Yaesu FT2800 / 5W

Diamond X50N

Wx3in1 Digipeater
Antennas :
Cushcraft R7

7m FishingRod HomeMade with SG230 tuner and radials

End Fed Antenna HomeMade 23m length with 9:1 balun

Comet GP98 VHF/UHF/SHF

Diamond X200N

Diamond X300N

Diamond X50N

DK7ZB 5el VHF & 8el UHF HomeMade
@Mobile / Portable :
Kenwood TM-D710 VHF UHF + Diamond NR760H + GPS

Kenwood TS-480SAT + Moonraker MD-7400 multiband antenna + G5RV Full size HomeMade

Icom IC-7100 D-Star + LDG AT100PRO2

Icom ID-51E

Yaesu FT817ND + BHI DSP onboard + End Fed antenna HomeMade for portable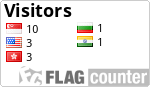 7372662 Last modified: 2016-06-10 10:05:02, 6060 bytes
Login Required

Login is required for additional detail.
You must be logged in to file a report on this page
Public Logbook data is temporarily not available for this user