Welcome to my World 
---
My name is Stefan and my Amateur Radio Callsign is HB9GFX
My German Call Sign is DG9BDI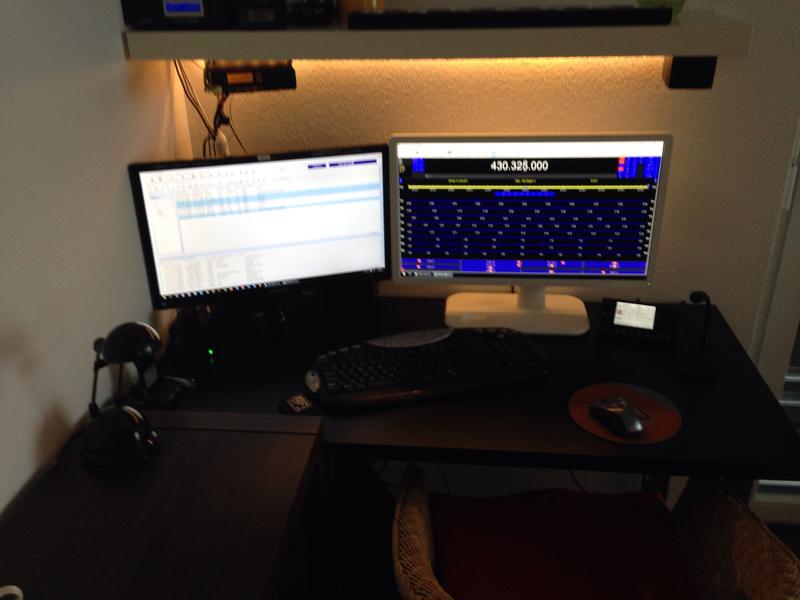 Biographie:
I am located in Döttingen between Schaffhausen and Basel close to the German border.
My Locator is JN47DN and my main interest is contesting on VHF/UHF/SHF and working on 6m 
Because I had to move from my old QTH JO42EG to Waldshut and later to Switzerland I am now limited to process my hobby due to the fact of restrictions to build up antennas.
Therefore I sold my IC9100 and bought an FT847 which is much cheaper and not "rosting arround"here .
Because the FT847 was not so nice from my view I sold it again and bought an IC7000 which I can use home and in the camper.
Later I changed it to an IC7100 due to the fact that I am quite active in DStar on Reflector DCS001J.
Home Setup:
TRX 1: Icom IC7100
Microphone Icom SM-30
Automatic Tuner Icom AT-180 for blank power
Antenna1: Diamond V2000 (2m/70cm/6m) at the balcony.
Antenna 2: wire 2 x 17m (80-10m) mounted  between ours and the neighbours house
Antenna 3: Diamond X50 mounted at the balcony
FA Station Manager (DH8BQA)
Vibroplex Vibrokeyer Gold
DStar via DCS001J, DCS001C or DCS002J (DMR-ID: 2288146)
TRX2: Connect Systems CS-800 DMR UHF Radio
QRV on Reflector 4050 (Ostwestfahlen)
Home Made Dual Hotspot with 2x Raspberry Pi III B, DVMega for DMR on Reflector 4050 and DVMega for DStar mostly on Reflector DCS001J --> Docu can be found here

dg9bdi.de/blog

TRX3: Icom ID-51 E for DStar use inhouse with DVMega and for portable use
I operate mostly on 40m in RTTY or BPSK31 but also in SSB
Camper Setup:
I will do some contesting on VHF/UHF from my Camper from exposed QTHs in the Black Forest or Alps
TRX4: Icom IC-7100 dashmounted
TRX5: Bosch KF163 with APRS Tracker (DG9BDI-9)
Antenna  Camper: Diamond:  SG-M911
Antenna Camper APRS: Diamond CR-77
Different wires for SW
Home made optimized 6 Element M2 design for 2m and an optimized M2 design 9 Element for 70cm
Rotor : a small TV antenna Rotor
Mast: 6m long mounted at the bike carrier of the camper.
TRX6: Retevis RT3 or better known as TYT/Tytera MD380
Raspberry Pi II B with DVMega Hotspot for DMR/DStar mostly on Reflector 4050 DMR or DCS001J in Dstar
Project DV Hotspot for home and mobile:
There was the idea to build my own Repeater first to use for DStar.
After a while I found the DV4Mini and thought this is the right thing to build my own repeater for mostly personal use.
So I ordered one and added it to my Windows Notebook which worked ok but was not satisfying.
So then I heard about using the DV4Mini with a Raspberry Pi. So I searched for a complete image which I can use because my experiance in Linux is not so good.
I downloaded this image and installed it on an SD Card.
After a few days the idea came up to put a small display on it to run the DV4Mini from this smal device without any monitore.
So I found a small 3,5" display which seamed to be the right choise.
This was my hotspot for a while . 
Then DMR came into the game and because there was the possibility to also ruin DMR on the DV4Mini I ordered my first DMR Radio. It is a Retives RT-3 (or also knowns as Tytera MD-380)
Quickly after I amde my first experiance in DMR I ordered a 2nd SDV4Mini Stick to run it side by side to the DStar one.
Because all of this was not so satisfying, and because many HAMs told me look for DVMega I ordered one from Guus and installewd it on another Raspberry.
Firste with an Image from Western DStar and later with my own composition of Raspian Jessie and MMDVM as well as IRCddbGateway Software.
First I ran DVMega and DV4Mini side by side in my new build hotspot but fast I knotised that this is absolutly not needed.
DVMega and MMDVM Software can handle DMR and Dstar on one device and without to many disturbing between DStar and DMR. 
So I am running now my DVMega with DMR and Dstar on one device and one QRG.
Then the idea cam up to build something like that for my camper.
quiclly a new DVMega and a Raspberry were ordered and a nice small case and a copy of my image as burned to an SD Card and ready is the 2nd hotspot.
I had now the idea to ad displays to my hotspot which show the status of MMDVM. 
So I added one to the case of my home hotspot and another one I added ad the side of my control panel for my Solar panels
Here you can see the result :-)
Still not done 100% and small tiny beauty updates needs to be done and I need to do some wiring work as well but it works already. 
It is minus degrees outside right now and therefore I stopped this for now until it is warmer because I don´t wand to take back the camper from winter sleeping now and enable all heating and stuff. 
Therefore the idea is started and the finish will be done as soon as the temperatures are high enough that my fingers will not stick to metal anymore :-D
See you on the bands 
73 de Stefan
Skeds are welcome:
by mail: dg9bdi@gmail.com or  hb9gfx@gmail.com
by mobile phone: +41 78 638 48 06 (swiss phone)