Max - i2ioj
Here is my RADIO-SHACK:
Following UNITS are included:
HF + 6mtr Base Station RTX Yaesu FT-2000
HF + Base Station RTX Yaesu FT-1000MP - Mark V - Field
HF + VHF + UHF Mobile RTX Yaesu FT-991
HF + VHF + UHF Mobile QRP RTX Yaesu FT-817 ND
VHF + UHF Mobile Handy RTX ICOM IC-E90
Station's ACCESSORIES:
Morse Keys Junker + Prijem Visilani + Iambic ETM - SQ + Other Several
Base MicrophonesKenwoodMC-60+ KenwoodMC-80+ Icom SM-8+ Astatic D-104 + Astatic UG-8 +
Heil HM-10 (HC4 El.)+ 2 pieces Shure 450+ Din. Mic.TRAM +
Hand Microphones Shure SM-58 + Revox M 3 500 + Yaesu MH-31 A8J + MH-31 B8 + ICOM IC-HM12 +
TURNER Ceramic 350 + ICOM MC-43S + Trio-Kenwood MC-10
+ Several Home made Mike Sets
HeadSet TELEX Contester 62400 155
MFJ Tools Electronic CW Keyer MFJ-407B + Artificial Ground MFJ-931 + Ant Analyz. MFJ-207
Antenna Tuners MFJ 949D + MFJ 945DE + LDG Z-11 Pro Autom Tuner +
Magnum Eletronic MT 3000 Manual Antenna Tuner
SWR Meters Revex W500+ Kenwood Sw-200+ Lafayette RW40+ Osker SWR-200+ Swan SWR-1A
Loudspeakers Kenwood SP-31+ ICOM SP-12+ Kenwood SP-50B
Amplifier: HF + 6mtr Amplifier SPE Expert 1K-FA
And here you can see my ANTENNAS:
Here is a Cassegrain for multiple TV satellites and two 5/8 Lambda for 6 mtr, 2 mtr and 70 cm
Here is a Fritzel Dipole FD4, for 10 to 80 mtr
and an Italian multiband Ground Plane Vertical Antenna (Nuova Eco Antenne), for 10 to 80 mtr
Butternut HF6V
DIAMOND CP6
Malcott BB10V
Discone frm 25 to 1000 MHz
5 element Yagi for 50 Mhz with small two band-yagi for 2 mtr & 70 cm
Here is a PANORAMIC VIEW of what can be seen from my terrace, and what is seen by my antennas...
Some past configurations of my shack:
Some local   CLUB  activities (ARI Bergamo), and here a picture with the Princess Elettra Marconi, the
daughter of Guglielmo Marconi, the inventor of the RADIO
BIO
I've been born in 1959and I'm native of Rome,In 1976 I've got the call sign I0IOJ. After a period of some
years spent in Germany, from 1989 until 1997, from where you may have contacted meas DJ0KZ, in 1997
I came back to Italy, in the Northern part, in the region of Bergamo (abt 20 Miles E of Milan), and got again
an italian call sign, I2IOJ, that I still hold.
Here I manage a factory producing X-ray generators and X-Ray complete equipment for medical or industrial
application.
I live in Seriate, a small town (abt 20k inh.) very close to Bergamo.
Here you can see Bergamo, in a view from Seriate:
Here another view of Bergamo
Here with my wife in Bergamo old town (Città Alta)
and here is my FAMILY:
with Valerio, Mom Eda and little Flavia...
I have spent my life between 1981 and 1985 in the Italian Army, where I was an officer of the Signal Corp.
In the annex picture you can see me some years ago when, I established again the old and famous
official amateur radio station of the Italian Army's Signal Corp National School, IK0MIL, formerly called
I1MIL.
I designed the all station's set-up, radios, antennas, including the all shack's non-radio hardware, supported
by the Signal Corp School's very helpful carpenters.
Here is IK0MIL at that time....
I mainly listenwhen I'm in the radio shack and very rarely take the microphone or the CW-key, or the keyboard, for QSO-ing.
The absolutely preferred mode is since ever CW. I also like talking by phone with collegues in SSB and practicing in this way
languages; but I also like very much the all digital modes.
I don't send QSL as a standard for each QSO, and prefer to reserve it to the situations when it is really needed, as for license's
upgrades, for awards or for a specific wish. If somebody wants to get my QSL after a QSO with me, I will be very glad to send it
to him; he is therefore kindly required just to ask it clearly.
You may find more information and pictures on my personal web site: http://www.maxig.eu/
OTHER HOBBIES
My job, as a hobby:
X-RAY TUBES
Monobloc X-ray Generators
Producing X-ray Generators...
Fishing
here with a King Salmon, in the San Francisco Bay, returning from a fishing day in the Pacific Ocean:
Flyfishing
in the Italian Alps, fishing mountain brown trouts (Brembo River):
here follow two shots taken while fishing in the Serio River, Seriana Valley, Bergamo, Italy.
Bowling
Judo
a few moments before the match, in a teams-tournament:
at that time (years eighties) this was my Judo team at the Rome's University (CUS-Roma):
Travelling
Languages
Best 73 de i2ioj (ex i0ioj & dj0kz) (massi39[at]hotmail.com)
Massimo Gizzi Iori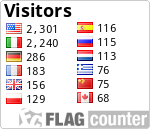 Counter established Dec.27th2009.
---
---
---