ITALIAN NAVY SHIPS RADIO STATIONS AWARD 2017
SPECIAL CALL  II2IAOG    NAVE  " FENICE "
 ARMI MI 1210
                  09/24 SETTEMBRE 2017.
TEAM  2017 
I2QIL        Antonio 
I2CZQ       Piero     
IZ2FOS     Lorenzo
ITALIAN NAVY SHIP RADIO STATIONS AWARD 2017 - REGULETION
from Alberto Mattei - IT9MRM - Chairman ARMI
The ARMI Diploma called "ITALIAN NAVY SHIP RADIO STATIONS" was designed to remember the
Naval Radio Stations of the Italian Military Navy from 1960 to today and to encourage radio
comunications in all ways with all radio amateur stations. The Diploma is achievable by all OMs and
SWL of the world. The Jolly station for this event will be II8IHBC – NAVE VESUVIO.
PERIOD of validity
The diploma will start on 09 September 2017 (00:00 UTC) and will end on 24 September 2017 (23:59
UTC.
STATIONS
The following stations will be active:
- Stations with a special name representing the naval radio stations of the Navy
(see list on http://www.assoradiomarinai.it);
- stations registered at ARMI;
- stations registered with other Naval Clubs;
- Independent stations.
MODE
The following modes are allowed: CW - SSB - DIGI
BANDS
All HF bands, according to the Band Plan IARU
QSO POINTS
QSOs (HRD) with the "JOLLY" IT Navy Ship Radio Station are worth 25 points (all modes);
QSOs (HRD) with IT Navy Ship Radio Stations are worth 15 points (all modes);
QSOs (HRD) with ARMI Club and Naval Clubs members are worth 5 points (CW);
QSOs (HRD) with ARMI Club and Naval Clubs members are worth 3 points (PSK/RTTY);
QSOs (HRD) with ARMI Clubs and Naval Clubs members are worth 2 points (SSB);
QSOs (HRDs) with INDIPENDENT stations are worth 1 point (SSB-CW-PSK/RTTY);
NB: All stations (ARMs, Naval Stations and JOLLY Station) can only be connected turn-by-turn for each
single release mode and the same for the whole race period.
INDIPENDENT stations only once. All doppler connections will not be considered.
MULTIPLIER
for each "Ship Radio Stations" connected.
Example: If at the end of the race I connected all 5 different naval radio stations, my result must
multiply by 5.
DIPLOMA POINTS
To get the diploma you need a minimum of points as follows:
Italian stations: 30 points;
European Station: 20 points;
Extra-European stations: 10 points;
CALL
The call will be as follows:
CW / PSK31-RTTY : CQ CQ DE II8IHBC II8IHBC AWARD IT NAVY SHIP RADIO STATIONS K
SSB : CQ CQ from II8IHBC – CALLING FOR ITALIAN NAVY SHIPS RADIO STATIONS AWARD - OVER.
REPORTS AND NUMBERS
The ARMI stations will pass the RST reports followed by the registration number (MI #);
NAVAL stations (*) will pass the RST reports followed by the registration number corresponding to the
number club (MF # - IN # - RN # ....);
The INDIPENDENT stations will pass RST reports.
CATEGORIES
Sono previste tre categorie :
"NAVAL" for ARMI stations and members of other Naval Clubs (*)
"INDIPENDENT" for all other OMs
"SWL"
SUB
There are three subcategories:
"MIXED" (SSB/CW/PSK/RTTY)
"PHONE" (SSB)
"MORSE" (CW)
PRIZES
The station that will get the highest score ever, regardless of whether it is a NAVAL or
an INDEPENDENT, will receive a prize donated by the "PRINTED.IT" company of Bonanno Brothers
(http: // www. printed.it) (it consists of a free print of 1000 QSL color duplex front - the front will be
plastified polished);
The highest score of each Category / Subcategory will be awarded a prize rating;
For SWLs there is only one SubCategory (MIXED);
For "Ship Radio Stations", 1st, 2nd and 3rd place will be awarded with a cup.
Prizes will be released for all categories / subcategories, only if at least they will be listed 5 stations in
competition.
All participants (if required) will be sent a "certificate of participation" in PDF (or jpg) format.
REQUEST
The Diploma will be required at the Award manager:
IT9MRM Alberto Mattei - Via E. Millo, 20 - 96011 Augusta (SR) - Italy -
email: it9mrm@gmail.com
The request for the awards must be made by post (electronic), the logged log will be authentic. The
applicant for to participate in the competition, must send a contribution of € 10,00 or $ 15,00 (USD).
This will entitle you to receive the Award in paper format (with its ranking position, participation mode
and final) and to compete for the final prize (the contribution must be paid at the end of the
competition and no later than the predetermined term).
LOGS
They must be ADIF / CBR / TXT / DOC format. It is allowed to use any electronic log.
All logs will be censored through the diploma management spreadsheet, this will be the only one
official program to be able to build the ranking.
It is commonly asked for everyone to use the "Electronic Scorecard Scorecard", downloadable from the
ARMI website (http://www.assoradiomarinai.it)
All logs that will report inconsistencies will be excluded from the rankings and placed in the list of
Control Log.
The all stations (outsite Italy) who so wish will be able to send the contribution for the Diploma
through the following mode:
- via "PAYPAL" al seguente indirizzo it9mrm@gmail.com
- via Bank: IBAN IT46V0200884625000103416422 c/o UNICREDIT Augusta.
EXPIRY
Requests for the diploma must arrive no later than 30. 11. 2017.
ITALIAN NAVY SHIPS RADIO STATIONS AWARD 2015
12/27 SETTEMBRE 2015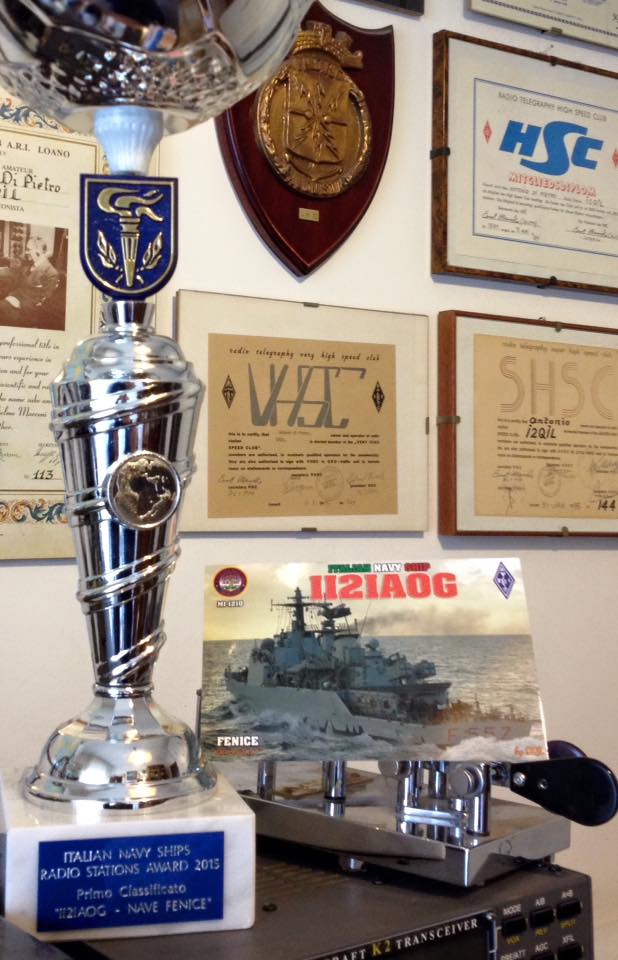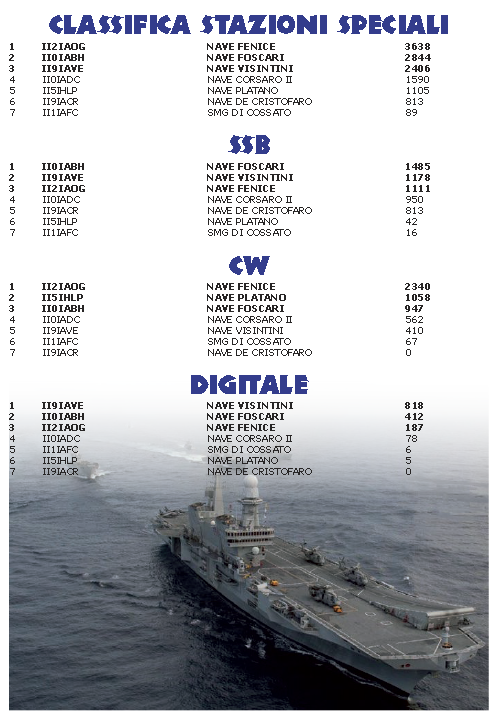 NOMINATIVO
INTERNAZIONALE
NAVE
NOMINATIVO
INTERNAZIONALE
NAVE
IABA

ARETUSA

IABC

GALATEA

IABE

C. FULGOSI

IABF

BORSINI

IABG

BETTICA

IABH

FOSCARI

IABJ

VESPUCCI

IABL

SIRIO

IABM

ORIONE

IADC

CORSARO II

IADP

L. D. DE LA PENNE

IADO

DORIA

IADU

DUILIO

IAEF

ZEFFIRO

IAEO

BERSAGLIERE

IAEP

ARTIGLIERE

IAEQ

AVIERE

IAER

GRANATIERE

IAES

ESPERO

IAEU

EURO

IAFM

F. MIMBELLI

IAGR

GRECALE

IAIQ

G. GARIBALDI

IALI

LIBECCIO

IALS

ALISEO

IAME

MAESTRALE

IAOB

URANIA

IAOC

DANAIDE

IAOD

SFINGE

IAOE

DRIADE

IAOF

CHIMERA

IAOG

FENICE

IAOI

BERGAMINI

IAOM

ORSA MAGGIORE

IARG

SAN GIORGIO

IARM

SAN MARCO

IARO

ROSSETTI

IASC

SCIROCCO

IASG

SAN GIUSTO

IASM

CAVOUR

IASP

STELLA

IATA

CASSIOPEA

IATB

LIBRA

IATC

SPICA

IATD

VEGA

IATO

TODARO

IAVJ

MARINO

IAVK

PEDRETTI

IGMA

MAGNAGHI

IGMX

MAGNAGHI

IGNL

STROMBOLI

IGPL

PELOSI

IGPR

PRINI

IHAN

ANTEO

IHBC

VESUVIO

-------
-------
Qui puoi scaricare la lista completa delle navi (lista in fase di aggiornamento) [Clicca qui!]
Qualsiasi socio, può chiedere di operare per l'attività su menzionata, basta inviare a info@assoradiomarinai.it Questo indirizzo e-mail è protetto dallo spam bot. Abilita Javascript per vederlo. la richiesta di partecipazione per il nominativo speciale della stazione radio navale che si vuole attivare e richiedere il relativo numero di identificazione ARMI.
Il responsabile del nominativo speciale sarà colui che deve chiedere al Ministero il rilascio del nominativo (per scaricare il modulo clicca qui!).
Il responsabile del nominativo speciale può organizzarsi come meglio può, operare da solo o con un gruppo (team) di massimo 5 operatori (è obbligo segnalare i nominativi delle stazioni che faranno parte del team).
A tale attività viene indetto un award ed al termine vengono premiati i primi classificati delle seguenti categorie: NAVAL - INDIPENDENT - SWL; le sottocategorie sono: PHONE - MIXED - CW (è ammessa la partecipazione solo ad una sottocategoria).
Per il 2016 questo è l'Award che sarà rilasciato a tutti coloro che avranno collegato i nominativi speciali delle stazioni radio navali della Marina Militare Italiana.
Per il 2016, il periodo dell'attività è stato indetto dal 10 settembre al 25 settembre 2016, per vedere il regolamento potete cliccare qui, per scaricarlo in formato PDF.
La stazione Jolly è II2IAOG.
Per gestire i collegamenti con i punteggi relativi bisogna utilizzare il Log on-line di EnzoLog alla seguente pagina cliccare qui!
Scarica il Foglio Elettronico per la gestione dei collegamenti (LOG UFFICIALE aggiornato al 9 settembre 2016) clicca qui!
La lista delle stazioni accreditate per l'anno 2016 è la seguente (in fase di aggiornamento):
| | | | | |
| --- | --- | --- | --- | --- |
| # MI | NOMINATIVO | NAVE | TIPO | OPERATA DA |
| 853 | II1IAME | MAESTRALE | Fregata | IK8XVA/I1 |
| 856 | II5IAFR | CANOPO | Fregata | IW5BBV |
| 1034 | II9IACR | DE CRISTOFARO | Corvetta | IT9DTU |
| 1135 | II5IHLP | PLATANO | Dragamine | I5NQK |
| 1210 | II2IAOG | FENICE | Corvetta | I2QIL |
| 1221 | II0IADC | CORSARO II | Nave scuola | IZ0FVD |
| 1300 | II8IHBC | VESUVIO | Rifornitrice di Squadra | IU8CEU |
| 1315 | II0IATO | TODARO | Sommergibile | IZ0EUX |
| 1330 | II9IABA | ARETUSA | Idrografica | IT9MRM |
| 1333 | II9IHPM | ALBATROS | Corvetta | IT9CKA |
|   |   |   |   |   |
|   |   |   |   |   |
---
Classifica dell'Italian Navy Ship Radio Stations Award:
---
Primi classificati per ogni Categoria e sottocategoria:
| | | | | | | | |
| --- | --- | --- | --- | --- | --- | --- | --- |
| ANNO | NAVAL PHONE | NAVAL CW | NAVAL MIXED | INDIPENDENT PHONE | INDIPENDENT CW | INDIPENDENT MIXED | SWL |
| 2013 | IW5EEC | IK2SOE | IT9XUA | IT9NSL | IN3DQW | IZ8GUN | I1-2558GE |
| 2014 | IK5IWU | IK2SOE | IT9XUA | IZ5WSR | DL7UJM | IZ3WUX | I3-6031BZ |
| 2015 | IK5IWU | IK2SOE | IK5TBI | IN3IJL | SP3BLK | IZ5MMQ | OE1-1001007 |
Primo classificato "HUNTER":
| | |
| --- | --- |
| ANNO | STAZIONE |
| 2013 | IZ8GUN |
| 2014 | IT9XUA |
| 2015 | IK5TBI |
Primo classificato "Radio Navale":
ANNO
STAZIONE RADIO NAVALE
NAVE
CONTATTI

2013

IIØIAML (IS

ØIGV)

IMPAVIDO

4615

2014

II9IAIQ (IT9CFP)

G. GARIBALDI

6438

2015

II2IAOG (I2QIL)

FENICE

3638
Ultimo aggiornamento Venerdì 09 Settembre 2016 17:04