THANK YOU FOR VISITING MY WEB-PAGES
It was a very basic National Panasonic receiver that sparked my passion for amateur radio. That was way back in 1972 at the tender age of 15!
For a long time (as SWL I-FI52013) I simply listened to short/medium waves but eventually the day came where I felt compelled to communicate. Since then the radio has enriched my life in so many ways. It has become my teacher, my friend, my comfort. Through it I have come to know the world, its people, languages and cultures...
However it was during Desert Storm that I was truly struck by the power and significance of this medium. As bombs and bullets flew and fires raged, here were Radio Amateurs from conflicting countries talking together – in peace, friendship and with mutual respect.
Crossing the divisions of religion, politics and ethnicity. Embracing our differences and celebrating common ground. This is the spirit and intention of Ham Radio (Ham Spirit).
8 bands DXCC
My motto: Thanks to anyone use "radio" to save lives...
2010 - DXPEDITION - A25DF: www.qsl.net/a25-2010
1998 - DXPEDITION8Q7DF -LOG SEARCH HERE:https://secure.clublog.org/logsearch/8Q7D
Now active on: 6, 10, 12, 15, 17, 20, 30, 40, 80 and 160 (NEW!)!!!
UNTIL 01/FEB/2008 my call was IK5MDF
IK1MDF [ex ik5mdf] Lorenzo Tabaracci (N1LOR)

Sono radiomatore dal 1972 (swl I-FI52013), avevo solo 15 anni, e ho iniziato con un semplice ricevitore della National-Panasonic.
Per molto tempo ho fatto solo ascolto sulle onde corte e medie, fino a quando e' venuto il momento di comunicare, era il settembre 1988... La radio mi ha insegnato a conoscere le persone, mi ha fatto desiderare di conoscere il mondo, le sue lingue, le sue culture, ovunque esse siano. La cosa piu' significativa che ho potuto vivere, risale alla "prima guerra del golfo": durante essa, potevamo ascoltare radioamatori che appartenevano a paesi in guerra tra loro, scambiare le loro voci attraverso l'etere, con amicizia e rispetto. Il vero SPIRITO DEL RADIOAMATORE (HAM-SPIRIT) e' quello di superare ogni ostacolo, di religione, di politica, di etnia.
Sono attivo come operatore nelle Radiocomunicazioni Emergenza. Ho partecipato all'EMERGENZA ABRUZZO
http://www.qsl.net/ik1mdf/4358/index.html
durante il terremoto del 2009.
Dal dicembre 2009 ho ottenuto la licenzaUSA con il call N1LOR (HV GENERAL)

===============================
 
I am active in EMERGENCY RADIOCOMMUNICATION. I operated during L'Aquila 2009 Hearthquake
http://www.qsl.net/ik1mdf/4358/index.html
Since december 2009 I get a USA callsign N1LOR (HV GENERAL)

Other call used: IK5MDF, 8Q7DF,IZ5A, IQ5JAM, II5A, IP1TIN, IY1Y, A25DF, A25HQ
What you can do with a vertical antenna!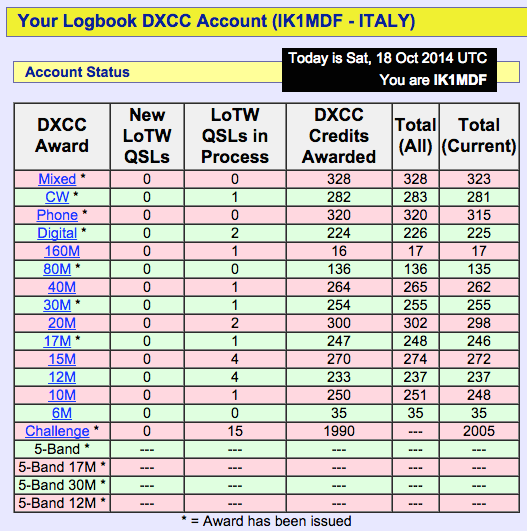 Please note: 80/160m bands worked with 1/2 wave inverded V dipole AND long-wire.
NAVASSA IS. KP1... THE MOST WANTED... I GET IT!