Mi chiamo Massimo ed il mio nominativo è it9akc. Sono della classe 1981, la mia passione per la radio è nata quando ero piccolo, quelle rare volte che mio padre, all'epoca operatore radio, mi portava da lui al lavoro restavo affascinato dai microfoni e dalle apparecchiature. Successivamente i miei genitori hanno avuto l'insana idea di regalarmi un ricetrasmettitore CB. A quel punto la mia radio-malattia è scoppiata!! Oggi dopo anni sono radioamatore, molto felice di esserlo!!! La mia più grande passione sono i DX in generale, sia nelle HF che nelle bande più alte. Adoro i modi digitali, la sperimentazione con le antenne, le trasmissioni in ATV. Fattivamente mi sento completo come radioamatore. Questo grazie anche a mio fratello Paolo, it9awj, lui anche se non opera molto mi da tanti spunti ed aiuti.La mia stazione è molto piccola, uso per i collegamenti HF un vecchio Icom 738 con un microfono zetagi MB+5, per i collegamenti SSB in VHF ho uno Yaesu FT857D abbinato ad un MD-100, il traffico su ripetitori invece lo faccio con un FT212RH ed un FT 7800. Il mio parco antenne si trova montato su un traliccio di 3 mt autocostruito e sostiene sostanzialmente una Yagi della MomoBeam, 7elementi per i 10/15/20 metri / 2+2+3 el full size), una Yagi 6 elementi autocostruita per i 2 mt, un dipolo filare 40-80 metri ed una X 30 per il traffico su ripetitori, il tutto con un rotore HAM IV, ed una J-Pole autocostruita per i 6 metri. A breve invece un G 400 RC farà girare le antenne per i 2 e 6 metri su un palo scatolato e gabbia rotore prosistel. Per mia scelta preferisco non usare amplificatori.
Grazie per aver visitato questa pagina, che è in continuo mutamento come lo è la mia stazione.
Hi all!! My name is Max and my callsign is IT9AKC, I was born in 1981.
My Passion for radio born in my early age when my father, radio operator at the time, bring me, some times, at work... I was
fashinated by microphone, radios and all the apparatus. Next my parents has the very bad idea to gave me a a CB RTX. This is
when my "radio disease" blowned up!!
Now I'm a very happy Ham Radio Operator!! I've a big passion for DXs, in HF or higher band.
I love digital modes, antennas experimentation and ATV. I think I am a full radio amateur. Things are so good also thanks to
my brother Paolo, IT9AWJ, that is very helpfull tecnically despite he doesn't work on air very much.

I've not a big station: an old Icom 738 for HF with a Zetagi MB+5 microphone, for SSB VHF I use a Yaesu FT-587D coupled whit an MD-100,
repeatr traffic is done with an FT-212RH and an FT-7800. My antennas are mounted on an 3 meters self-made tower and are a 10-15-20 meters
7 element yagi for 10/15/20 mt by MomoBeam (3+2+2 el full size) , an 6 element HM Yagi for 2 mt, a 40-80 meters filar dipole and an X30 for V-UHF, all powered by a Ham IV rotator. And Home Made J-Pole for 6 mt.
It's my personal choice to not use any amplifier for my DX.

Thanks for visiting this never static page of mine, changing constantly as I do.
73's By it9akc Max
@ II9P
I and my friend Sergio IW9FSG
I and It9BhM in my station room
My big friend Sergio HB9FEH in my station room
HB9 antenna for 6 mt Band by my friend Nuccio IW8QFA
Mobile set-up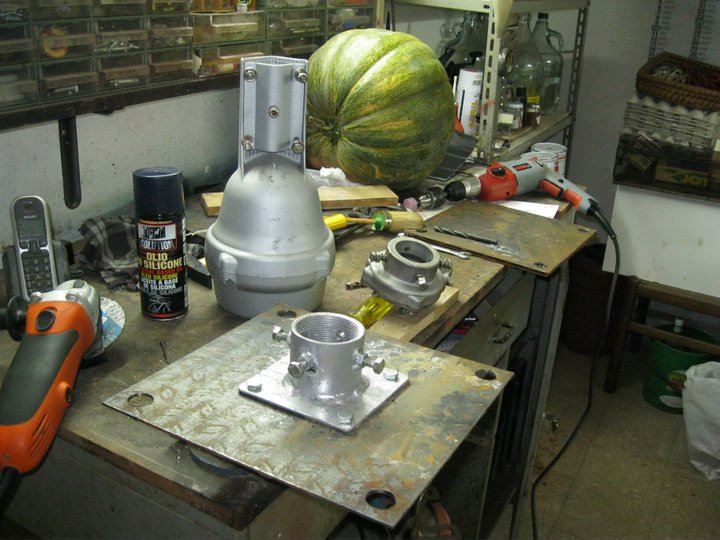 IC 738
ATV Repeter
4:1 on T200-2
My Ex Antenna System ( 4 el 10 mt-rot dip. 10-15-20 mt-6 el HM 2 mt- X30 V-UHF)
My first antenna in 1998 5/8 wave on 7 meters pole :)
LOCAL TIME