GRSNM SRW #052
http://www.grsnm.it/diplomi/
Many thanks for visiting my page!
MY QTH
My amateur radio station is located in Civitavecchia, Harbour of Rome Center Italy, North West coast of the Tyrrhenian Sea Central.
The population of Civitavecchia is approximately 55.000 people and there are quite a number of radio amateurs and radio clubs in the area.
MY SHACK
I have had quite a number of different brands of equipment, including Kenwood, Yaesu and Icom. After a couple of decades on the air my current choice has been Icom, therefore my main transceiver is Icom IC-7700, Icom IC-7000 transceiver for HF/VHF/UHF and SPE Expert 1K-FA linear amplifier (made in Italy).
MY HF ANTENNAS & ROTATOR
My main HF antenna is a 3 element HF yagi by Ultrabeam, model UB-50 (made in Italy). The ability to tune on any specific frequency in the 7-50 MHz (40-6 mtr) range with utmost perfomances.
It is mounted at about 33 feet in steel pole with cart lift PROSISTEL (made in Italy). I am turning my HF antenna with a PROSISTEL PST2051D rotator (made in Italy).
I also have dipole for 160, 80 and 40 m.
OTHER SHACK ACCESSORIES
My other shack accessories include two SM-20 Desktop Microfone, a interface microHAM micro KEYER II for interfacing my transceiver to antenna controller, to rotator controller and to my shack PC.
Software utilized is Ham Radio Deluxe
QSL INFORMATION: I will gladly reply to every QSL received using the same method you send your QSL to me. SWLs are welcome to send me reports. I use the following QSL options in effort to cater for most operators requiring a QSL.
LOTW : My preferred electronic QSL method. I usually upload my logs weekly.
eQSL : I am a silver member of eQSL. I usually upload my logs weekly.
DIRECT: You are most welcome to QSL direct. I will reply to all direct QSLs accompanied by a SAE, and 2GS or one current IRC, within 2-3 working days.
QSL BUREAU : Direct or LOTW QSLs are preferred, but if you need to send your QSL via the bureau, please use the Italian Amateur Radio Association (ARI) QSL Bureau.
73's de Marcello, IZ0RPS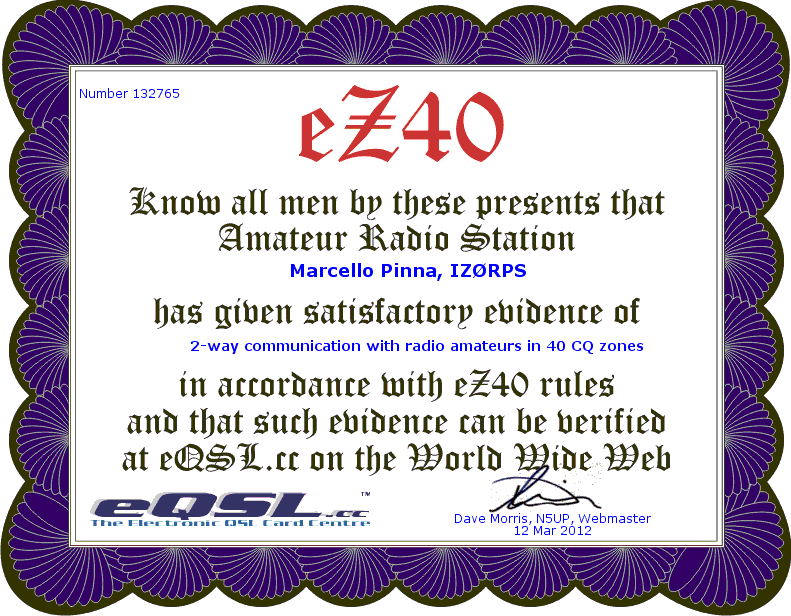 7370570 Last modified: 2016-06-09 09:22:16, 27626 bytes
Login Required

Login is required for additional detail.
You must be logged in to file a report on this page
Public Logbook data is temporarily not available for this user
Grid Squared Award

#14497


Granted: 2016-11-25 10:30:02 (IZ0RPS)



Endorsements:

10 Meters Mixed

15 Meters Mixed

20 Meters Mixed

World Continents Award

#15917


Granted: 2016-11-25 10:28:05 (IZ0RPS)



Endorsements:

10 Meters Mixed

15 Meters Mixed

17 Meters Mixed

20 Meters Mixed

United States Counties Award

#5319


Granted: 2016-11-25 10:28:02 (IZ0RPS)



Endorsements: