20,000 oversea contacts are achieved !! I'm thankful for all.
 I 'm a science teacher. I used to be a principal of some junior high school of Tokyo. Now, I am teaching science in the Space Education Center of JAXA (Japan Aerospace Exploration Agency) which is Japanese NASA. I have the 1-st license ham radio of Japan from 1964 .My Station equipments are follow ;
Radio :        Icom       IC-756PRO-II, IC-7000, IC-911,IC-726, IC-732, IC-706 ,IC-730S
                         Yaesu          FT-1000MP-Mark-V , FT-1011, FT-736 , FT-900 ,FT-101 ,FT-747SX
                          Kenwood    TS-450s,TS-690D,TS-940S              and etc
Power :            All most 100 watts output
ANT:               2 ele HB9CV for 14Mhz
                        5 ele Dualdrive Yagi for 21Mhz and 28Mhz
                        12ele / 20ele X-Yagi for Satellite
                         2m Dish for 1200Mhz/2400Mhz
                         6 Band GP (CP6)
                         R4 vertical for 14 - 28Mhz
                        Rotary Dipole for 7Mhz,21Mhz,28Mhz
                         Rotary Dipole for 18,24Mhz                                 ...all most 22m High above the ground
I 'm usually on the air for JT-65,JT-9,FT-8,ROS,PSK-31,PSK-63, RTTY,CW ,SIM-31 and the other degi-mode. Some times on SSB.
If in WSJT-X JT65,JT9,FT8  modes, I'm available via  JTAlert  chat.
My homepage :
---
The Japanese astronauts Miss Naoko Yamazaki and Mr. Akihiko Hoshide.
Mr. Harrison Hagan "Jack" Schmitt who is the astronaut of Apollo 17 landing on the moon
Dr.Yasunori Matogawa and Mr.Reiji Matsumoto
The Japanese astronauts Mr.Souiti Noguti and Miss Naoko Yamazaki and Mr. Mamoru Mouri.
The Japanese astronauts Miss Tiaki Mukai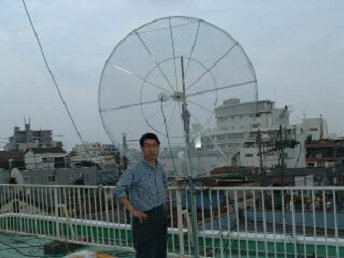 The last picture is my second house located in the ITOH city Shizuoka Japan
TNX 73 Hide
Large Visitor Globe