Hi, there!   Thanks for visiting to JS3CJB's page.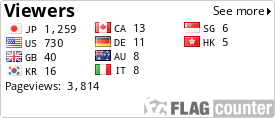 /* Greetings */
   I started my ham life in 1988 on 6m SSB band with ICOM's IC-502A, and then now enjoy QSOs on several major bands and modes as listed below living in an apartment house, so called "Apaman Ham," for whom it's generally hard to have big and highly effective antennas in considering of their admin rules and accessive areas. That's why I'm getting interested in digital ham communications especially these days, which may invite me to some of unknown, exciting, and new ham worlds. 
​   I sincerely appreciate, however, to all the people that have given me a lot of fun through QSOs not only on the air but also on the ground, in addition through the internet like this (:-p), even if very short moment and really by chance, or, "一期一会" ("ichigo-ichie")  in Japanese.​
   Hopefully May I have chances to live a thus exciting life forever beyond my own physical life, and your Ham life as well!
 
/* Rigs, Antennas, QRV Bands & Modes */
- Rigs

Kenwood     TS-690S for HF&6m, TS-790S for 2m, 70cm, 23cm.
Yaesu          FT-817ND for HF to 70cm, FT2D for 2m & 70cm.
 ​Icom           IC-2500 for 70cm & 23cm FM, ID-31 for 70cm.
​Standard      C701 for 2m, 70cm, 23cm FM QRPp.
Others         "DVMEGA+Raspberry pi 3" for 70cm DV w/BlueDV on Android.
​Linear Amps/Boosters:  2SC2879, M57788M, M68719, S-AV32, S-AU26, et.,al.
 
- Antennas
for ​HF and 6m: 11m-long Wire Antenna thru Icom's AH-4 Auto Antena Tuner, and Outback2000 for portable use.
for 6m:             Half-wavelength  Di-pole
​for 2m:             HENTENNA and Mobil-whip(*1)
​for 70cm:         8-element yagi, atachable an extention boom for 10-element style, and Mobil-whip(*1)
​for 23cm:         2-element HENTENNA radio-power-supplied similarly to HB9CV, and Mobil-whip(*2)
​*1,*2 The whip antennas are equiped at home balconies or on my bicycle as needed 'cuz I have no car.
 
- Modes
​Phones, CW, JT65, JT9, FT8, DV(*3,*4)
​*3 (1)  D-Star on JARL's networks, also on the voluntary Reflector-networks such as XLX/REF etc. as a user.
​     (2)  Fusion as well.
​     (3)  C4FM and Wires-X thru FT2D already.
​     (4)  As for private Wires-X node station w/o radio waves via Yaesu HMI-200 unit will be coming someday (:->).
​*4 With respect to many amateur radio stations developing and introducing  DV Reflector systems & items, I'm willing to say special thanks to PE1PLM, PA7LIM, JE3HCZ, JA1COU, JH1TWX, and, especially JH3GCN & JP3LGC who introduced me it first.
---
- My Favourite Homebrew Items..
 
 
(1) Electronic Keyer
 
(2) Compact Electronic Keyer
 
(3) "Junky" Mechanical Key

- Using Relay Contacts.

 



- Adjustable key-travelings.


 
 

- Made of daily surroundings and junks.

 
- Levers are made of five layers
of glass-epoxy circuit boards.
 

- Also available on the knee even in commuter trains.


 
 

- Size: approx.140mm x 140mm x 30mm.

- Bouncing feels good in operation.

 

- Original idea of this inclining figure was introduced by JG3MVG.

 
 
 
 
 
 
 
---
/* Hopefully for your relaxation... */
- QSL Card Gallery sketched by JS3CJB   w/ballpen and coloured pencils
| | | |
| --- | --- | --- |
| The Osaka Castle  thru the | Toyonaka-inari shrine.   | Cathoric Toyonaka Church. |
| Kinki Bureau of Telecoms. |   |   |
| (Click the top-right pic. to enlarge.) |   |   |
---
2017-10-22 Change some lay-out and comments
2017-10-14 View counter created at 278 visitors.
​2017-10-07 Top greetings et., al.added.
2017-08-20 Junky key added.