WIRELESS ROOM  MAIN OPERATING POSITION
KENWOOD TL-922A AMPLIFIER     (AMERITRON AL-1500 ABOVE)                                    YAESU FT-2000
SECOND OPERATING POSITION                                                                        YAESU FT-2000D
ROHN 25G  70'  GUYED TOWER SUPPORTING
10/15/20m Hy-Gain TH-7 Yagi @ 70' 
30m Half Wave Dipole @ 70' 
40m Half Wave Dipole Sloper Off Tower
60m Half Wave Dipole @ 70'  
2m/440  Diamond Vertical @ 80'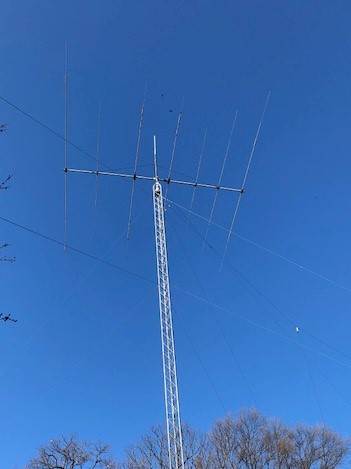 AWARDS
DXCC PHONE/MIXED:  #1 HONOR ROLL  340/356 
DXCC CW:  326/328
DXCC TEN METERS PHONE:  337/353  CERTIFICATE  #9 WORLDWIDE
WAZ: TEN METERS PHONE:  CERTIFICATE  #101 WORLDWIDE
WOMEN ACCEPTED FOR VOLUNTEER SERVICE (WAVES) 
"RADIO OPERATOR" U.S. NAVY WORLD WAR II:  The Navy ran a school for radio personnel beginning in 1942. Research suggests that John Falter used a Naval photograph (L) taken during March 1943 of Virginia L. Scott as the basis for this image. She is sending a message from the code room of the Radio School at Madison, Wisconsin. The Navy used this painting to print 40,000 posters, (R) 71,000 window cards and 57,000 car cards in June of 1943.  The artist, John Falter, is also known for his Saturday Evening Post magazine cover paintings.                                   
PUBLICATIONS
I have been fortunate to have a number of articles published in QST and POPULAR COMMUNICATIONS magazines. They can be viewed at:  www.gmramd.org/GMRA_Articles.html 
HISTORY
* Licensed in 1951. Callsigns:  W2GPW,  W4GPW,  K3BEQ.
* Co-Founder of The Green Mountain Repeater Association, (146.610 & 146.880 Washington DC metropolitan area.)
* Korean War Veteran - U.S. Army
     5th Armored Division
     Armed Forces Security Agency
* Department of Defense Professionalized Telecommuniations Officer
* Jazz Drummer (See videos below)
https://www.youtube.com/watch?v=wRiK9YZ2NMI
https://www.youtube.com/watch?v=j6BeBHPLoDA
https://www.youtube.com/watch?v=ngEIx2W4Hw8
 "It's A Wonderful Life"  (by John Falter)             
                                                                          "Thaaat's All Folks"