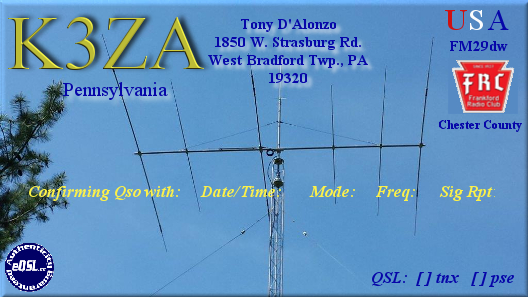 Radio Bio.:
   Been at this hobby since 1959 at the age of 13 yrs old. I have been active the entire time, through High School,
     U.S. Navy and College. While on active duty, 4 years, I was a Radioman 3rd class, stationed in San Diego and Pearl Harbor. Worked for
     the Commander-in-Chief of the Pacific Fleet at the Makalpa Communications center.  Enjoyed being an operator at KH6SP at the Sub Base at Pearl Harbor.
   Currently enjoy casual contesting, chasing dx and good ole rag chewing both ssb and cw.  Ran contest stations ZF1WW during the 70' and  VP9DX  in the early 90's.   Contest points go to the Frankford Radio Club.
   My Current station equipment consist of a Yaesu FT-1000MP, TS-590SG, Alpha 8410 amp for HF.   For VHF/UHF, Yaesu FT-2900R (mobile), Kenwood TM-732A. Antennas are a TH6DXX at 60 ft and assorted wires for the lower bands.  Diamond dual bander for VHF/UHF at 70Ft. ( see the youtube link of raising the tower and antenna)
https://youtu.be/LHNCxfMxc7w
   I am enjoying retirement.  Retired from the Department of Transporation here in Pennsylvania. Built the I.T. infrastructure in the District Engineering Office and the 5 County Maintenance offices surrounding Philadelphia.
   Also enjoy gardening, bicycling and walking. Had a 30 ft Catalina sailboat.  Enjoyed it while I owned her, but the work was more than ham radio !