K4AXF

USA




Login is required for additional detail.

Email: Login required to view

Ham Member Lookups: 23098
Attention CW Ops  - Join us on the Sunrise Net - 7123 KHz at 1300z 
- The friendly ragchew net -
My name is Jim.  I first caught the radio bug when I got a Rocket Radio, a little crystal set built into a red and white plastic rocket ship. Ittuned by position of a rod which slid in and out of the nosecone. I spent many wonderful hours listening to the "Joy Boys of Radio" show with Willard Scott and Ed Walker, their humerous patter and their great daily skit, "As the Worm Turns - brought to you by Stop No More". Later in the
evening Felix Grant took over with his jazz program, "The Album Sound". Terrific radio entertainment that continued to the last days of that golden era.
My interest in shortwave radio began when I discovered a Zenith Transoceanic radio in an upstairs storage closet. It had been presented to my Dad by his unit when he left Korea. I began punching different bands buttons and tuning around. Wow! I heard all kinds of really neat stuff - including ham radio operators. I was hooked on shortwave radio and the obsession has never let up.  
Our family moved to Germany in mid-1961.  I had been just about ready to take my Novice exam when I learned that a Novice ticket would  not be accepted by the German authorities.  So, I continued to study for another year, mostly struggling to get my code speed up to the 13 wpm needed to get a Conditional Class ticket (General Class exam by mail).  Finally ready in late 1962, an Army Signal Corps Captain administered the test and six weeks later my first ham ticket arrived; with  my first callsign, K3VBS.  With US license in hand, I went to the Postampt in Stuttgart and was issued callsign, DL4IP.
For the next 18-months I was active on 40-meter CW from Stuttgart where my first setup was a 40-meter dipole, a loaned Johnson Challenger transmitter and my Dad's Zenith Transoceanic (used Japanese transistor SW radio tuning up/down 455 KHz to act as a BFO.  Within a few months I had my own rig, an Eico 723 and a Hallicrafters SX-110.  Still an avid SWL, I also held the SWL callsign DL4PE1AC (issued by Popular Electronics magazine).
We returned to the U.S. in late-1964 and shortly thereafter moved from Maryland to Virginia.   At that time the FCC assigned you a new callsign if you changed call areas, and so was issued K4AXF.  Sometime around 1977 I upgraded to Extra class.  For several years, I was active in the National Traffic System, serving as a net control station on the Virginia Net, as VN-4RN and 4RN-EAN liason, and as VN Net Manager.  By that time I  had a set of Kenwood 599D twins, and later a Kenwood TS-530s, and still later, a Collins S-Line.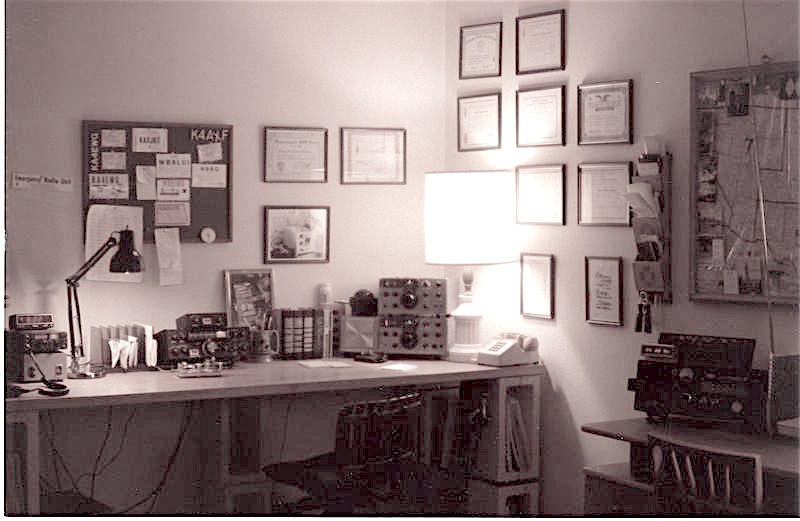 CURRENT STATION   
Kenwood MC-50 desk microphone
Kenwood TS-520 5-band CW/SSB transceiver
Kenwood R-5000 Communications receiver
Kenwood TS-530s 9-band CW/SSB transceiver
Homebrew PK-4 electronic keyer
LDG AT-100ProII auto antenna tuner
Vibrokeyer single-lever paddle
SpeeDx bug by E.F. Johnson
Hi-Mound HK-706 straight key
Kenwood TS-530s
I've owned and operated many of the modern DSP rigs.  With their all their advanced DSP features and I found the experience very distracting.  I seemed to get all wrapped up trying to get the very best signal out of it.  Just drove me nuts!
Anyway, after cycling through one rig after another, I recalled how much fun I had with my Kenwood Twins and TS-530s back in the 70s; and thought, "Why not do that again?".  So a couple of years ago I got this TS-530SP.  With a little control- and switch cleaning and a thorough alignment, it works like the day it came out of the factory.
Introduced after the TS-520s, 
the TS-530
s sported additional features,
digital frequency readout, the 
WARC bands  (30, 17, and 12 meters) as 
well as 
IF shift and XIT and notch.
The final amplifier was designed around two 6146Bs with a 12BY7 driver.  I've equipped this rig with both 500 Hz and 270 Hz CW Kenwood filters.  It has all the stuff I need for enjoyable CW operation without distracting bells and whistle.
Kenwood TS-520
My Kenwood TS-520 is almost fifty years old and still operates like it just the day it left the factory!  It's built like a tank, heavy as hell but what a great rig! 
It covers 80-10 meters (no WARC bands), CW and SSB, with 100+ watts output.  I love this rig on SSB; it's making a regular fone operator out of me.  Three tubes: 2 x 6146 Final amplifier, 1 x 12BY7 driver amplifier all other circuitry is solid-state.
My 520 is equipped with the 500 Hz CW filter which makes it a very  capable CW rig  -   and fun?  
 . . . Yeah buddy! 
A word about filters:  For those who have never used a CW filter, you would be surprised how much it improves the signal-to-noise ratio, i.e., significantly reducing the band noise that reaches the speaker.  This benefit is over-and-above eliminating interference from nearby signals. 
The narrower the filter, the less noise and interference.  Using a 250 to 300 Hz filter is great; but there is a catch - unless the receiver is tuned very slowly you may tune right past a station without hearing it.  So, I tune with the 500 Hz filter, then switch to the 270 Hz filter for enjoyable ultra-quiet reception.
Another tip: Back the RF gain down until the background noise is very low, and the desired signal is still copyable.  No RF gain on your rig? Switch in the attenuator. Do this one little thing and listening will be much more pleasant - CW or SSB. 
Kenwood R-5000
Hooked up to an external speaker, the R-5000 has pretty good sound quality.  Stable, sensitive, and selective, it receives as well as either of my ham-band-only transceivers and it covers long wave through 30 MHz, AM,CW, SSB and FM modes.  
The R-5000 is a no-compromise, high performance communications receiver of the highest quality.  
The receiver arrived with defective AF gain and IF shift controls, both mounted on a sub-board behind the front panel.  I managed to buy a replacement assembly from a ham in the Neatherlands, installed it, and now those functions work perfectly.   
While I had the rig dissembled, I installed the VE3JBT keybounce mod (www.mike-parry.com).  This entailed additional dissassembly in order to install two capacitors on the front panel board.  Mike's instructions are excellent and my keybounce issue is fixed - once and for all.
Once the above front panel mods were finished and checked out, 

I also installed the Kiwa audio mod (www.kiwa.com)

on the main board.  Now the audio is bright, crisp and well-balanced, making the mod well worth the trouble.  The instructions were clear.  It helps, though, to have the board layout diagrams from the service manual handy.
It was a good day, all mods went well and I didn't break the radio.  (Whew!)
Handy Dandy Keyer
This is my PK-4 keyer.  Runs on a 9v battery - like, forever.
The switch in the center selects either manual keys, keys off, or automatic keyer; the switch on the right switches selected key type to either of two rigs.  A pushbutton switch supports programming or activating the memory keyer function.
On the rear panel are RCA plugs go to rig A and B and 1/8" phone jacks for paddle, bug, and straight key.
I was active on all HF bands from the Virginia suburbs of Washington, DC, from 1964 to 2001.  
While still working in Fairfax my wife Pam, KA4EWG, and I moved to Strasburg, VA in the lower (northern) Shenandoah Valley in 2001.    
CURRENT QTH 
In March 2010 I retired and we moved further up the Valley to our retirement home just outside Grottoes, VA in the Blackrock trailer park. It's supposed to be a no-antenna community; even so, I threw up a "stealth" G5RV dipole in the trees at the edge of the woods behind our little double-wide. The antenna is very difficult to spot (center insulator circled in red, top center), even up close. I used black-jacketed #18 stranded wire and painted the end and center insulators with OD camouflage paint. The 60-foot run of coax is buried from the tree to the back of the house.
Pam built that wall from rocks collected in, and dug out of, the yard. She stacked 50 per day over two summers. It's now 90 ft long and comprised of over 12,000 rocks. She also cleared out the very thick undergrowth under those trees.  
Sadly Pam is now a Silent Key.
RECEIVING LOOP ANTENNA
I've had this Wellbrook ALA1530LN-2 receiving loop antenna for several months, connected to my R-5000.  It's about 3 feet in diameter with the LNA mounted in a plastic box in the bottom of the loop.  
This antenna works extremely well from longwave through around 6 MHz.  Sensitivity seems to gradually drop off above that but it's very useable up to about 18 MHz for SWL.
This is a fine aid to my SWL activities.  
On the right, after wrapping with digital camoflage tape, it's invisible from the street.
Life is good in the Shenandoah Valley, sharing walks with Ginger, a Sheltie-Corgi mixed-breed.  She was adopted from Northern Virginia Sheltie Rescue, see http://www.nvsr.org.   
Ginger - headed for her new home in Grottoes (photo by Martha Heisel)
That's my truck . . . .  2005 Colorado with 3.5L, inline 5-cylinder motor.  
boogity-boogity!
It's got a Kenwood TM-281A, 2-meter rig in it - Always on 146.52 mHz.
And this is my car, 2002 BMW Z3 Roadster.
Some of my better homebrew efforts:
My 2003-2004 station featured a homebrew QSK T/R switch-keyer-sidetone (upper left), Johnson Adventurer and VFO and homebrew regen receiver
(two cabinets below).  
Hundreds of great ragchew contacts on 40 and 80 meters made. Also Drake 2B and TS-870 which went virtually unused during that time.
Another of my better homebrew projects, based on W7ZOI's Micromountaineer, is this 750 mw transceiver with crystal-controlled transmit and variactor-tuned receiver with a preamp ahead of the receiver.  Not yet a practiced QRP operator, I nonetheless made contacts in 13 states.
(Photo by Alan Walters, ~ 1977)
Frequency readout I built for a Realistic DX-150 
Nineteen year old me behind the wheel of my 1962 Austin Healey "bug-eye" Sprite.  Autocrossing (solo racing) on the VaTech Stadium parking lot.  Had third fastest time of the day.
(photo by Steve Gersuk, ~1967)
I thought this
1982 Honda Goldwing 
was to be my last motorcycle, sold it in 2001 but . . .
. . .  This 
2002 Honda Shadow (
600 cc) turned out to be my last bike.  I rode it from May to September 2017, crashed it, sold it.
My friend, Bob's, dock and stream in Sarasota, FL
. . .that's about it for now.  73, Jim
8360053 Last modified: 2017-09-30 12:51:58, 40109 bytes
Login Required

Login is required for additional detail.
You must be logged in to file a report on this page