My name is Kim and I was first licensed in 1995 as a Tech Plus, with General and Extra to soon follow.  The 20wpm code was a challenge for me but I finally passed.
I live in the Rio Grande Valley which is in south Texas.  My town is Weslaco, TX and it is located appx. 55 miles west of Brownsville TX and the Gulf of Mexico.  We are also 8 miles north of the Rio Grande River which is the border between USA and Mexico (Pictures of Weslaco and the Rio Grande Valley area at bottom of page). 
I enjoy Ragchew, DX, some digital, and just talking / listening on the radio.  Have enjoyed radio since I was a kid, but didn't have any Hams in the family.  Started with walkie-talkies, building a crystal radio, and just an interest that never left me. 
I was into Citizen's Band in the 70's and still have my Grandfathers CB license as well as my own.
I bought a study book at Radio Shack and began preparing for my license.  I passed the written and 5wpm code test on my first attempt.  The rest has been an adventure.
So far my children and grandchildren have not shown much interest, but we will see what the future holds.
My first rig was a Kenwood TS440 into a Butternut HF9V on a 16ft mast with elevated radials.  I used the ARRL paper log and began my Ham radio journey contacting stations around the world.
Now I am using a Yaesu FT DX-3000 and Hygain AV640 Vertical elevated 15 ft.  The rig (top left) is Yaesu FTDX 3000 and (top right) is a Kenwood TS2000 for vhf/uhf.  Below is my FT-950.  Also have LP-Pan for Pan-Adapter and waterfall.  Microphone is Heil PR-781.
Antenna Farm
My back yard where my wife and I enjoy the outdoors.
Below are pictures of Weslaco Texas and the surrounding area of the Rio Grande Valley
These photos are of the Border Fence between the USA and Mexico.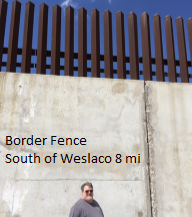 Port of Brownsville and South Padre Island area.
Space X is building a new Launch Facility at Brownsville's Boca Chica Beach.
South Padre Island is a fun spot to visit.