Please visit my personal website for lots more info on ham radio, especially portable operations. Details about solar power, portable antennas, SOTA, and more!
I am a software engineer currently living in Park City, Utah. My home location is located in a mountain canyon above Park City. I am on the other side of the ridge from the location of the bobsled track that was used in the 2002 olympics held here. I currently operate a Yaesu FT-Dx3000 with an 80m loop antenna fed with ladder line straight off of a MFJ-993B tuner. I also have a ZS6BKW wire antena located both above my house and across my property. I can't really put up a tower where I am at, but do someday hope to build a hex beam.
ABOVE: My current radios and computer setup including FT-DX3000, MFJ-993B, and LP-Pan2
Field Day 2014
I operated 1B on field day this year in SSB only.  I setup with my Elecraft KX3 and KXPA100 amplifier and a complete solar array and was running between 75 and 100 watts.  An 80m delta loop fed with ladder line was my primary antenna, and I had a G5RV perpendicular to it as my backup, as well as providing null coverage.  All contacts were made only on solar power, as I was over 50 miles from the nearest town remote camping on a desert ridge at over 7000 feet.
ABOVE: My hamshack for field day 2014
ABOVE: The Elecraft KX3/KXPA100 combination setup with a windows tablet.  The windows tablet provided HRD6, HDSDR for a pan adapter, and N1MM for logging.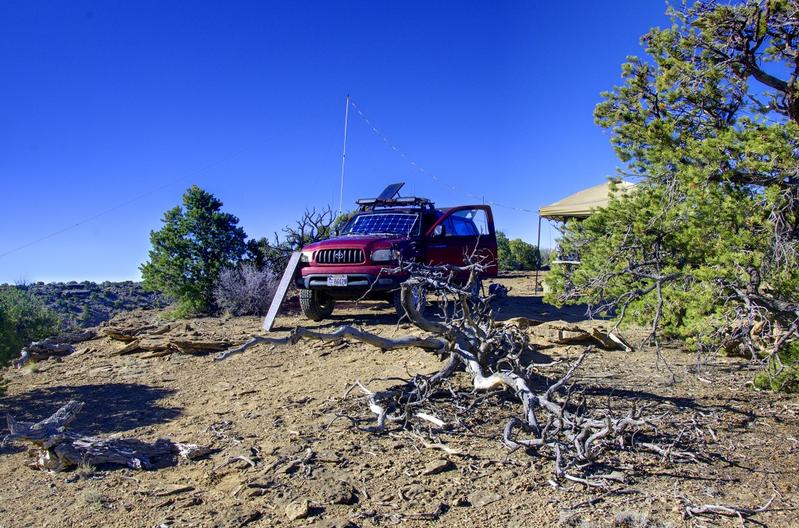 ABOVE: The solar array providing power for my operation.  The solar array charged two 6v trojan batteries that live in my truck.  This provided not only power for the radios, but also powered two coolers keeping food and beverages cold.  My system peaked out at over 10 amps of power generation allowing me to operate everything continously ( including a fan ) for the entirety of field day.  I of course did sleep from about 1:30am to 7am, though....
ABOVE: The overview of my field day site.  It was located on top of a mesa in the remote desert of Utah.  The views were beautiful, and the site provided a high spot with a great terrain advantage to the east.
ABOVE:  Here I am operating the pile ups.  My maximum QSO rate at the very end was over 100 per hour.  Not bad for SSB in the middle of nowhere.  I had a great field day!
My Home QTH
ABOVE: The roof of my house with antennas, and a nice rainbow to show them off.
ABOVE: One leg of my 80 m loop antenna heading out over the backyard
I also own a cabin in Gunnison County, CO above the old mining town of Whitepine, CO ( a seasonal town with only a few summer residents and no stores, etc. ). It is located at an altitude of over 10,200 feet. It is totally off grid powered by both solar and micro-hydroelectric. I built this system myself. At this location I have also installed a home built ZS6BKW antenna suspended between two trees as high as I could get it. I also have a 160m horizontal loop antenna strung up in the trees hidden from view using brown wire.  This location is great for operating as the closest power lines are over 2 miles away. There is no background noise to speak of at all, never mind the gorgeous views. I operate using my Elecraft KX3/KXPA100 combination either from out on the deck in the nicer weather, or inside when the rain showers hit.. I just plug the antenna in that is peramently installed there.
ABOVE: My cabin w/ solar panels and the wire antenna. The mountain in the background is over 14,000 feet in height.
My other passion is the outdoors, and I spend a lot of time camping in both the deserts and mountains of Utah. My truck is setup with a permanently mounted solar panel charging a pair of 6 volt trojan deep cycle batteries. These batteries are used to power a stirling engine cooler in the vehicle for camping, and also all of the electronics including the ham radios. I have an Icom IC-7000 mounted in the vehicle. I wrote my own software to control the Icom for an android tablet with a bluetooth connection ( a home made adapter using CI-V control ), and use that to run the radio while in motion, or at camp. It works much like Ham Radio Deluxe.
ABOVE: My tablet control software and radio, showing the bandscope and DSP levels setting pages.
I use MFJ hamsticks while in motion, and setup a G5RV while in camp, either using trees, or more often a painters pole. Again, I am usually out in the backcountry on 4 wheel drive roads far from any human made noise.
ABOVE: The San Rafeal Swell in Utah, where I often go camping
ABOVE: My Elecraft KX3 and Acer Windows tablet running HDSDR
ABOVE The Elecraft KX3 hitched up to an 80m delta loop fed with ladder line
ABOVE: My QRP setup in the San Rafeal Swell. I'm using an Elecraft KX3 and an 80m delta loop
ABOVE: One of my SOTA activations with the Elecraft KX3. I use a jackkite pole with a laundry reel fed wire dipole fed with 300 ohm ladder line to allow multi band operation with the kx3's internal tuner
ABOVE: My current portable station setup using a KXPA100/KX3 Combo from Elecraft operating in the desert of Arizona
ABOVE: Lightning Ridge near my home. I go here when I just want to operate while camping. It is over 10,000 feet in elevation at the edge of a cliff.
ABOVE: My 2013 Field Day setup as appeared in QST magazine.
For field day 2013 I had two antennas up. One was a vertically oriented 80m loop on a 24 foot painters pole. As a backup and to work north/south ( cover the nulls on my loop ), I mounted a G5RV on a 15 foot painters pole in the background.
The solar panels in use on my truck for field day. One is permanently mounted on the truck and is laying flat. The other two are added on to the existing controller using Anderson power poles and snap right in. Two Trojan 6v solar batteries are in the truck permanently providing ample power
My field day station at night
So when you here me call K7JEO/Portable, I am usually in some place fun!