Hello and welcome to my page! I hope that everyone reading this is found in great health and highly blessed and favored by the Lord. I am from Chattanooga, TN and a Amateur radio operator since 2007. I recently got my General last month and have really enjoyed HF. My equipment that I use is a Yaesu FT 857D mobile with a Atas 120A antenna. At home I use an Icom ic7300 with a G5RV stretched flat top around 50-55ft. Now more about myself. I come from a loving family. Both parents are deceased but they continue to live through me. I carry a lot of my father habits when it comes to radio communication. As a child I use to watch him shoot skip on his base station. Amazing!! Also from my mother I get my silly sense of humor and caring heart plus her hard work ethics. I'm a truck driver of 24 yrs and have traveled all over the country. I love meeting new people and taking cruises. You will mostly find me on 20m (14.250 - 14.320) My favorite hang out is any band or frequency with great condition. Now if I have any of my Masonic brothers into ham radio. I'd like to say. "keep traveling to the East. S.M.I.B.. Thank you for taking the time to visit and read my page. This is KA4YMC saying 73 and Good Day..... God Bless!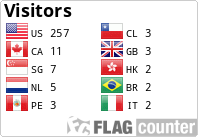 Large Visitor Map
8253432 Last modified: 2017-08-04 03:30:22, 2059 bytes
Login Required

Login is required for additional detail.
You must be logged in to file a report on this page
Public Logbook data is temporarily not available for this user