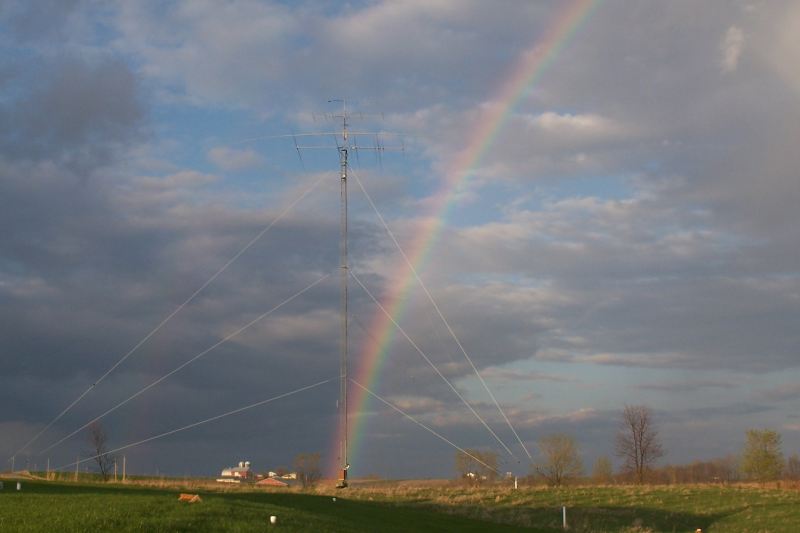 See bottom of page for QSL Information!
Some background info:
I was born in Chicago, IL, then my family moved to Minneapolis, MN for 5 yrs, Mitchell SD for 5 years, then finally Onalaska and La Crosse, WI
I am married and have three kids. As of April 2011, Cameron is 14 years old, Ashlyn is 11 years old and our little redhead Macy is 8 years old.
I got interested in ham radio during the CB Radio craze in the 70s while I was 10 years old. By the age of 14, in 1979, I had my ham ticket and was assigned KA9FOX as a novice. I have kept that callsign all the way through Extra.
My favorite thing to do in ham radio is Contesting and DXing. I am a member of the Society of Midwest Contesters and Minnesota Wireless Assn. I have done pretty well in the past in Contests, including one First Place and several Top 10 finishes in the SSB Sprints, and some Sweepstakes wins in the QRP category. With the focus more on family and less on radio, I don't get much time to do much contesting. But sometimes I do get to do some Contest Expeditions, which is always fun.
Some DX places I have been & calls I have used include PJ2T, TD9IGI, TG0AA, PJ8Z, KH7R, KP4/KA9FOX, TG/KA9FOX, LA/KA9FOX, PJ2/KA9FOX and AH7/KA9FOX. I have also operated several US Contest stations, including K4JA (ex KS9K, W9JA), W0AIH, K3LR, W3LPL and WE9V.
My home equipment consists of... Two FT-1000MPs, IC-746 (mainly for 6m and 2m), TS-930 as back-up, AL-1200, Clipperton L (needs tubes!). Tower is 95 feet of Rohn 55, guyed with Polygon fiberglass guy-rod. Antennas include Force 12 C4XL (10-40m) @ 95', Force 12 EF-180C (80m rotatable dipole) @ 100', Inverted Vee for 160m @ 90', Cushcraft 6 ele 6m @ 105', and M2 2M5WL 2m @ 110'
I also am the owner of QTH.com and QSL.net.
73 - Scott KA9FOX
You can see more shack and tower pictures on my web site at:
http://www.qth.com/ka9fox/gallery
QSL INFORMATION:
PJ7/KA9FOX 1994, PJ8Z 1994: QSL via N9ISN
TD9IGI 1996, TGØAA 1995, TG/KA9FOX 1995-1996: QSL via N9ISN
ALL OTHER QSLs via W9RPM