KB1VXY

USA




Login is required for additional detail.

QSL: Prefer LOTW, otherwise QRZ

Email: Login required to view

Ham Member Lookups: 14348



KB1VXY -- Short BIO:  Greetings from Hopkinton, MA, where the Boston Marathon starts each Patriots Day in April.  Thanks for the QSO or for looking me up.  Above picture is at Boston Harbor walk on the day after the big ships arrival.  I was monitoring the maritime frequencies.  
On HF, I work all bands with FT-450D @ 75 - 100 Watts  into a 75 meter dipole fed with window line (as of 12/16/17),  mostly SSB, digital modes (JT65 and WSPR, occ. PSK31,  not much FT8 yet).   Also use a PAR Stressed Moxon for 6 M.  Occasional HF 5 Watt QRP from FT-817ND using same antenna or mobile with hamsticks or with end fed 66 foot wire to upstairs warmer "Station B".  Work lots of local 2M nets (Net control of George's Old timers Net every Tuesday on CMARA's Paxton, MA, repeater (146.97 MHz, PL 114.8, no Echolink), and some 6M SSB (Yankee 6 Meter SSB Net-).  Some Echolink, Twitter for Skywarn also. Prefer LOTW for QSLs.  I am VP of Framingham Amateur Radio Association   (Facebook page, Twitter page). Also am a member of the Minuteman Amateur Radio Association, and the Central Mass Amateur Radio Association.  I check in and out Mon-Fri into the Gallops Island Radio Association Net at 6:30 local time (11:30 UTC) on 3.923 MHz.  I am a Mental Health professional who finds this hobby incredibly relaxing after a day of listening to others!  Learning CW.
My interest in radio began at the kitchen table, my father was a tailgunner and CW operator in the Navy in 1944 (USS Kalinin Bay,  more,  Battle off Samar, and used to copy CW at the kitchen table off our AM/FM/Shortwave radio when I was a kid in the 1960s. My uncle was a Ham in Seekonk, MA, and was known for passing messages during some hurricanes that knocked out local communications.  My neighbors were CB enthusiasts and we all had walkie talkies, "this is mobile unit one".  In classes on physical and analyical chemistry and the chemistry labs at Providence College , I learned about resonance and the relationship between chemical bond lengths (small antennas) and frequencies of absorption when using spectroscopy.   It was not until 2011, after listening to Skywarn reports on a scanner give reports of the MA tornados, that I got my Technician class license.  Soon after, I got the General and have been an Extra Class since 2012.   I used the Ham Whisperer slides on a weekend to get the Tech license.   I paid for and used Ham Test Online for the Extra which worked well for me.   
QTH: Hopkinton, MA, USA The Boston Marathon starts here in this town every Patriot's Day.  (MIDDLESEX COUNTY, "MID MA", EASTERN MASS- "EMA") LOC: FN42fe. CQ Zone 5.  ITU Zone 8, IARU Region 2
 JT65, JT-9, MSK144 on 6M, WSPR all using WSJT-X v. 1.7?

Learning  CW (sometimes with help on receive using FLdigi or CWGET, but trying to use my ears and what is between them) mostly Rx.  Cheapo MFJ straight key

 PSK31 (mostly use Digipan ver 2), occ Tx during contests or special events, mostly Rx, don't like the macro based long QSOs.

​Rx of SSTV using MMSSTV ver 1.13

Copy APRS on 30 M HF at 10.15151 LSB using Soundmodem ver 0.84b Ax50 300bd)

​Occasionally copy other digital modes using FLDigi.  Olivia.

​APRS on 144.390 FM using TrueTTY or Soundmodem, Ax50 1200 bd, or with FT1D HT directly. 
For some recent activity see my Twitter page @KB1VXY https://twitter.com/KB1VXY
Local 2M  and 70cm (FM) with FT-7900 mobile (UHF/VHF) and FT-1900 (VHF only) at home, or FT-817ND (2M to 160 M QRP) or FT-60R HT (UHF/VHF) or FT1D HT (UHF/VHF/system fusion and Rx on broadcast FM amd AM).  Have FT-252 HT (VHF) for XYL.  Can do local QRP 144 MHz and 432 MHz USB with FT-817ND.  
Repeaters/frequencies:  See below for more extensive local net listing.
Paxton, MA, 146.97, pl 114.8; George's Old Timers Net Daily 7:30 -8:30 pm, NCS on Tuesday.

Framingham, MA W1FY 147.15 NO RXt PL, TX PL optional, (Echolink #4355 and IRLP # 506576.currently disabled); 

​Hopkinton, MA 449.575 PL 88.5, Analog FM and Yaseu System Fusion.

FM Simplex: 52.525, 29.600 146.520, 146.535, 146.550, 146.565, 146.580  MHz, 

446.00 MHz in Worcester, MA weekdays
EXTRA CLASS- NOVEMBER 2012,  FIRST LICENSED W/ TECH - JULY 2011,  after a series of tornados hit MA and I heard the Skywarn chatter on a scanner. 
================================================================
LOCAL NETS: 
NETS I PARTICIPATE IN REGULARLY ARE 

UNDERLINED AND IN RED

TIMES ARE LOCAL EASTERN TIME
DAILY OR MOST DAYS:
5:30 New England Weather Net. 3.905 MHz to 6:30 p.m., I just listen to end of net
6:00 AM CAPE COD AND ISLANDS WEATHER NET, DENNIS, K1PBO RPTR, 146.955-, PL 88.5

6:30 AM, MONDAY TO FRIDAY.  GALLOPS  ISLAND RADIO ASSOCIATION NET, 3.923, usually 1st check-in at 6:30 am, Mon to Fri. Will try listening to 14.184 or 14.195 at 8:30 am weekdays for some of the same group.  

http://www.gallupsislandradio.net/
6:30 PM 3990 MHz group gets on most days.  Some members from Gallops Island Radio Association Net listed above.
7:00 PM, SOUTH CAROLINE SIDEBAND NET, 3915 MHz DAILY.

7:30 PM,GEORGE'S OLD TIMER'S NET, W1BIM PAXTON, MA REPEATER, 146.970, PL 114.8, question of the day and then trivia question. Fun. 

http://www.cmara,org

, Net Control Tuesday nights

7:30 PM CAPE COD TRAFFIC NET FALMOUTH N1YHS RPTR 147.375 + PL 110.9 (MON TO SAT.SUNDAY?)
8:00 PM, FAIRHAVEN WEATHER NET, SEMARA RPTR 147.000+, PL 67
SUNDAY:
6 or 7 am 6 Meter AM 50.400
830 AM,WHITMAN AMATEUR RADIO CLUB, WA1NPO, 147.225, WHITMAN, MA, PL 67, IRLP 4388

830 AM, WESTERN MA EMERGENCY HF NET, ABOUT 3.944 MHz

8:45 a.m. NEW ENGLAND PHONE NET, ABOUT 3.945, RIGHT AFTER THE ABOVE EMERGENCY NET

9:00 AM, MONTACHUSETTS EMERGENCY NET, W1GZ, FITCHBERG, MA, 145.450, PL 74.4
​8:45 am, WESTERN MA 2 M EMERGENCY NET, W1TOM MOUNT TOM REPEATER, 146.94, PL 127.3

9:15AM WESTERN MA EMERGENCY AND TRAFFIC NET, WORCESTER, MA, EITHER, W1BIM PAXTON, MA REPEATER, 146.970, PL 114.8 

9:30 AM, 

YANKEE 6 METER SSB NET

, 50.272, 

http://yankee6meterssbnet.blogspot.com

 6 Meter SSB discussion until about 10:30 am

5:00 PM 6 METER AM NET 50.400
7:00 PM GENESIS ARC CW TRAINING NET, PLYMOUTH, N1ZIZ RPTR 146.685– PL 82.5
7:30 PM PILGRIM AMATEUR WIRELESS ASSOCIATION 10 METER NET 28.375 USB

7

:30 PM, FRAMINGHAM AMATEUR RADIO ASSOCIATION(FARA) NET, W1FY 147.15 REPEATER (No input PL) ECHOLINK and IRLP see above

8:00 PM, NORFOLK COUNTY EMERGENCY NET, K1HRV, WALPOLE, MA 146.895, PL 123 ECHOLINK
8:00 PM PART -- POLICE AMATEUR RADIO TEAM, SUNDAY PM, WESTFORD, MA, WB1GOF REPEATER 146.955 MHz, PL 74.4 ECHOLINK TOO
MONDAY:
7:00 pm? SOUTH TEXAS 10 METER NET 28.482 USB (I GOT IN AT 8:50 PM)
8:00 PM,NORFOLK COUNTY AMATEUR RADIO ASSOCIATION, K1HRV, WALPOLE, MA 146.895, PL 123 (OCCASIONAL), ECHOLINK
8:30 PM, FALMOUTH ARA NET, FALMOUTH RPTR K1RK, 146.655-, PL 88.5
8:30 PM, BUZZARDS 6 METER SSB NET, LaGRANGE GEORGIA RADIO CLUB 50.155 MHz
9:00 PM, BOSTON AMATEUR RARIO CLUB (BARC) NET, K1BOS, 145.230-, PL 88.5
TUESDAY:
220 DAY, FIND A 220 REPEATER!
6:00 pm.  MA/R.I. Traffic Net 3968
7:30 PM GENESIS ARC 2 METER RAG CHEW NET, PLYMOUTH, N1ZIZ RPTR, 146.685-, PL 82.5

8:00 PM, MINUTEMAN REPEATER ASSOCIATION,TECHNICAL INFORMATION AND OTHER STUFF (LINKED) NET, USUALLY ON AE1C, MENDON, MA 146.610, PL 146.2, IRLP 4133,

http://www.mmra.org

8:00 PM MASSASOIT AMATEUR RADIO ASSOCIATION NET ON  W1MV BRIDGEWATER, MA 147.180+,  PL 67 WEEKLY (EXCEPT 3RD TUESDAY)
WEDNESDAY:
7:00 PM BLACKSTONE VALLEY ARC (BVARC) 2 METER SIMPLEX NET, NCS W1DDD, 146.565
7:30 PM 6 Meter AM 50.400
8:00 pm WELLESLEY AMATEUR RADIO ASSOCIATION WEEKLY NET, 147.030 NEWTON, MA RPTR PL 123
8:00 PM, WHITMAN ARC 10 METER RAG CHEW NET, 28.333 USB

8:30 PM, RI SKYWARN NET, KA1RCI, CUMBERLAND, RI, 145.170, PL 67,

8:30 PM, TAUNTON ACG, KC1TAC, 2 METER SIMPLEX NET, 145.770
9:00 PM, WALTHAM WRANGLERS SWAP NET, WALTHAM W1MHL RPTR, 146.64-, PL 136.5
THURSDAY
GENESIS ARC CW TRAINING NET, PLYMOUTH N1ZIZ RPTR 146.685-, PL 82.5
6:00 pm.  MA/R.I. Traffic Net 3968
7:30 pm, W1JY 53.77 FM, Gilford, NH 6 Meter repeater, PL 71.9  on Gunstock Mountain.  Used to be linked to Hopkinton, MA
8:00 PM 10 METER GENERAL CLASS RAG CHEW NET, 29.470 FM
8:30 STURDY MEMORIAL HOSPITAL ARC/ARES PRACTICE NET, K1SMH RPTR, 147.195+, PL 127.3
Friday
MILWAUKEE RADIO AMATEURS CLUB 10 Meter net 28.490 MHz,  1:00 UTC (9 pm local)
10 meter net 28.350 9 pm on Fridays
SATURDAY:
6 or 7 am 6 Meter AM 50.400
About 9 am.  RI Swap and Sell net on KA1RCI repeaters.
6:00 pm.  MA/R.I. Traffic Net 3968
15:00 UTC IVCA SSTV Net 14.230 MHz
8:00 PM, SOUTH SHORE SKYWARN NET, ON W1MV BRIDGEWATE REPEATER BRIDGEWATER, MA, 147.180+, PL 67, IRLP 4388,
MONTHLY NETS: 1ST MONDAY OF THE MONTH UNLESS IT IS A HOLIDAY, THEN THE FOLLOWING MONDAY)
6:45PM,  EASTERN MA RACES NET ON, 75 METERS STARTS ABOUT 3.930 AND UP DEPENDING ON AVAILABILITY, 1ST MON of MONTH,
6:45 PM  Also Old Dominion Emergency Net 3.947
7:30 PM, SECTOR 2D RACES NET: SHARON REPEATER, K1CNX,  146.865, PL 103.5,  WITH SIMPLEX NET on 146.865, 1ST MON of MONTH Avon, Bellingham, Braintree, Canton, Cohasset, Dedham, Dover, Franklin, Foxboro, Hingham, Holbrook, Hull, Medfield, Medway, Millis, Milton, Needham, Norton, Norfolk, Norwood, Quincy, Randolph, Sharon, Stoughton, Walpole, Westwood, Wellesley, Wrentham, Weymouth
7:30 PM, SECTOR 2A:  147.000-Dartmouth PL: 67.0 Hz: Sector 2A, 7:30 PM  Acushnet, Attleboro, Berkley, Dartmouth, Dighton, Fairhaven , Fall River, Freetown, Mansfield, Marion, Mattapoisett, New Bedford, North Attleboro, Norton, Plainville, Raynham, Rehoboth, Rochester, Seekonk, Somerset, Swansea, Taunton, Wareham, Westport.
8:00 PM Sector 2B:  145.390-Norwell PL: 67.0 Hz:, (Moved to WATD Tower in Marshfield 05-14, Great Coverage!)  Abington, Bridgewater, Brockton, Carver, Duxbury, East Bridgewater, Easton, Halifax, Hanover, Hanson, Kingston, Lakeville, Marshfield, Middleboro, Norwell, Pembroke, Plymouth, Plympton, Rockland, Scituate, West Bridgewater, Whitman
8:00 PM SECTOR 2C: 146.955- Dennis PL: 88.5: Sector: 2C, 8:00 PM
Barnstable, Barnstable County, Bourne, Brewster, Chatham, Chilmark, Dennis, Dukes County, Eastham, Edgartown, Falmouth, Gay Head, Gosnold, Harwich, Mashpee, Nantucket, Oaks Bluff, Orleans, Provincetown, Sandwich, Tisbury, Truro, Wellfleet, West Tisbury, Yarmouth
EASTERN MA ARES NET ON MMRA LINKED REPEATERS, 830 PM,ON AE1C, MENDON, MA 146.610, PL 146.2, IRLP 4133​
OTHER NETS:
Big Island 146.760 MHz, no PL, pm and 8 am, week of 11/25/13. Many of the repeaters are linked together for good Island coverage.
O'Ahu EARC net 146.880, pm
HF NETS:
5:30 AM TO 6:30 AM NEW ENGLAND WEATHER NET 3.905

6:30 AM WEEKDAYS, GALLOPS ISLAND RADIO ASSOCIATION NET 3.922 MHz, named after the Gallops Island Radio School that was run during WWII on Gallops Island in Boston Harbor.

7 AM TO NOON  14.300 MHz IS INTERCON NET, NOON TO 9 PM EASTERN TIME IS MARITIME MOBILE SERVICE NET, 9PM AND LATER IS PACIFIC SEAFARERS NET.
7:30 AM TO 2 PM EASTERN TIME WEEKDAYS, 8 AM TO 2 PM WEEKENDS ECARS 7.255 WHILE MOBILE,
ECHOLINK:
*NEW-ENG3* CONFERENCE FOR LOCAL SKYWARN
MEMBER: 
FT 450D with LDG AT 200 Pro II Autotuner
FT 60R 5W dual band, and FT-7900: Dual Bander in car and FTM 3100DR in  house to Diamond X50 in attic.  My first rig was the FT-60R 2M/440, and FT1DR, .

XYL:  KC1EII, Technician August 22, 2015 at Boxborough Ham Fest, Technician License in a Day!
Me with FT 817ND at Volcano National Park, Big Island of Hawaii, listening, no contacts made, some heard, using multiband hamstick on roof.  December 2013
Me, about 2010 in Monument Valley with some local dogs following me around.  The dogs would run ahead to chase horses off the trail before I got there!
Me on North Shore of Kawaii, 2012.
My son Ben and I in November 2012 near the shore in Volcano National Park on the Big Island of Hawaii, with solidified lava blocking the road. >>
Worcester State Hospital Clock Tower building under demolition.  The tower top was preserved and recently rebuilt atop a new tower outside the entrance to the new Worcester Recovery Center and Hospital. >>
FARA Field Day, Upton State Park, June 2015 >>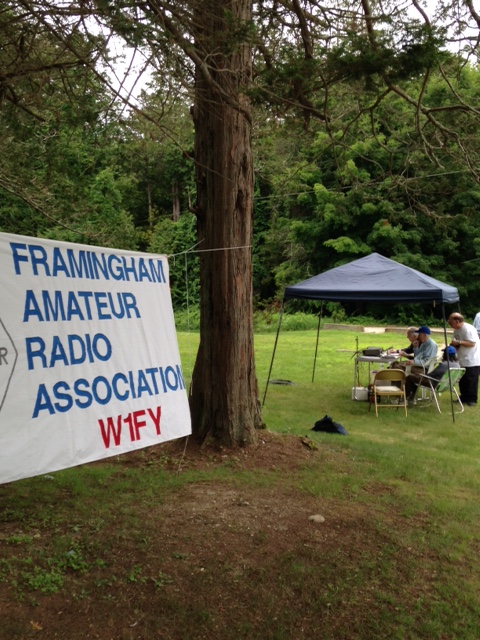 Paul King N1VAM, Presidet of FARA with his wife Nancy, and me KB1VXY with HT and wife, KC1EII on shore of Kauai on false beach during rough surf from a storm out at sea.  I just bumped into Paul and Nancy, recognizing his moustache.  In front of us was a river of water that crossed over this false beach to our left in this picture and flowed back  out to the ocean to our right. The level of water depended on how much came over this false beach and there was a delay of a minute as it came over about a mile away to our left.  The water in the trench ranged from a few inches to several feet and could sweep people away as it almost did with us.  The locals said they came down to watch the tourists get swept in so they could "help" them out.  Great!  Several cars were broken into at this site also.  Friendly natives!
Tall ships, 06/17/17:  Coast Guard's The Eagle.  I was monitoring the Maritime freqs all day.>>
DX: My longest voice (SSB) contacts are to Jakarta, Indonesia, 15 M, 100 Watts, and  Australia in Southern Hemisphere, and on 12 Meters to Japan in Northern Hemisphere.
On 1/1/13, during a brief 6M band opening, I had contacts in Kentucky and Minneapolis on 5 watts SSB.
WSPR: To see my most recent WSPR activity, go to 
WSPRNET.ORG
 and type in my call sign under the DATABASE tab to see what I have done in the last 2 weeks. Or on the MAP to see anything done in the last 24 hours.
8524222 Last modified: 2017-12-20 11:48:55, 23120 bytes
Login Required

Login is required for additional detail.
You must be logged in to file a report on this page
Public Logbook data is temporarily not available for this user
World Continents Award

#8569


Granted: 2015-04-27 01:50:03 (KB1VXY)



Endorsements:

12 Meters Mixed

20 Meters Mixed

Grid Squared Award

#7217


Granted: 2015-04-27 01:45:03 (KB1VXY)



Endorsements:

10 Meters Mixed

20 Meters Mixed