The logs u c .. are embeded within this page.Is ur call in there...Also all of my qso`s are loaded into LOTW before they are put  in the logs perhaps that is why i am sometimes refered to as ``The Real Ham``
---
Kb9ygd Log Search at Clublog https://secure.clublog.org/logsearch/KB9YGD
Kb9ygd Log Search at Qsl.net Complete Logbook
---
You can click the above logo to be wisked away to my  Ham Radio chat-room.
---
SKCC # 555
DMC # 05138
FH Club # 131
HRN # 6214
EPC # 15794
NAQCC # 5602
30 MDG # 5521
---
I use Echolink and have my vhf station as a remote base link and its Kb9ygd-L (node 161291) in the echolink directory and outputs on 146.520 or 52.525 at 35 watts when i have it on   and using echolink you can use my station as if you were here to contact me or others here locally or any place on earth.
Im on 52.525,146.520,224.500,and 446.000 everyday.
---
---
Above is a kb9ygd designed qsl card.
---
KB9YGD is an A.R.R.L. lifetime member and a lifetime member of the National Rifle Association
Hello everyone from Me Norm--->``The Real Ham``.I QSL 100% using LOTW,Buro,Direct, Eqsl and include a certificate of contact if requested. Here is the link to my family website LINK:http://myplace.frontier.com/~norman.triantafilos/thetriantafilosfamily/index.html with detailed views of me and my equipment, of my favorite qsl`s & awards and You are encouraged to browse about this area and learn more about me and my family and even sign my guestbook if you should so desire.Please visit the Kb9ygd Twitter ham-blog site LINK: https://twitter.com/Kb9ygd
Above is my INQP certificate for being #1 sohp in 2006
---
Above is my ARRL mixed worked all states certificate # 50,672 dated 2-9-2002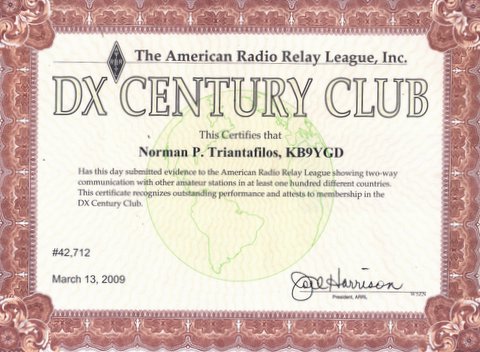 Above is my ARRL mixed DXCC certificate # 42,712 dated 3-13-09
Kb9ygd DXCC Certificate CW.
#13,433 11-5-12.
Above is my A.R.R.L. DXCC certificate for phone # 41,092 dated 11-5-2012.
My swl qsl card.Designed by me KB9YGD.
---
I have a link to my Complete Logbookgoing back to the 1st contacts i ever made which is searchable If You Need To Verify Contact Information,etc.You know its a good feeling to sit down with the paper logs for awhile or the computer log and bring up the old qso`s, you can remember most all of them and i have logged every one of my qso`s since i was 1st licensed to now.Also I Have A Link`s Page On My Qsl.net amateur radio websiteLINK: http://www.qsl.net/kb9ygd/index.html That Is Very Complete & May Help You With Your Research In Amateur Radio. I love all aspects concerning radio,I am located in Lake Station, Indiana about 20 miles or so south east of Chicago Il.Since 1955 i have been a SWL and enjoy listening to bcb,sw dx,military and civillian hf aircraft and the like,there is a whole world out there that most people including many hams dont know exists.ALSO, if you are a SWL and hear me by all means send me you`re card,I have special Qsl cards for SWLs and have been an swl since 1955 to the present,i am WPE9FFE/swl.I Enjoy Working Special Event Stations & Contests.If You Need My State or county for an award,etc Please email me with your Request,time frequency,etc so we can setup a sked.
---
Thank You so much for taking the time to read my bio on qrz and the best of 73`s to you,Norman.