Hello there I am 47 years old , I love the hobby of amauter radio . I also enjoy contesting .
My children are also interested in radio. i am disabled and when not doing that i enjoy engraving .
i enjoy restoring older cars such as 60 -72 thats what i enjoy. I have five children all ham operators . I
am also a Hunter Education Instuctor for washington state.
my XYL is KD7IBD Carrie thanks and enjoy my profile.
https://www.hrdlog.net/hrdlog.js">>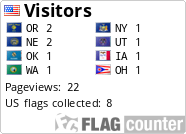 OM International Sideband Society


KD7ADH, JERRY, OM# 8323
Awards Section
Call District Award
Date:
07/30/12
Cert #:
125
Band Info:
mixed
Endorsements:
40
Meters
First Responder Award
Date:
07/24/12
Cert #:
102
Band Info:
mixed
Kings and Queens
Date:
06/26/12
Cert #:
249
Band Info:
mixed
ESPRIT de MILITARY
Date:
06/26/12
Cert #:
305
Band Info:
mixed
VIP Award
Date:
06/29/12
Cert #:
325
Band Info:
mixed
WAS
Date:
08/02/12
Cert #:
699
Band Info:
mixed