HF radio is a Kenwood TS-570D. Once in awhile I'll warm up the Swan 350d. Audio comes from a Heil PR-781 microphone. The Swan uses the Turner 454x. The antenna is a multiband dipole at 35 feet for 80, 40 and 20 meters.
I became licensed as a Tech class in 2007 at the age of 19 and upgraded to General in 2009. Always being into electronics, it was natural for me to pick up on radio and enjoy always learning something new. My interests include DX, circuit design, antenna building, and of course rag chewing. I'm very grateful for the willingness of fellow operators to help me progress in the hobby, and hope to pass down the knowledge I've gained to future operators.
My location is Iola, Kansas, USA, a small town in the south-east corner of the state, about 100 miles from both Missouri and Oklahoma. The land here is very flat with mostly farm land and small structures, combined with an elevation of almost 1000 feet above sea level has allowed me to work some great DX stations with very minimalistic antennas.
This is my first adventure into HF mobile. I'm running an Icom IC-706MKii with an LDG Pro100 tuner into two MFJ Hamtennas (20 and 40m).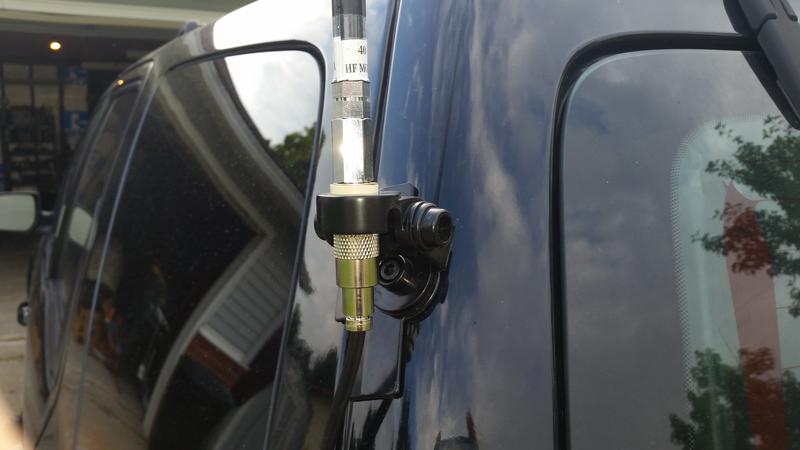 I have used shrink tubing at the tops of the whips to keep them insulated in case they happen to touch. The mount is a Nagoya RB400 (same as Diamond 400 but far less cost. See Amazon dot com.) with a SO239 to 3/8x24 adapter to fit the Hamtennas. The whole setup can be removed from the vehicle in just a few minutes and leaves no visibile marks or holes. The antenna mounts have set screws on the bottom that bite into the metal to give a good ground.
73, Thanks for looking!