How I got interested in Amateur Radio?
Growing up in the 60s I was witness to the invention of the transistor radio and it soon became my constant companion. In the day time it allowed me to listen to St Louis Cardinals baseball and at night I could hear the Minnesota Twins baseball games. The real fun began after the ball games were over and when I should have been sleeping. Instead, I was carefully tuning the dial on my Western Auto radio. Living in the mid-west I was constantly trying to hear some distant AM radio station located either on the East or West Coast. I was also an avid reader and if my memory is correct Boy's Life had an article about shortwave listening and it explained how you could send them a letter or a post card explaining that you had heard their station and if you provided enough correct information about the time, date and program, they might send you something called a QSL card. I ended up with cards from radio stations WLS in Chicago, IL, KAAY in Little Rock, AK, and many others across the US and Mexico.
Then one day my Mother made mention of a man she knew who lived about 10 miles away in another small town in southern Iowa, who had delivered radio messages to and from soldiers and their families in World War II and she also said that he had a huge antenna along with lots of wire running to various corners of his home. This sounded like something I needed to check out and since I had recently obtained my drivers license it sounded like a great chance to explore as well as drive the furthest from home I had ever gone driving by myself. So on a late Saturday afternoon, I took off in search of this man whose name was Johnny Argeta (SK) KØIAF
After driving around for a while I found his house and as my Mother had explained it did have a very large antenna and various wires from trees to a house and they all seemed to terminate in a rather large building next to his house. As I walked to the door I noticed my hands were sweating from my nervousness about meeting a real radio operator. After knocking on the door I wiped my palms on my pants not wanting to shake hands with sweat dripping from them. A woman answered the door and I assumed it must be his wife so I introduced myself and told her why I was there. She smiled and told me I must be talking about Johnny her husband. At times she was a bit hard to understand since this Iowa farm boy had not spoken to very many true Italians. After the initial shock of having spoke to his wife my nervousness grew in anticipation of meeting her husband. When I went to the screen door of his shack I could make out the sound of dits and dahs coming from inside and at this point I was unable to understand any of it and they might of well have been speaking Italian to me.
I knocked on the door and as I looked in I could see he was sending Morse code and without turning around he raised his hand and waved me in and as he continued to send he motioned for me to pull up a chair and then held up one finger saying he was almost done.
As I looked around I saw all kind of electronic gear along with TV sets and what interested me the most was what he was setting in front of. Looking back I don't remember the equipment names, but if I were to guess I would think they might have been E.F. Johnson. When he was finished we traded introductions and I told him I had an interest in radios and wanted to see if he could help me. This is when he asked me if I just wanted to listen or to actually talk to someone. I told him that I wanted to talk to them and that is when he said to me "Then you want to be ham radio operator". He explained to me what a ham or amateur radio operator could or could not do, and told me about the test that I would have to take to have this privilege.
As we continued to talk I learned that he repaired TVs for a living and that ham radio was a hobby that he truly loved and it was very evident by the way he talked about it. Before leaving that night he gave me two books that I used until they were falling apart. The first one was titled. "Learning the Radiotelegraph Code" and "How to Become a Radio Amateur". 
Ham Radio gets delayed
After graduating from High School I joined the Air Force and it was not till I was discharged and a friend and I decided it was time to take the plunge. I had made mentioned to a friend of mine that I was going to try and pass my novice exam and we both happened to know another ham that was qualified to give us our test. So we both studied day and night preparing ourselves to take the test and after a large amount of sweat had been dabbed from our foreheads we were informed that we had passed our test and were now novice operators. The next step, of course, was to take and pass my general exam. This was during the time when you had to take your test in front of an FCC Examiner for both the written and the code exam. I studied more for this test than I had studied for any test in my life. The Morse code portion of the test I really struggled with in part because of the fact that I am tone deaf and also because of the lack of musical talent. I was living in southern Iowa at the time the closest place for me to test was at Des Moines about 80 miles from my home. The problem was Des Moines used a rotating schedule and I did not want to wait for the next cycle to test out of fear I might forget something. That left one choice and that was to drive the 300 miles round-trip to Kansas City, Missouri to take the test. QST magazine had articles that were intended to help you prepare for the test and one of the tips was to be able to copy at least 2 to 3 words per minute faster than you normally do because of the nervousness factor. I passed the technical test with flying colors but that was not the case with the code portion of the test. I missed one to many questions to get my ticket and the examiner told me I could try again 30 days. Thirty days later I drove the 300 miles back to Kansas City and this examine I aced it making me the happiest man on the planet at that moment. The General call I was issued was WNØYHG "Whisky Nancy Zero Yellow Haired Gorilla".
Adding members to the ham family
When I was engaged to my wife I jokingly told her I would not marry her until she had obtained her ham radio license, her father Robert KGØEQ (Now SK) agreed and told her that if she wanted a nice wedding a ham license was a requirement. My Father-in-law worked for a number of years doing design work at Hallicrafters where he worked on a large number of government contracts for Hallicrafters as well as some work in their growing amateur radio line of equipment. He left there to do government work for the folks at Motorola all the while having the desire to teach electronics to the young men or women. In his later years, that goal was reached when he taught at Devry University in Chicago and later when he and family moved to Minnesota to farm. In his spare, time he taught electronics at the local high school and even helped teach the metric system to the Minnesota Highway Department employees. He is greatly missed by family and friends and by myself as Bob and I made many trips to local hamfests in search of a new boat anchor treasures. My wife passed got her Technician Plus license and she was also able to pass the get the code endorsement for her license as well. To top it off her mother who was in her Mid-Seventies at the time went ahead and got her General license Jamie - KBØOER. My wife's Older Sister KD7FRR and younger brother Jim - KBØXSB and his wife Joan - NØZQE all got their Technicians license shortly thereafter. My wife has put ham radio on the back burner as she finishes getting her degree from our the local university. She promises that once that is complete ham radio will once again take the main position and she will work to get her General class license. **(My wife finished her degree and graduated in mid-December 2013 and on Christmas day Santa Claus brought her the current General Class study guide.)** She is hoping to be ready to test before we head back to Dayton in May, I will keep you posted.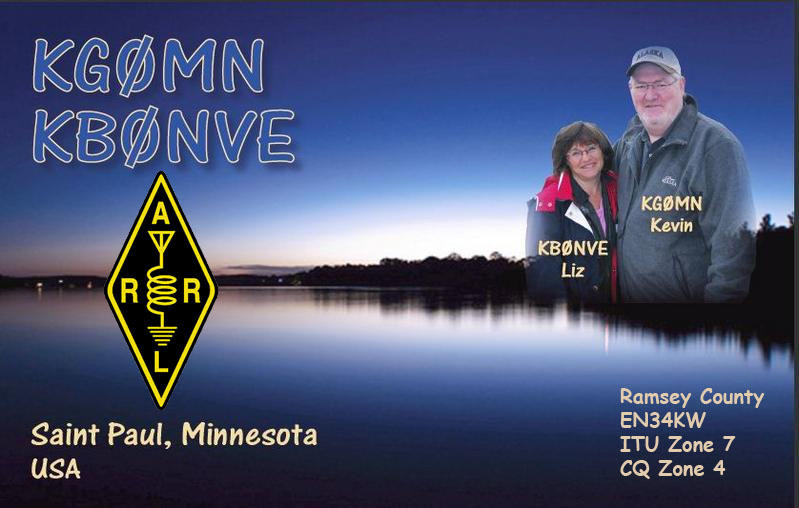 My station is comprised of four different HF radio setups with the first being the Icom IC-7600 an LDG AT-1000 PRO II autotuner and Drake L4B amplifier to add a bit of power to the signal.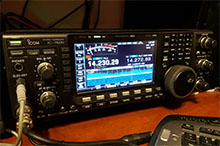 Then the TS-2000 is used primarily for HF phone and 2 meter and 70 CM. conversations and once the 6-meter antenna yagi goes up next spring after the thaw it will also be used for 6-meter operations.  For the digital modes, the Kenwood TS-590S is the go to rig.
Fir AM I use the mint condition Drake C-Line, for those that have never had the pleasure of using and listening to a tube receiver, you do not know what your ears are missing.
My favorite operating system by far is the R.L Drake TR-4, RV-4 remote VFO and MN-200 tuner and watt meter and MS-4 speaker. I have the audio from the TR-4 run through either an Autek QF-1 audio processor or with the flip of a switch I can run it through a Timewave DSP-9 processor. Each one has a specific use and each one does a great job for what they are intended. This old rig has the best sounding audio of all of the radios and if you have never compared a tube type radio to a transistor you are missing a real treat.
Both Kenwoods are used with Ham Radio Deluxe which can be downloaded by following this link.
AM Radio comes home to play
The newest additions to the station are a complete Hallicrafters novice station comprised of an HT-40 transmitter, SX-140 receiver, and an HA-5 VFO along with the matching speaker for the SX-140.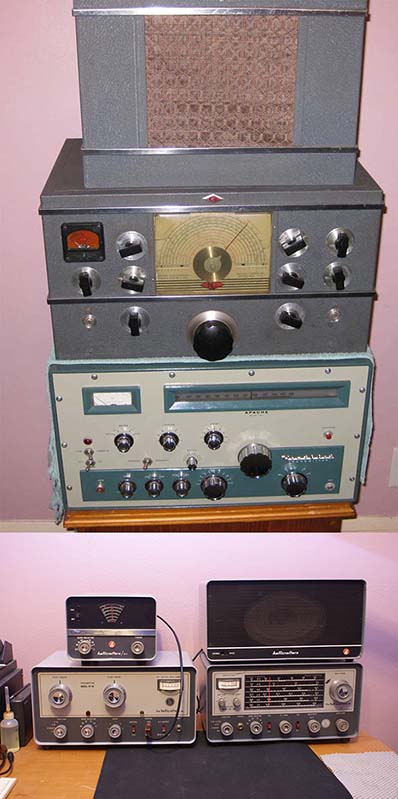 The second addition is another AM station comprised of Heathkit Apache TX-1 and a National NC 2-40D receiver which is a thing of beauty and sound as good as it looks. The Apache will put out in the neighborhood of 100+ watts while the Hallicrafters setup will do just about 60 watts.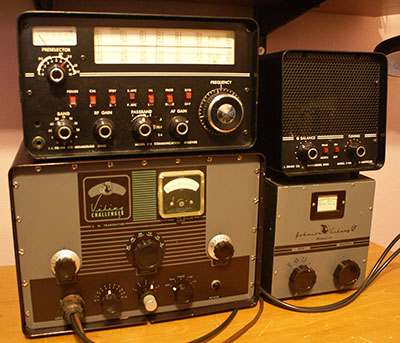 Here is my third AM station which is comprised of an E.F. Johnson Challenger, Model 122 VFO and R.L. Drake 2B receiver which is perfect radio for listening to CW.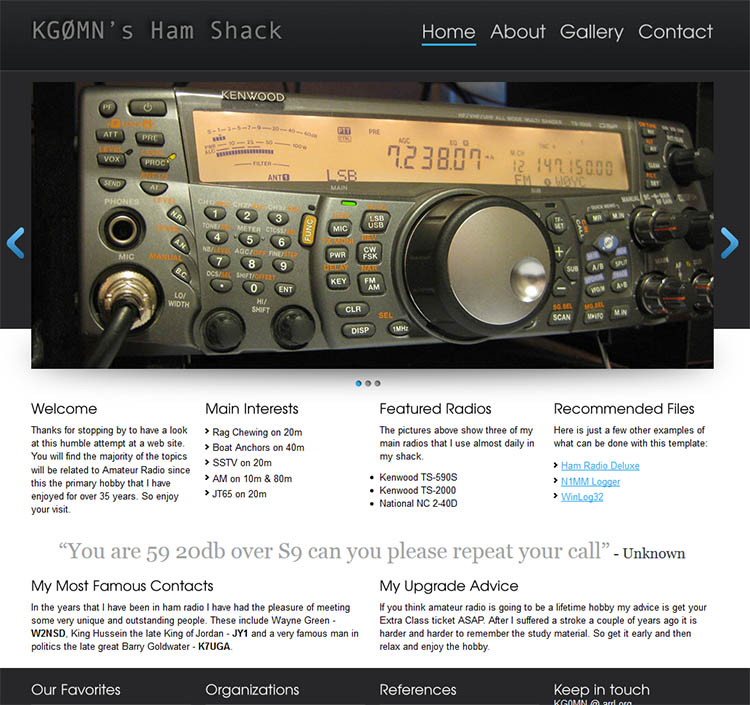 Mosley TA-33 and Glen Martin Hazer II on 50' of Rohn 25G