I Love to work mainly SSB, 40, 20, 15, 12 meters. Really enjoy Mobile, DXing & QSOs with the guys that have 'seen it all', and the new HAMS that love experimenting & building all the stuff that can still be built. If you haven't tried 40m & 15m mobile, you're missing some great fun!
If you want a QSL - send PAPER, I do not participate in other electronic QSL confirmations (ie, LOTW).
QRZ.COM is it - or mail paper.
Nothing special in the ever-changing Shack, the Antenna farm consists of 2 Open Stub J-poles for 2m & 70cm (KJ4AMU design & build). 6m turnstyle, 3 OMTA verticals for 40-20-17/15m (AK7KK design http://www.arrl.org/files/file/Technology/tis/info/pdf/9510032.pdf, but modified) -and- 1 OMTA 30-17-12m.  A pair of 80m 1/4 wave co-phased verticals, TRI-vertical arrays for 40m & 20m. All these are tuner-less, trap-less, etc., band resonate antennas.  I hesitant to talk about radio "brands" & "models" - because it's the antenna that makes or breaks the receive power of the best or worst radio. We're like most HAMs, we started with multi-band, wire antennas, and moved to mono-band antennas & resonators - because the performance and usable bandwidth is greater.   My idea of "tuning" is in building the antenna for Resonance, not to "tune" it operate it... improving the Match (SWR) gets far too much emphasis - even ladder line is effected by rain & wind.
This first snow picture is 1 of 3 OMTA 40-20-15/17 antennas at the QTH. It is my "Workhorse" antenna we kept "modding" to get the componets *right* to widthstand wind, UV radiation, guying, etc.  The actual resonators lengths haven't changed in 9 years, and it's been struck by lightning at least once - the RG-214 buried feed line had a hole blown through it, part of the center conductor was vaporized...  But the heavy Aluminum pipe is a build *once* - knock on DX and admire!
This second drawing WARC 30-17-12 with finished dimensions, and the actual antenna in the front yard (with the Steers-a-staring).  I'd love to try this antenna in an 160-80-60m or 160-80-40m version.  OMTA antennas easy account for 90% of our QTH contacts.  I was surprised how well they pull in International SWL stations.... and 12 meters has great during 2016, 17 meters has been "open into the afternoons" with my tuner-less IC-7000.  Those big 1/2 wavelength Aluminum resonators capture DX signals easily & minimize QRN.  We've returned to building these & delivering to HAMfests @ $300.  Configured for 40-20-15/17 or the WARC 30-17-12 version.  The componets are schedule 40 Aluminum pipe, 6061 and 1/2 UV stabalized spreaders, daycron rope, you supply the anchor points, ground rod, lightning protection & radials, the footprint is about 35' in diameter.  It does not need to be a symetrical circle, the WARC is less than 20' from the cow pasture fence.  OMTAs have withstood 60mph winds - during the big winds off the Atlantic Pond.  If a guy rope breaks 'cause the weed-wacker or lawnmower ... it's no big deal, (we've cut them, they fall over, tie on a new rope and up it goes again). Yes, you can BUILD one, it's just getting all the parts.  Do not use EMT Conduit, Aluminum tubing, steel or copper pipe, if you build one.  From our experience, Aluminum PIPE is best for not "changing" with rust, oxidation or melting with lightning strikes.
"WE" as a family of 10 HAMS, YES..., my 12yr old Daughter finally joined the HAM folly!  If the dogs could get licensed, they'd be K9BARK and K9BITE or K9SHED... My XYL since 1980...., KJ4ADQ, has put up with my antics and strange hobbies, I think she's just hanging around to see what's gonna happen next.  How did I get my kids involved?  Simple, "You WILL get your General HAM license."   Not a request, this is a very important license for you to have.  You WILL study and get your license, this is a "Life Skill" useful in all kinds of places, situations and you'll meet some really interesting & sometimes crazy fun people.  Fun as a hobby, necessary as a Life Skill - you WILL get your "General ticket..." before you learn how to drive a car.
I work in the Communications industry for an IXC, installing and managing Fiber Optic carrier equipment that serves everyone... except those Rural folks, like me... the telephone service is analog and the power goes out at least once a month - at the most inconvenient times.  My job keeps me on-the-net all day long, so please understand why I'm adverse to email, eqsl, LoTW and the dilution of this hobby by further internet intrusion into stuff HAMS ought to do independently. Winlink is another good example dependence on the Internet. We're not off-the-grid, but we do have a large battery bank & generator to keep the bird incubators running... we hatch Heritage Ducks, Bob White Quail, Chickens and Turkeys.
Other than that, I'm just an ordinary guy with an extra ordinary wife and family... God has really bless us. Knowing His love and mercy is more valuable than all the money & stuff the world has.  I've just added my 8th NT bible "reader" to my service truck - rather than the radio, I just play, one after another, people reading the Bible.  It is informative & relaxing while I've driving around in the middle of southern Virginia.  Did you know, James Earl Jones (Darth Vader), does make a slight "breathing" sound when he reads?
KJ4AMU - my oldest son is a born programmer... like it was genetically inspired.  He's written a great interface for PEET BROs & DAVIS Weather stations that tracks multiple stations, uploads to CWOP, logs & graphs and much more (see pic of an earlier version, or http://addinwx.net/ for latest). Most of my kids are into CAP (Civil Air Patrol), and doing quite well (three have their Billy Mitchell award).  Pictured is a partial screen shot of the weather station and a recent CAP photo - KJ4AMU, KJ4AMV, KJ4AUW (guy in the shades is unlicensed, ...a "nobody" HI-HI)  KJ4AMV is managing Airborne Communications (AWACS)... somewhere....  He gave us explicit instructions, "Pack up my FT-950 and don't touch it."..  I won't tell him the cows chewed up the coax to his 40-20-15 OMTA antenna, or that Peaches put it back together and is using it for contesting.
Here's one of our "Enhanced Band Plan Charts" we did for a local HAM Club. (front and back sides shown)  They're printed & laminated on both sides, 11x17" reference for calling frequencies, beacon frequencies, formulas, in-band coax loss calculations, ERP & SWR calculations, Phonetics & most commonly used Q codes! It's also updated with 60 meter channels, band/frequency license privileges, and where to find the hottest QRP, DX & digital action across the bands. Not a light-weight, these are laser printed, fade-proof, heavy duty, 5mil laminated, able to withstand the abuse in a vehicle, or large enough type to put on the wall for quick reference from several feet away. It easily replaces those post-it notes stuck to the side of your monitor, and easily cleans up with soap n water (or alcohol for permanent markers). If you don't see us at the HAMfests, send a MO or check to: "Silver Tip Antennas, 1345 Stillmeadow Rd., Axton, VA 24054"  Minimum shipping order is just $20 for 3 charts, you tell us which ones or combination you'd like (the PHONE version above and/or CW & DATA shown below), shipping included. We also have a FUND RAISER Club Discount for orders of 75 or more, with YOUR CLUB NAME on top, call or email for details!   Simply send a note, "3 of the PHONE versions or 3 CW & Data versions, or 2 Phone & 1 CW & Data versions", etc., - in a separate note, or on the memo of your $20 check.
Email me at wearequacks@aim.com for details if unsure.  BTW... we own the copywrite to the printed material.
We've also got a CW & DATA version!  We did this one for the K4CQ club in Lynchburg Virginia (front and back sides shown).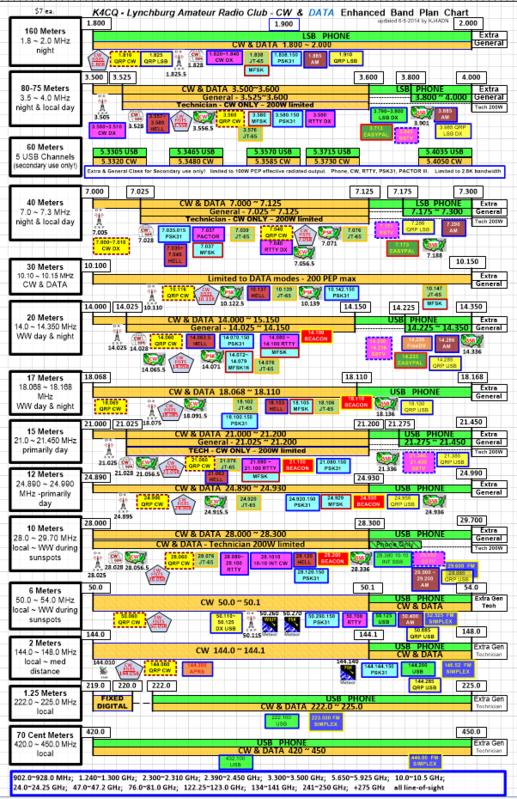 The CW & DATA Enhanced Band Plan Chart is geared to teaching CW, with the Quick Codes on the back, and the front has been expanded to show even more calling frequencies for WAS (county hunters), DX Expeditions, CW Ops, FISTS, Beacons, PSK31, MFSK, JT65, Pactor, EasyPal, Helscriber, RTTY, etc.  If you don't see us at the HAMfests, send a MO or check to: "Silver Tip Antennas, 1345 Stillmeadow Rd., Axton, VA 24054"  Minimum shipping order is just $20 for 3 charts, you tell us which ones or combination you'd like (the CW & DATA, and/or the PHONE version), shipping included. We also have a FUND RAISER Club Discount for orders of 75 or more, with YOUR CLUB NAME on top, call or email for details!  Simply send a note, "3 of the PHONE versions or 3 CW & Data versions, or 2 Phone & 1 CW & Data versions", etc., - in a separate note, or on the memo of your $20 check.
The latest is the pocket size chart.  Type is slightly larger, for those times you've got it on the picnic table.  You might have seen this handy pocket version on other websites - yes, this is it, we (me and the kids) print, lanimate, punch, bind every one of them... yes, it it's a lot of "hand work", but they fit perfectly in the glove box of the car, Grab-n-Go-Kit or your shirt pocket.  We hear from Campers & RVer's - "That is the handiest thing ever, we use it all-the-time."  The Pocket size contains ALL the information from the front of the Phone and the CW & Data large wall size charts, laminated & bound.  They do have Phonetics A-Z and Q-codes for phone operation on the last pages.  Big dark printing on ultra-bright paper - about as easy to read as your radio's display.
Your cost is $14ea, shipping included, or find us at a HAMfest, we'll print a label with your call sign for the back!  
One of our projects was building a better mobile antenna, using off-the-shelf materials, when ever possible. I think the problem with mobiles is the inability to hear well, building these has been lots of fun, hearing them perform is awesome!  Anyone can do what I've done - that's the neat part about being a HAM, the building & experimenting.  Here's a tip for best performance, 4:1 ratio of length to width is the maximum for center resonators and use the biggest diameter insulated copper or silver wire you can in a continuous length, without soldier joints.  They will get heavy, but that's what it takes.  Minimize the use of stainless, crome plated, brass, nickel plated, steel and dissimilar metals, where ever practical.
700 combined mobile contacts during the 2011 VA QSO party, 435 solo contacts for the 2013 NC QSO party in 9.5hrs (mobile division winner); 1200 solo mobile contacts for the 2013 VA QSO party - on an IC-7000 without a tuner (won mobile, single band & phone low power divisions)!  If you contacted me while mobile, it's on one of these antennas! We custom build HF resonators that can handle power and hear what a "stick" or "screwdriver" antenna can't.
The resonators slip on-top of the mast to grow the little Subaru about 13' tall. I use the 2nd longest mast with the 15m & 40m resonator the most.
"We" KJ4ADN, KJ4ADQ, KJ4AMU, KJ4AMV, KJ4AMW, KJ4BZO, KJ4AUW, KK4JSU have done numerous special events stations and remote operating over the years, the boys provide the technical and keep the radios running, while the girls operate. We've deployed band resonate dipoles and verticals or phased verticals.  When the band conditions favor dipoles over verticals, we're ready to switch, and vice versa - we see it as, "why go through all that trouble, driving to the site, hunting around for trees, spend an hour to setup and struggle making contacts?"
Fiberglass and Aluminum portable antennas have really been a part of our fun. We have built portable turn-styles for 6 & 10 meters, 10, 15, 17, 20, 30, 40 & 80 meter 1/4 wave portable verticals, and co-phased pairs & Tri-phased them with really good results, both at the QTH and from remote sites. Nothing is like getting on top of the Blue Ridge Parkway, where line-of-sight is +50mi, or out to the Outer Banks, where the QRM is minimal, and WOW - do things start to happen! Try a pair 40 meter verticals aimed at EU, in the middle of the day, on the edge of the ocean - and then call CQ..., you might only call CQ just once....
Several SOTA (Summit On The Air) folks have asked us, "How MUCH does that Portable Antenna weigh?"
The 20 meter portable vertical, 1/4 wave, band resonate, field adjustable tip, tunerless, with radials and mounting stake weighs in at under 1.5 lbs.  The antenna collapses to less than 26 inches!  Antenna, with radials, 1/2wl coax, mounting stake - everything you need for your ultra-portable, $100, shipping included.  Be sure to specify what you need for your radio's connection, BNC or PL-259.  Elecraft KX3/KX2/KS3/K3 radios easily tune this from 40-10 meters... and when collapsed it fits in a typical suit case.
You've heard the saying, "a vertical antenna works equally bad in all directions...HI-HI-HI.."  Why a monoband vertical antenna instead of a Long Wire, Dipole or Offset Dipole or ?  The band resonate tuned vertical 'naturally hears' resonate frequencies, thus yielding the best signal-to-noise-ratio in all directions.  A dipole or long wire has NULLS, which may or may not be where you want them!  I practically lit up the whole house with a 40-20-15 FAN long wire, slightly angled away off the front porch.. forgot the lobes are like an "X" instead of a "figure 8".  But as long as the desired station is in one of your LOBES, life-is-good, but what about the stations buried in your NULLS?  When you get back home, here comes the email, "Were you there?  "I couldn't hear you" or "Too weak to work" or "Heard other stations work you, but you couldn't hear me."  I've heard all of that, with every antenna I've ever operated - so I'm looking for every advantage possible in the antenna.   ...and every antenna has it's strengths & weaknesses, but not being band resonate better not be one of them!
Imagine driving up to the Blue Ridge Parkway, spending an hour slingshotting ropes into trees & pulling up your antenna, to find out the Park Rangers frown on ropes-in-the-trees, and the Long Wire or Dipole's orentation is pulling in everything you don't want and NULLing out the stations you expected to contact.  On top of that, "it just seems to be a noisy day - the bands are dead..." - you think.  Really... dead?  ...as in every HAM has turned off their radio?  I heard that during the Virginia QSO party, and still worked 1200 contacts, all while running mobile... and even when a guy was trying to jam us, he actually improved our S/N ratio by clearing out static.  Of course the notch filter did part of the job, the real performer wasn't the radio or operator, it was the RESONATE antenna.   I had pileups of people trying to work me mobile, included among them were 3-4 QRP stations, which worked me on a "dead band" the 2nd day.  This was with a tunerless, IC-7000, not known as a "super reciever", but with a mobile antenna we built and tuned for performance on one band / frequency & well matched.  At one point, one of the mobiles who was following me a county or two behind me (running an expensive screwdriver) asked, "...who are you working, I hear you, but can't hear a couple of those guys?"   Those were the QRP stations.
The band resonate tuned vertical 'naturally hears' or resonates on your desired frequency, thus yielding the best signal-to-noise-ratio in all directions.  A Crappy S/N ratio most likely means your antenna hears everything better than your operating frequency.  The answer is quite simple then, get everyone to move to the frequency your antenna is in love with, and you can work them QRP!   I really don't care who you buy from or how much it costs, always look for a band resonate antenna, and worry less about SWR - because it's easy to fix the mismatch... with a tuner as a last resort.
With over +300 of the 20 meter portables sold, we're excited about the wonderful results filtering back.
* been using it in my antenna restricted HOA at night... I'm on the air from my upstairs balcony in 2 minutes & nobody sees it - even if I forget to take it down.
* Less noise than my dipole, I spread the radials away from the house and the lights quit flashing.
* working DX with QRP power, I rarely did that before with my long wire...
* hearing more stations than ever before, Resonance is really important afterall...
* 5 minutes and I'm on-the-air instead of looking for a couple of trees...
* On top of the Blue Ridge Parkway or on the beach at the Outer Banks (OBX) very happy,
* SWR match is so good, it works better without the tuner on 20 meters...
* My Elecraft KX2 or KX3 tunes the 20 meter vertical for 40-10 meters to 1.0:1 in seconds." 
The 40 meter portable vertical, 1/4 wave, band resonate, field adjustable tip, tunerless, with radials and mounting stake weighs in at 5.5 lbs.  $90ea  No... we won't ship this either, visit with us at a HAMfest.  
Work continues on the 20/30/40 meter portable vertical, and still be under 2lbs.  We build, test, refine, build, test - then take it somewhere else and start all over again!  That's part of the challenge of HAM radio, and the fun!  During the testing phase, we believe it has got to work 100% of the time, in every situation and location we can imagine, or it's back to the drawing board.
The Steerable NULL Array Controller for antenna(s) meaning 2 or 3 verticals, is built and tuned for a specific frequency, usually in the phone part of the band (unless requested).  Why steer the NULL...?   To minimize the noise from a transformer, station or QRM / QRN so you can work everyone else!  This is gives you a broad pattern, if you want a narrow pattern, a Yagi is a better choice.  This gives ONE NULL steerable in 6 directions, or TWO NULLS steerable in 3 directions (NULLS oppose eachother).  $90ea  No... we won't ship this either, visit us at a HAMfest.  We will ship just the controller and remote (fitted with SO-239 connectors, you supply 71 & 84 degree phasing coaxes, antennas, etc.), $90ea.  This can be used with any 2 or 3 indentical, band resonate verticals...  We typically get 3-5 S-units of reduction, but again this is a back-packer, SOTA, special event, type portable - the idea is keep-it-light & easy-to-deploy.  If all you want is the circuit board, controller box with relays...  email me.  We'll be offering this as a do-it-yourself kit soon - this is a real game changer in portable operation.
If you haven't got around to grounding the gear in your shack - we have the EASY ANSWER!   A Ground Buss Bar with 9 leads (3 of each, 1ft, 2ft, 3ft of braid or insulated), and a 6AWG or 10AWG insulated cable to run to the system ground or ground rod.  In my case, bonding took out 2 S-units of noise after bonding my expensive LED graphics monitor!  Since it was always on for the electronic Log Book, I had just assumed that was the noise floor!  $30ea at the HAMfests, or add $3 and we'll ship you one.
The FAN Dipoles are ounces in weight, we have the center blanks and spreaders...   $7 & $11 kits (just the center section and spreaders),  Easy to build it in about an hour, using scrap CAT-5 network cables, string and a couple of fishing weights, you can quickly build a roll up, stash in the go-kit 3-band antenna.
End Fed SWL long wires fans, give those old tube radios big ears in the SWL bands.  We have the spreaders to build 6 & 10 banders (3 & 5 wires + 3rd harmonic).  Same spreaders used for the FAN Dipoles, also make great FAN Long-wire antennas.  Keep in mind, the pattern is like an "X"...  you can turn on & off every electronic appliance in your house with 100 watts, like I did!  A tuned FAN Longwire antenna absolutely crushes a random longwire, sorry to the 9:1 balun folks, we're working what you can't hear.  Long Random Wires have a better fate, when they are cut to resonating lengths - trust me, I have "All of the above" at the QTH for comparison & testing.  There is no secret elixor of HAM radio besides Resonance & S/N ratio, I've never heard a HAM say, "I couldn't hear 'em, but I worked him anyway, even got a QSL card from him!"
Here's a sample of one of the ideas we include with the kits.  (you supply the wire)

Look for us at the HAMfests in Virginia, North Carolina, Eastern Tennessee ... and share your enthusiasm for HAM Radio.
We HAND build Antennas ourselves.  If you've got a unique antenna for a band outside the HAM arena, chances are we've already built one, and could build another.  This is just part of what we're up to, we just enjoy building, learning and operating.