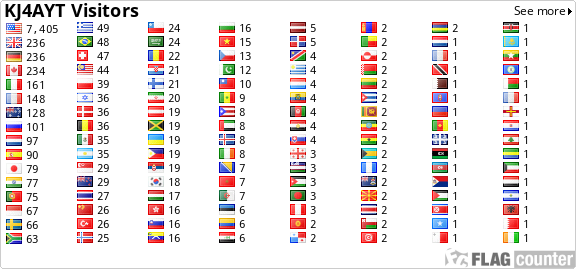 Welcome to QRZ Homepage for KJ4AYT !!
Visitor Globe
SEE PICTURES BELOW
My name is Kurt Stephens and I'm a retired US Coast Guard Electronics Officer (Aviation and Shipboard) that served for 30 years. I started in Aviation as an Aviation Electronics Technician and attained the rank of E-8 (Senior Chief) before receiving my Officer's Commission. I retired as a CWO4 Electronics Officer. After completing Avionics Training I was stationed at Elizabeth City, North Carolina at the Coast Guard Aircraft Repair and Supply Center doing depot level overhaul of avionics systems were I was soon qualified in HU-16E Albatross, HH-52A, and HH-3F aircraft and in the evenings would jump the fence to the C-130 Fixed Wing side. I was later qualified in C-130 Hercules, HU-25A Falcon Jet, HH-65A, and HH-60 SeaHawk aircraft. Over the span of my flying career I've been qualified as a Sensor Operator, Navigator, Avionicsman, Flight Mechanic, Radioman, and Scanner. I've served all over the US in the Search and Rescue, Migrant Interdiction, Narcotics Interdiction, Polar Operations and a variety of other fields. I served as Technician, Flight Crew, Command Enlisted Advisor, Commanding Officer of Shoal Cove Loran Station, Electronics Officer onboard USCGCutter Northland and Asst. Engineering Officer of a helicopter unit out of Chicago. It was a great career, I'd do it again if I could.
Since military retirement I've worked in Corporate Electronics as a Senior Communications Consultant to the Military and Government, Systems Engineer, Sr. Systems Engineer, Staff Engineer, Business Development Manager C4I for Elbit Systems of America and the MICOM and Tadiran radio lines of radio equipment, CEO of White Wolf Systems, LLC a woman owned small business operating in Federal, State and Local enterprises and now antenna design engineer/business development. White Wolf systems is on the web at http://www.whitewolfsystems.com. White Wolf Systems is now headed by Bill Whittington (KB3UMN).  I am currently considering new and exciting employment opportunities while working as a private consultant on HF/VHF/UHF and Satcom systems.
SEE PICTURES BELOW
Station Equipment:
Radio's are MICOM RM 500 and RM 125 used specifically for ALE (Automatic Link Establishment) on the HFN and HFL nets, Ten Tec Omni VII, Kenwood, FT 847D, and Icom 8101E. Amplifiers are AL-80B, SB-1000, and SGC 500. Tuners are Ten Tec 238B, MFJ-989c, 2ea AT-1000Pro, Micom 2265A, and SGC 239's. Antenna's are Three Band Opti-Beam which is a Moxon antenna on a 50' extending section ALUMNA Tower with Yaesu Rotator, Mystery Antenna East/West, a B and W Folded Dipole North/South, Shakespeare 393 Whip (on dock). I also have 80mtr Dipole and Helical Antenna's all run through an electrical antenna switch model 516R. All radios in the shack can be run through any of the antenna's on the antenna farm. The MICOM RM 500 has a built in 500watt amplifier with dual cooling fans, the RM 125 has the dual cooling fans but not the amplifier and generates 125watts. I use these radios for Automatic Link Establishment (ALE) in support of the ALE HFN net. They are used with the B and W antenna which is broadband and does not require a tuner, not the best antenna in the world but it works and works well for this ALE (Automatic Link Establishment) application. Software used is Ham Radio Deluxe, MARSALE, Echo Link, MICOM MRC control and programming and HFNMARSALE software by Steve N2CKH for a Pilot Station. You can visit the HFN Automatic Link Establishment webpage and view ALE signals around the world occuring real-time and KJ4AYT Pilot Station in New Port Richey, Florida by visiting and clicking on this link..... http://www.hflink.net. On the website you can also visit the HFLink store which has things like T-Shirts, Patches, Coffee Mugs and much more. Everything you need to know to begin using Automatic Link Establishment is on this site including downloads (PC ALE) for free software to use with your type radio. I recommend it.
SEE PICTURES BELOW
SV "MairSea" Boat Equipment:
The sailboat "Mairsea" is equipped with a variety of electronics equipment powered either by the "House Battery" system or the diesel generator (3.5kw). The equipment list is dual VHF Marine radios with DSC (Digital Select Calling), Raytheon AutoPilot, Raytheon 24 mile Radar, twin Garmin GPS systems one of which is a Chart Plotter and can be coupled to the radar and autopilot. HF radios are MICOM 3-T and ICOM 718 with appropriate auto tuners. The radios can be used for voice or data with the PTCIIex Pactor modem with PTC III software for HF email through the Winlink system. I also run ALE on the boat with the Micom Radio and can be found on the HFN (www.hflink.net) website sounding and passing traffic. MairSea is the only Pilot Station for HFN that is shipboard or maritime in the world. This works remarkably well even under very poor conditions. Its used when I am out of cellular range on a cruise. Antenna's are a Shakespeare 390 1Kw whip antenna. I also have an end fed longwire that runs from the mast head to the dinghy rack. I am adding a solar power system and wind generator to the boat soon. I would like to be completely self sufficient (and nearly am !!) when underway. These are not the best of times in this world and if something bad happens we will sit it out in the Gulf of Mexico or an island somewhere in the carribean. We are also saving our pennies for a salt to fresh water system onboard.
SEE PICTURES BELOW
Mobile Vehicle Equipment:
The Hummer H2 has the FT-857D radio installed but also carries the MICOM 2T and 3T ALE radios and now the Icom 8101E ALE radio. The antenna's are either the Tarheel 200 Screwdriver with CAPHAT or the modified Whip antenna I built for NVIS propagation on the move. I also have the SMC Loop Antenna for NVIS operations.  On the White Wolf side of the business I use the Micom 2T radio with either the modified Whip antenna or the LOOP antenna.  I have removed all of the Barrett radio equipment and antennas.  Tuners are the MICOM 2265A for matching longwires when parked or the SGC-239 for the Yaesu radio and AT-140 for the Icom. This vehicle also has the Pactor IIex with version III upgrade for HF email and ALE.  A PC is onboard to allow the use of the MARSALE software for short emails and AMD messaging or the MRC software which can be used for the same functions.  The H2 can also be parked and on battery power and still be remotely controlled via PC software package working with the MARSALE or MRC software.  This system can be operated from anywhere in the world that has cellphone/internet access.  For UHF communications the FT-857D does the job and two TM-710G V/U radios round out the capability.  The H2 also sports a Solar Power system for the main and vehicle battery systems.  The total capability is 120watts solar through thin film solar cells that form a shade from the sun.  Additionally a small and lightweight Genset/inverter of 1000watts keeps things up to full charge when heavy usage due to operations is warranted.  A Marine X Wind Turbine has been fitted and can also be mounted on the 30ft Mast but haven't needed it yet.
SEE PICTURES BELOW
My hobbies when I get the chance to play with them include designing, building and flying Radio Control model Aircraft on Floats. Flying off floats is a lot of fun and challenging. I also like to fish (salt and fresh water). I enjoy long distance blue water Sailing (with a destination in mind), all modes of HF radio in fixed, mobile and shipboard. When I go on a trip in MairSea I look just like the USS Pueblo with all the electronics onboard. I make sure to stay away from Cuba for this reason :-). I also design HF antenna's in my spare time. We've also (pictured below) designed an antenna Mast system for HF longwire antennas that is currently fielded in Indonesia, Malaysia, Pakistan and around the US. You can see some of our work at www.whitewolfsystems.com (direct link to the webpage above) and there are some interesting pictures there. Latest design is the "Wolf" antenna a Folded Dipole that really performs.
I've been doing alot of work on my home station to get it ready for HF ALE (Automatic Link Establishment) operations for fun but also for assisting in times of natural or man-made disasters. I have the capability of running this station in the data or voice mode 24/7. HF ALE is a great feature for Ham radio afficianados around the world and is a great tool to help out during disasters. You can see HF ALE operators and stations operating on the web live and real time by visiting www.hflink.net. Just sign in with callsign (password not required unless you join) click on the "real time" button. On the HF ALE net you can send AMD short messages to individuals or to everyone at once, do short HF email, and of course link up on the best frequencies any time of day/night, season, or sunspot activity. At a glance you can see the MUF between you and just about anywhere in the US or around the world to another station at any given time of day or night. ALE was originally developed for the Military but now we HAM's have it as well. I personally use MOBAT MICOM radio equipment but you can also find Harris, Barrett and CODAN equipment out there to purchase. If you don't have a Military or Para-Military radio you can download PC ALE software for your computer and use it to run the program with your standard Ham radio equipment. No worries !!
SEE PICTURES BELOW
I've been fortunate in my life to travel extensively for work and pleasure. Since the Military service I've worked in Alaska, the Aleutian Chain of islands, Hawaii, South and Central America, Malaysia and Indonesia, Singapore and Taiwan. Most of my work has centered around contracting for any of the military or government services. Included is a 3 year period installing both passive and active electronics detection and communications system along the Straits of Malacca for Anti-Piracy operations to host countries such as Indonesia and Malaysia. It was exciting work and you really begin to understand what we have here in America. Working in 118 degree heat and 100% humidity, living in rooms with lots of critters scurrying about in the night, no airconditioning, strange foods and lack of medical facilities is one big "Wake up" call. We aren't used to being stared at but in the world we are quite an annomoly to other cultures and people. Working in non-christian countries is also something that has to be experienced to be believed. I've learned ALL cultures and religions deserve respect including ours. To often we get a bad reputation and I think some of the countries I've visited have also gotten a bad reputation. Its also a wake up call to be blamed for everything that America has ever done or not done. I find it amazing that people in other countries have been told some pretty strange and yes, bad things about us and believe what they think because someone, some place, told them so. Most often its their own Media, much like ours. Sometimes I think its the media and how they portray people to one another. Its amazing that the media in the US and in countries I visit portray the same events differently and you can see it when you switch back and forth between channels on the TV. The Media could do alot to help out but its more interested in spinning an event or issue to sell products, gain popularity with the people and the media in ALL countries are doing it. But, It was fun and I made friends everywhere I went. Ham radio people are the best in the world. Friendly, not concerned with politics, religion, who did what and more. Having something you love in common seems to cross all borders, its to bad governments can't copy it.
Below are some pictures of the QTH, radio shack (always a work in progress), my travels and both work and personal buddies that I care alot about and who have shared my life. Enjoy the pictures and check back once in awhile to see anything new I've posted. I can usually be found on the Maritime Mobile Service Net 14.300 USB during the day or the Cruizer's Net 7.268 LSB in the mornings or running ALE with the HFLink system 24/7 data.
I wish you all "Best Regards" and " 73's ".
Quote by Kurt: "Its amazing what you can do with very little money, some friends, family, a little wind, and a boat with HF equipment in this life". HF on the MOVE !
SEE PICTURES BELOW
www.hflink.com and www.hflink.net
QTH pics below: of the front house, driveway, lanai and seawall.
QTH Pics Below: view to the Gulf of Mexico, KJ4AYT relaxing hammock. View from Mairsea approaching the house.
Below: QTH backyard with "Mairsea" HF on the move, the boys, and backyard view. 2nd Row: view of the houses accross from the house, Approaching the
house in "Mairsea" to dock the boat, and Mairsea at the dock. Long time friend and buddy Ken with our diver after pulling the
Mairsea out of the water for bottom job and maintenance.
Below: Sailing Vessel "Mairsea" bottom job and at anchor off the Gulf Coast of Florida near Anclotte Island. Radio Shack and Antenna Pictures.
Below: Micom HF radio systems, block diagram of the shack, White Wolf Folded Dipole design and OptiBeam antennas.
Above: Part of KJ4AYT Radio Station at QTH, Micom HF ALE radios for HFN system, Antenna System
Above: Commercial and Military Tactical TFD antenna called "WOLF" designed and manufactured by White Wolf Systems. Below is the White Wolf Systems TFD antenna (Wolf) on the beach south of Charleston SC. During
HFIE 2014 Automatic Link Establishment (ALE) Exercise with Federal Government Interoperability Testing with Ham Radio operators running ALE software on a Laptop/Desktop.
Below: Whiskey Broadband HF antenna by White Wolf Systems.
Above: Radio Desk equipment orientation, one of the Antennas, home office, and a beautiful rainbow in the neighborhood, a Red Stripe beer on the Lani after working in the hot attic running cables and a V-22 Osprey during amock assault for the Special Forces Trade Show in Tampa in May of 2012. Antique Marconi HF antenna.
My Coast Guard Aviation patches
Above: Drug Ops in the Caribbean, Captured Mary Jane, Flying Search and Rescue
Above: Communications project, Cougar and Puma boxes built for Caribbean communications. Water View is in Guantanamo Bay, Cuba. KJ4AYT and HH-60 Guardian helicopter,
communications platform Puma. Pictures of my aircraft in the Coast Guard that I flew as Aircrew, Navigator, Sensor Operator, Flight Mechanic or Scanner.
Below: Coast Guard ships I served on either as part of an aviation detachment or as the Electronics Officer. The are CGC Diligence, CGC Ice Breaker Glacier, CGC Northland, LSO on Northland, and the
Ice Breaker Westwind and Polar Star.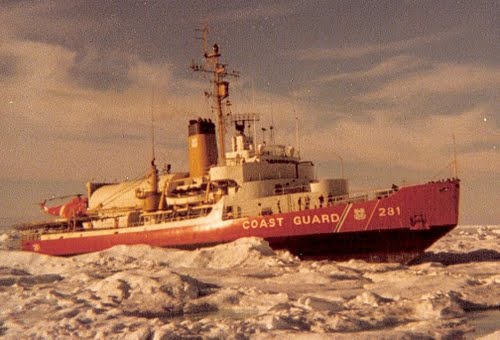 Below: While serving in Alaska's Air Station Sitka we would deploy to Aviation Support Facility located in Cordova Alaska.  The job was fisheries enforcement, Search and Rescue, and Drug Enforcement.  One such adventure pictured with the aircrew for a USCG HH-3F Twin engined Helicopter that I was the Radio/Navigator on.  Cordova was great for off duty as well, we would search for "real" glass balls and other artifacts that would fall off ships during storms.  The wildlife, Brown Bear, Black Bear, Moose, Deer, Wolves were amazing.  The fishing was out of this world.  Bottom row, 2nd from left.  Here is a link.   
Below:  Enroute to Polar Operations in the North Seas prior to getting to the icepacks.  Getting your "Sea Legs" is most important, no flying today !! To make matters worse Ice Breakers have no Keel because they get on top of the ice and let their weight break it so driving the boat in these seas is something to be felt.  Its like driving a football.  Note tie-downs for aircraft and TALON deck tether system.
In 1979's I was the Avionics Tech with two HH-52A Amphibious helicopteron a North Patrol above Greenland on AVDET 76. Our ship, the Westwind, picked up a weak MAYDAY call on the radio in the middle of nowhere
from a pilot of a civilian aircraft that had flown into WHITE OUT weather conditions over the icecap. Not realizing they were at a very low altitude they flew the twin engine plane right on to the icecap. Although no one was badly hurt the aircraft was nearly destroyed. The were very lucky we heard their call over the VHF distress channel 121.5Mhz because they had no other form of communications onboard. Operations sounded the SAR Alarm (Search and Rescue) and I launched on one of the HH-52A's to bein our search. Another lucky factor was when the radio signal was heard the watchstander in operations turned on the DF equipment and was able to get a bearing on them. We found them about 65 miles away along that bearing line and landed to provide assistance. They were a group
from the Netherlands who were looking for the "Lost Squadron" comprised of a B-19 and and some P-38 Lightnings that were being ferried to Europe in 1942. In those days only one aircraft in the flight had longrange navigation equipment and the others simply followed the leader. The squadron had lost their navigation equipment and
were wandering around trying to find their way back to Greenland when they flew into severe icing conditions.
With the war going on and for many years the flight was forgotten but in the early 1979 a group of civilians decided to find the Lost Squadron. This event was to become a story in National Geographic. I only found out and participated in
this historic event because of the weak MAYDAY heard repeatedly over the radio. I've attached some pictures taken in 1942 of the landing site below. The civilian salvage team used a device (called a Golpher if I remember correctly) to melt the ice and
the picture of the P-38 in the "cavern" is actually about 40-50ft under the Icecap. You can read about the "Lost Squadron" of Greenland on the web.
Below: KJ4AYT on Coast Guard Icebreaker "Westwind" near Kulusuk, Greenland with AVDET 76 in 1979, we made the furthest penetration to the True North Pole ever accomplished, we also did the
the scientific testing that revealed submarines could hide in thermal layers in the ocean. We dropped dropped depth charges from the helicopter set to explode at a predetermined depth and read the returns. In doing so we found that the sounds would reflect off thermal layers meaning you could hide below them or in them. KJ4AYT at top Row, all the way to the right, note the beards allowed back in the day but only for helicopter crew, fixed wing crew could not have them because of the oxygen masks and potential for explosion when the oxygen came in contact with the oils from the beard. Eventually all beards were banned but the Coast Guard was the last service to do so.
Below: US Coast Guard boats for boarding and patrol.
More of my Coast Guard Patches............
Even more of my patches...................................
Below: Son of a Sailor trip Tampa to Key West/Dry Tortuga and return, sailing in the Gulf and sunset off Key West and KJ4AYT Jr. at the helm. This was a trip I took with my son (route is shown on the map) and we try to take one each year but with time off at a premium and the economy we haven't had another trip lately. Friend Engineer Eliav from Elbit Systems of America on Mairsea cruzing !!
Catamaran "MairSea" stopped in Key West for a few days. While there we toured the Mel Fisher Museum. Mel was originally a chicken farmer from Illinois that packed up his
family and moved to California where he learned to Scuba Dive and opened up a Dive Shop. One day he packed his family up again and moved to Florida to find Spanish Treasure. Twenty
years later he found the Margarjita and then the Atocha. If you ever visit Key West and in between libations visit the museum, you won't be sorry. 1st picture is Spanish 8 Reals or
Piece of Eight, Gold Cup (think it is a Poison Cup for a King's taster), a 150,00 dollar Emerald from the Columbian mines, Gold Chain (this chain was considered contraband by the King
of Spain, passengers were not allowed to bring treasure home unless they paid the King's share in value so they wore this gold under their clothing and you can imagine that when
the ship sank they went straight to the bottom !!), Gold Bars stamped with the assayer's mark, tax stamps, who shipped it and who the receiver was to be. A beautiful Gold Plate believed to
be destined for the Pope.
Below: Inside of Ft. Jefferson on Dry Tortuga, this fort was the last stopping port for fuel (coal) for the Battleship Maine before it blew up in Havana Harbor and is
the place where Dr. Mudd who treated John Wilkes Booth (shot President Lincoln in the Ford Theatre) broken leg. He was captured and incarcerated in this fort.
He was later pardened for his heroic efforts in treating other inmates of a bird flu like disease. Old Cannon off its mount on top of the fort. My oldest son next to another cannon. View from gun port along the side of the fort.
Below: Inside veiw of the fort structures and parade ground, veiw through a gun port, view of Loggerhead Key, the last key on the chain of islands. Another view of the Fort, good snorkeling.
Below: Ketch rigged wooden sailing vessel at Key West Bight, view of Ft. Jefferson from the small beach, "Mairsea" at anchor near Anclotte Island. Float plane arrives.
Below: Middle son in the Air Force, Jake the German Shepard all dressed up for Halloween. He loved this
outfit and would get upset if he didn't get to wear it to the door when we gave out candy.
Below: Float Plane view of Alaska enroute to a remote site for communications install, arriving Attu Island via Coast Guard C-130 (last lsland on the Aleutian chain),
old WW II 50cal Machine Gun on Attu Island near Coast Guard Loran station ATTU. 2nd Row: Masacre Ridge a valley view where the Japanese made a suicide run
directly into the US forces. All were killed. Coast Guard C-130 on the ramp ready to go. Cruise Ship (1st one to make the trip) full of WW II vets make pilgrimage to Attu Island where they fought. Alot of emotion
as the old men and their spouses walked the site where they lived for a year. Cape Fox Lodge in Ketchikan AK, installation crews stayed here for R & R. WWII Quonset
hut used by US forces during the Japanese invation. Last pic shows approach to ADAK Island in Alaska Aleutian Chain and you don't want to mess up this approach because you can't go around with the
mountains there !!!
Below: Sloping V Antenna at 280ft long installed in Nome Alaska, Fanlite(Tm) antenna on same telephone pole with markers to prevent the Eider Stellar low flying
birds from breaking their necks on the antenna, clear day view of the same site in Nome. 2nd Row: View up the pole of the Fanlite(Tm) install. Fanlite(Tm) install
in Ketchikan, AK, my Elmer KH7XS working in Attu with my company and assisting in the installations. He brought his portable Yaesu with him and worked many ham's
from the Attu Site.
Below: Typical equipment hut we installed on Tundra (had to be on thermopyles to prevent the tundra from melting), Eagle River, Anchorage sign of one of the stops
for the Iditarod Trail runs, working in Ketchikan, AK on a telephone pole install of the Fanlite(Tm) where the weather doesn't stop our work !! 2nd Row: Antenna
work in a snow storm, Rod putting final touches on a Fanlite(Tm) install in Cold Bay, AK. Nome view at noon, very little sunlight.
Below: Crew for the Attu Alaska install, Mike Foster, Juan Carpentero, Justin, and KJ4AYT, KJ4AYT in the Neptune Chair at the Rendevous Bar on Kodiak
Island, Ken and his buddy "Moose" in Ketchikan, AK. 2nd Row: WW II 55gal drum on beach at Attu Island overgrown with Alaskan flowers, Valcom Antenna and
Auto-Tuner, Backhoe stuck in the tundra in Ketchikan, Ak.
Below: White Wolf Systems, LLC that is XYL owned, installed Kit with winch, Kit parts, SeaWolf Antenna (shipboard NVIS) ready to ship.
Below: Folded Dipole antenna located at the Shack for HF ALE operations on the HFN network.
Below: KJ4AYT doing Maritime Domain Awareness work on Anti-Piracy job off the coast of Malaysia enroute to an island, real P-51 Mustang mounted in Jakarta at Naval Base, KJ4AYT working in Indonesia with Fanlite(Tm)
Installation with Bill and Jimmy.
Below: Indonesian sunset at Idi, White Wolf Mast Kit installed in Manado, lower part on roof of the install.
Below: Volcano erruption on indonesian island, another sunset, and view of an installation on an Indonesian island.
Below: Dutch cannon at the Governor's house in Jakarta (Indonesian women thing it has powers to help in getting pregnant and sit on the fist to make themselves
more fertile), 2nd largest Christ Effigy in the world located on island of Manado, KJ4AYT at another installation along the Malaccan Straits.
Below: Hammerhead shark and a small one to the left for dinner in Indonesia, big monkey in the wild, Bill exploring a Japanese bunker overlooking the ocean in
Sabang Indonesia (a big 5ft lizard hissed at him and this is him coming out of there real quick. Bill is the Director of Business Development for White Wolf Sys.
Below: Pinching bug in hotel room in Idi Ryuk, rice patti's everywhere, fishing boat 5miles inland after the Tsunami in 2006 sitting on a house. Found a freighter almost
10 Miles inland. Mass graves everywhere. Indonesian fishing boat on its way into the harbor at Sigli on the island of Sumatra. Friend Hari in Indonesia.
Below: Finishing touches on Fanlite(tm) installation on Sand Key in Honolulu, Hawaii on roof of a airplane Hangar with KJ4AYT, antenna mast was 6" diameter and custom made. Mast and cantaleivers were bolted to the building frame. Note 2-30 resistively loaded broadband HF antenna.
Below: Israel trip to the factory for Micom HF Radio's and antenna's. Oldest sea port in the world "Jaffa" in Televiv, Mycenean heads from statures, archeology near
the seaport of an old tomb from the time of Jesus. The stone slab that Jesus was placed on after the crucifiction, KJ4AYT visiting the Wailing Wall in Jerusalem. Oldest sea
port in the world, Jafa. Walking in the city of Jerusalem, glass encased stome where Jesus was crucified, Arab Quarter in Jerusalem, three pictures from a hill looking toward Jerusalem.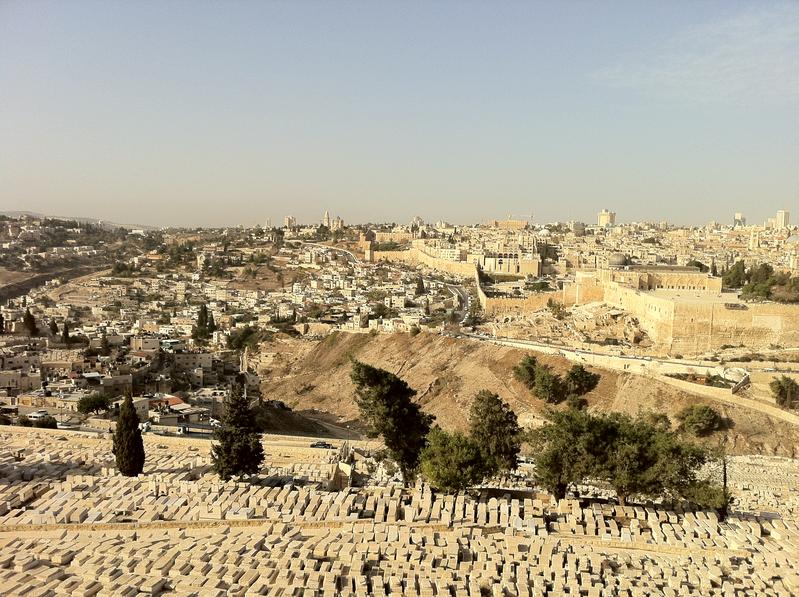 Below: KJ4AYT H3 Alpha Hummer at USSOCOM test site in Sebring, FL, Swing Away mount for antenna's and Magnetic Half Loop antenna mounted on top at the
Canadian HF industry day.
Below: Loading the HF radio system and Hummer on the Auto Train to Washington DC, then driving to Canada, HLA-125 Magnetic Half Loop, collegues Bill, Yehuda, and Rafi at the industry day.
Below: Hummer in Paso Robles, California and Sebring, Florida for Comm's testing with the military Special Forces for mobile Loop HF NVIS Antennas.
Below: KJ4AYT and Hummer with Micom Equipment in California testing with military. Photos by Special Forces soldiers.
Below: The Solar Flare (Orange) Hummer has served its purpose, being replaced by the H2 below, more room for equipment and antenna's. :-). Recently upgraded H2 with antenna's and radios, a before and after.
Below: Additional capabilities on the H2 for 1st Responder missions, added HF Fax, HF Email, VHF/UHF Crossband to HF, POTS telephone connect to HF, Remote connect via Cell Air Card to 2 remote Transciever
Station in Texas and Virginia on the fly, and Vocoder.
Below: The Captain Luka has finished his protection and guard training at 15 months. He not only guards the home but the boat and the H2 Hummer when I'm out and about. With all the equipment installed I used to worry about someone helping themselves to it. With the Captain onboard this is not an issue. He sits quietly and is non-agressive until someone touches the vehicle, then all heck breaks loose.
Below: New Mast from Comrod mounted on the H2 Hummer, 31ft tall with either a winch or electric winch. Custom made mast mounts to Swing Away Mount made by Royal Communications. Comrod HF 230 NVIS Loop.
Below: Jake the German Shepard on HIS bean bag :-), Jake with youngest son by the swimming pool. Checking out the green monster of the swamp, family and friends.
Below: New addition to the Family, Captain Luka as a 9week Puppy, 5month old, and 6 month old and 9 month old. His Guard Training is going terrific, he can go from sweet to territorial in a flash or on command.
iBelow: The Captain with his Nana relaxing happily, as a puppy and size in comparison to a TV remote control, lounging in the house and with his girlfriend at the Doggy Park.
Below: GP Harold with Lilly the cat, XYL with the Captain lounging on a lounge chair on the patio.
Italy and the island of Capri. Old Roman collesium in ruins while on vacation in 2009.
Civil Air Patrol viewing of the Magnetic Half Loop NVIS HF Antenna
Below: Recent Micom ALE radio installation for the Coast Guard. System includes Micom 3T radio and WIMA tuned whip antenna system with SWAM (Swing Away Antenna Mount) installed.
Recent Mod's to the H2 for Experimentation with our soldiers in Sebring, Florida shown below: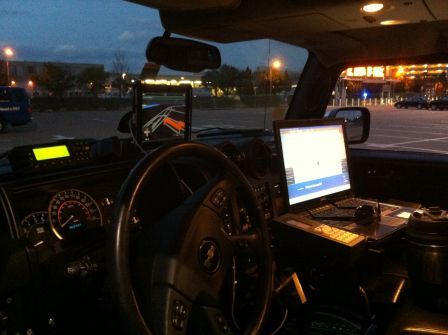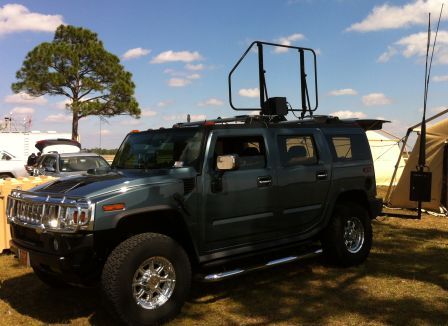 Below: Latest H2 Configuration for Demonstration to various Military and Federal agencies.  Upgrading to solar power with wind power later.  Currently Solar is 60w Powerfilm system which maintains the 2 house battery system.  With good sun can run the Micom ALE radio and one V/U radio system without discharging the batteries.  Tx time on/off affects the need to increase solar power and I can see I'm going to need at least another 200watts for operations.  The goal is to be able to run off solar during the day with enough battery power for the nights.  The Solar supplied H2 Hummer is a learning curve and a work in progress.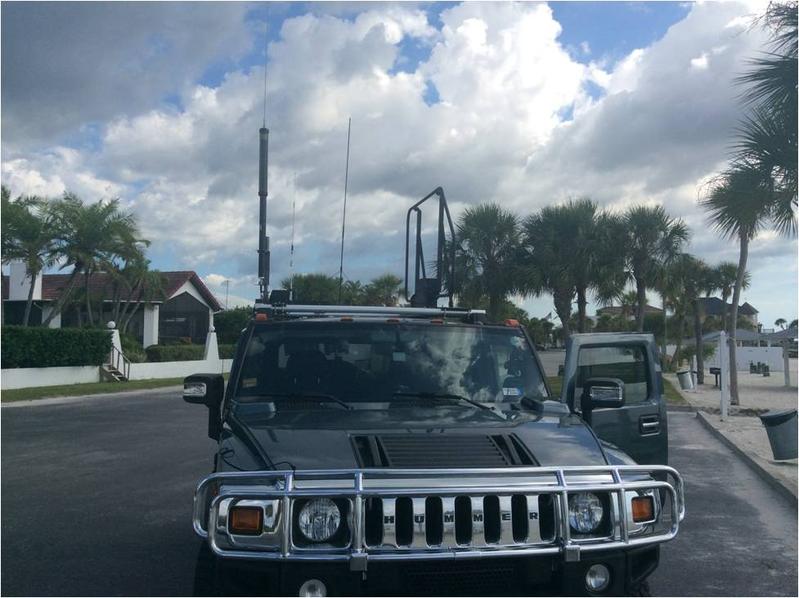 COMROD at the AUSA Trade Show in Washington DC. TM-170 25meter Mast erected in a field. Note Electrical Up/Down Drive and the mechanical arm on vehicle for deployment.
OSPREY aircraft, new design shown at AUSA Trade Show. Mast Deployment of the TM-170 model.
Below: Mast demonstrations using the Comrod Vehicle and with the US Army.
Stavanger, Norway looking towards the Town of TAU Norway. Short ferry ride to COMROD Headquarters. Beautiful Fjiords !! Demo to Harris Radio in Rochester with a few of the masts deployed.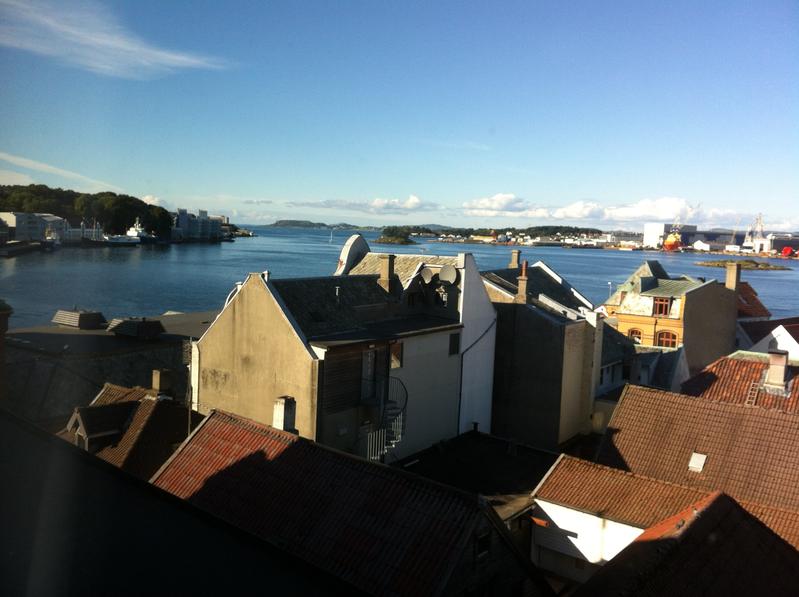 Mast Demonstration to the Marines in Quantico.....A variety of masts commercial/military in aluminum, composite, fiberglass, combination composite/fiberglass. Also push up, crank up, and electric drive. Ground type masts, tripod, vehicular outside and inside mounted.
A very special thank's to QRZ for making
this page possible to all Ham Radio folks. Stay tuned for additional pics over the coming months.
73's to all.
KJ4AYT