My principal interest are DX and contest in CW, SSB and some Digi as PSK31, RTTY etc, in HF and 6 meter Band.
Rigs: Kenwood TS850, Icom 706 mk2g
Kenwood TM455 Multimode UHF for satellite use.
dipoles for 40m, 30m and 17m
vertical 1/4 wave for 12m
tribander 4 elements for 20, 15 and 10 m
LOTW user. Looking for Triple Play WAS.
If you want a traditional qsl card pse don't waste yours cards sending them via the LU buro, it doesn't work for me. I have not recieved any qsl card since years.
You can send your card to my

qsl manager

EA5FL via direct or via buro (via EA5FL)

.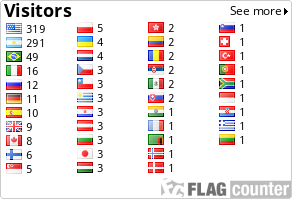 flags since oct - 18- 2010