Right Side of Desk - 30 Oct 2017
Icom IC-756Pro3, JRC JST-135 Transceivers, Computer, PSU.
---
Left Side of Desk - 30 Oct 2017
CAPCO 3000D AMU,   BHI 1031 Audio DSP,   JRC PSU, AMU and Speaker.  500W Dummy Load.   Daiwa CN801 Meter.
---
The Desk - 7 September 2017 
Elecraft KX3 and PX3 Panadapter - Now sold on and replaced with the Icom IC-756 Pro3
Note the boom Microphones - (L) Heil HM12,  (R) BM800 Goldline.
---
The 'Shack' is an antique roll-top desk in the living room, as I live in a small bungalow in a retirement complex for Old Folks WFG (Waiting for God! 

).   Its very handy as I am in the warm, rather than a cold shed, and when not in use, the top rolls down, and the room looks tidy!!
Transceivers are a JRC JST-135 (Ver 2.0)  With NBD-520 PSU and NVA-88 Speaker, the radio has several optional accessories fitted - BWC (Bandwidth Control) Unit board - CFL-243,  Stable Crystal Kit - CGD-135, and IF Filters CFL-232 and CFL-251 500c/s and 2.4Khz.
A Hiel HM-12 - Boom Mounted is used together with a footswitch for the JRC Transceiver.   For the ICOM 756 Pro3, a BM-800 Goldline condenser microphone also on a foot switch is used.    Both Mics are on swinging booms..    
   For 'Portable and Base station, there was an Elecraft KX3 with the PX3 Panadapter, for Portable operation the Elecraft KX3 Transceiver together with a Tokyo 50W amplifier and Sotabeams 'Band Hopper' Linked Dipole atop a 10Mtr telescopic fishing Pole dropping as an inverted 'V' to 5Mtrs. 
All sold and replaced with the ICOM IC-756 Pro3 Transceiver.
I kept the other equipment -  an RM BLA-350 Linear Amp and Capco 3000D Antenna Tuner fed to a 120ft Doublet held aloft by a Spiderbeam 40ft (12M) Pole, dropping each end down to 15 feet (4.5 Metres).  
---
The JRC JST-135D Transceiver
In July and August 2017, I bought two of these transceivers - one to use in the shack, which is a roll top desk in the living room.  The second to use purely as a receiver in my bedroom, as due to a medical condition, I have to lie down for 2-3 hours a day !!
STATION  M0OBU - AUGUST  2017
From Left to Right....
Yaesu MD1 Mic,  
CAPCO SPC-3000 AMU,  
JRC JST-135 Transceiver,  
Palstar PS50 PSU,  Daiwa CN-801 Power and SWR Meter,  
Heil HM-12 Mic on floor mounted boom,  
RM (Italy) BLA-350 300W Linear Amplifier,  
Computer No1,   Bhi 'Desktop' Speaker.
THE  STATION - 21st  NOVEMBER, 2016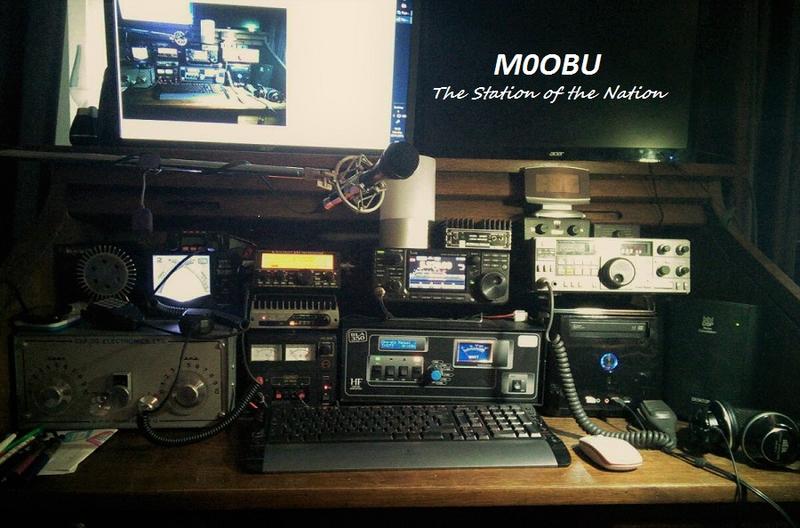 ---
The station in 2012
---
Station in March, 2013
Station In March 2011
---
___________________________________________________________________
Amateur Radio Web Site 
A website has been built devoted the hobby with information, as well as full details of all the radios owned in the past, and present - plus details of other modes and interests in Amateur Radio. The many radios, and equipment all have their own pages, and also there are pages on Proagation, Radio Software with links, All Digital Modes, etc..   A veritable cornucopia of information !!
To be transported there please click HERE
---
RSGB - Member No 208297 
ARRL -  Member No  3100223817
___________________________________________________________________________________________
Modes worked on HF
CW, SSB, RTTY, SSTV, PSK-31, JT65 & WSPR.
The Vibroflex 'Original' Presentation Key, made in 1988.
With the Vibroflex infinitely variable speed adaptor (from 8wpm to 40wpm), and the
G3LIV 'Cord Tidy' which makes lead connection very simple.
---
Just another normal day at this QTH !!
Transceiver Accessories
Power Supply Unit ~ QJ P35 Amp Linear PSU
ATU ~ CAP.CO 3000D Roller Inductor - 3kW
Linear Amplifier ~ RM 350-BLA - 300 Watts
Power / SWR Meter ~ Daiwa CN-801
Dummy Load ~ Welz DL-600
Microphone  ~ Hiel HM12 (boom mounted) 
Key ~ Vibroflex 'Original' Presentation Model
Audio Processing ~  BHI DESKTOP Speaker
---
The BHI 'DESKTOP'  Speaker
 10 Watts out with a mid and low range Speaker plus a tweeter, and  with rotary controls for levels of processing, rather than DIP switches and volume control .... a great improvement on the old NES 10-2 ..I get better noise cancellation with this than the inbuilt DSP in the Transceivers, which is excellent, as I live a large urban connurbation which creates a very high 'Noise floor' .
---
CAP.CO 3000-D  Antenna Tuner
These are about the finest ATU's made, and if ever available, exchange hands up to around £500 ( 800 US Dollars) if in good condition
Rated at 3 kW the CAPCO SPC 3000D Roller Inductor ATU is a beautifully made piece of station equipment.  Sadly the maker fell off a ladder in the mid 80's and no more CAPCO Loop antennas, or ATUs were produced after this.
---
Heil Pro 3 Headphones
---
Heil 'Genesis' HM-12 Microphone
on a floor mounted Boom
Links
My Amateur Radio Web Site ~ HERE
My QRZCQ Page ~HERE
This work is Copyright 2010/2020 and licensed under a Creative Commons Attribution 3.0 Unported License.