~ Station M0OBU ~
On 1st November, 2016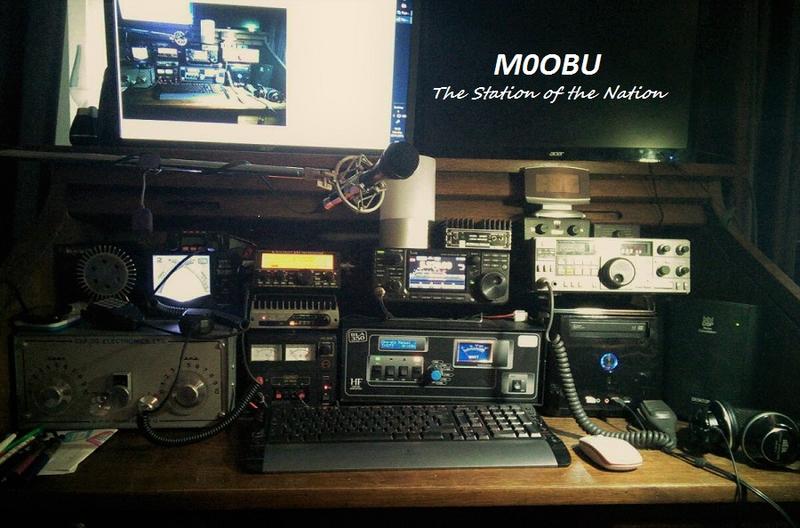 ---
The station in 2012
---
Picture in March, 2013
Station M0OBU Line Up In March 2014
The 'Shack' is an antique roll-top desk in the living room, as I live in a small bungalow in a retirement complex for Old Folks WFG (Waiting for God!

).   Its very handy as I am in the warm, rather than a cold shed, and when not in use, the top rolls down, and the room looks tidy!!
Transceivers are an Icom IC-7300 (Ver 2.0) with a Heil HM-12 Microphone.   For VHF there is a Kenwood TS-711E Transceiver.   When out 'Portable' there is an Elecraft KX2, with all options, which drives a Tokyo HyPower HL-50B Linear Amp giving 50 Watts from 5 Watts in.
The IC-7300 feeds into an RM BLA-350 Linear Amp and Capco 3000D Antenna Tuner fed to a 120ft Doublet held aloft by a Spiderbeam 40ft (12M) Pole, dropping each end down to 15 feet (4.5 Metres).
For Portable operation the Elecraft KX2 Transceiver together with all accessories, goes 'out and about' on the back of my Mobility Buggy. fed into a Sotabeam 5 Band Link Dipole atop a 10Mtr telescopic fishing Pole dropping as an inverted 'V' to 5Mtrs.  
The Trio (Kenwood) TS 711E 2 Metre Transceiver with a BNOS 100 Watt Solid State Amplifier coupled to an Diamond X-300 antenna raised to 20ft by an aluminium pole
Prior to buying the KX2, I used an ex Army PRC-320 radio for Portable work.   This too has found a new home !!
The PRC-320 - With its carry Bergen, battery, headset, and whip antenna
---
RIP
Our long serving station security Manager - Stanley
(Kennel Club name - 'Music Maker of OzBrit')
Given sleep on 11 December 2015, after 11 Years of devotion.
'Stan'
After 3 days of living in a house that was just 'Empty' and lifeless, we decided to give a 'Recue' dog a home, and found a wonderful little Staffordshire Bull Terrier - Sophie, who has already won our hearts.  An ex-victim of cruelty and abuse, she still loves people, other dogs, and her tail never stops wagging.   
A total change after a lifetime of owning German Shepherds !!!
'Sophie' Christmas day 2015
---
___________________________________________________________________
Amateur Radio Web Site 
For more information and pictures, etc -  there is a website devoted the hobby with information, as well as full details of all the radios owned in the past, and present - plus details of other modes and interests in Amateur Radio. 
To be transported there please click HERE
---
RSGB - Member No 208297 
ARRL -  Member No  3100223817
___________________________________________________________________________________________
Modes worked on HF
CW, SSB, RTTY, SSTV, PSK-31, JT65 & WSPR.
The Vibroflex 'Original' Presentation Key, made in 1988.
With the Vibroflex infinitely variable speed adaptor (from 8wpm to 40wpm), and the
G3LIV 'Cord Tidy' which makes lead connection very simple.
---
Just another normal day at this QTH !!
---
The Station Transceivers
Kenwood TS-711E - 2 Metre all modes.
Purchased 5th November 2016
 I was looking for a dedicated 2m rig with excellent performance.    My search ended when I found an immaculate Kenwood TS711e (bought intially in 1990).     This was probably the best purchase that I have made for quality and value since obtaining my licence in 2011.
Words cannot adequateley describe how pleased I am with this radio.    It's a full sized radio (almost the same size as the TS-830) with all the features I require in a 2m radio used mainly with the SSB mode.     The lack of CTCSS is not a real issue for me as I rarely use FM repeaters but if I chose to do so, 2 out of the 4 repeaters in range of my home QTH accept the 1750hz toneburst the radio provides.
Power output can be varied from around 2 to 25 watts on all modes - I usually use the radio at 5 watts to drive a BNOS Amplifier that gives 100 Watts output.  Local stations have congratulated me on the clean signal produced and on the audio quality of my transmitted signal. Received audio quality is also excellent. The radio is quite sensitive and does not suffer from overload with strong adjacent signals. Receive performance is further enhanced with my separate GaAsfet preamp (included in my SSPA).     The radio has a "proper" analog S/RF/ALC meter and is unencumbered with the menu system offered in most modern radios - all features can be accessed directly from the front panel.
I am also pleased with how the radio can be switched between smooth, continuous VFO tuning on SSB - turning the tuning knob more quickly increases the tuning speed - and click tuning when checking the FM portion of the band or when checking the memories. Click tuning can also be utilised on SSB, if you so desire.
---
Icom IC-7300
Purchased on 29 March, 2016
  For full Specification and Details, please 'Click'  H E R E
- * -
Elecraft KX2
The Elecraft KX2 Transceiver
Purchased from Waters & Stanton 17 Jun 2016.
Ideal for portable QRP at up to 10 Watts, or coupled in the shack to a Linear Amp, the KX2 transceiver can go wherever your imagination takes you. Thanks to state-of-the-art construction techniques, it's only 5.8 x 2.8 x 1.5" and weighs just 13 ounces,   making it the smallest full-featured HF radio on the planet.    Yet it puts out up to 10 watts, covers 9 bands, and shares many features with the bigger KX3.   

To maximize your freedom to roam, you can outfit the KX2 with an internal 2.6 amp-hour Li-ion battery. Current drain is as little as 135 mA, yielding up to 8 hours of typical operation on a single battery charge. There's also an internal automatic antenna tuner module (KXAT2), which can tune a random wire, dipole, or whip.
---
Transceiver Accessories
Power Supply Unit ~ Palstar 30 Amp Linear PSU
ATU ~ CAP.CO 3000D Roller Inductor - 3kW
Linear Amplifier ~ RM 350-BLA - 300 Watts
Power / SWR Meter ~ Daiwa CN-801
Dummy Load ~ Welz DL-600
Microphone  ~ Hiel HM12 (boom mounted) 
Headset ~ Heil Pro-Set HC-3 Pro 
Key ~ Vibroflex 'Original' Presentation Model
RTTY Processing ~ Code Master CWR-610E
Audio Processing ~  BHI DESKTOP Speaker
---
The BHI 'DESKTOP'  Speaker
 10 Watts out with a mid and low range Speaker plus a tweeter, and  with rotary controls for levels of processing, rather than DIP switches and volume control .... a great improvement on the old NES 10-2 ..I get better noise cancellation with this than the inbuilt DSP in the Transceivers, which is excellent, as I live a large urban connurbation which creates a very high 'Noise floor' .
---
CAP.CO 3000-D  Antenna Tuner
These are about the finest ATU's made, and if ever available, exchange hands up to around £500 ( 800 US Dollars) if in good condition
Rated at 3 kW the CAPCO SPC 3000D Roller Inductor ATU is a beautifully made piece of station equipment.  Sadly the maker fell off a ladder in the mid 80's and no more CAPCO Loop antennas, or ATUs were produced after this.
---
Heil Pro 3 Headphones
---
Heil 'Genesis' HM-12 Microphone
on a floor mounted Boom
Links
My Amateur Radio Web Site ~ HERE
My QRZCQ Page ~HERE
This work is Copyright 2010/2020 and licensed under a Creative Commons Attribution 3.0 Unported License.