Photo. Presentation at Newark 2017
                          GREETINGS FROM OSSETT
Ossett is no longer afilliated to the RSGB. Ossett members are now contesting under the 807 ARO group which is afilliated to the RSGB.
Thank you for taking the time to look us up. The aims of the group are to promote good polite operating, encourage ALL modes of amateur communication and participate in portable and contest events. We are an independant group with no commercial sponsers.
Up-Dated 20/12/2017
Contest information 2017.  RSGB UKAC.   Top spot on all bands !!!!
Contest Information 2016.
RSGB UKAC......Overall......Top Spot. Number One. !!!!! (435)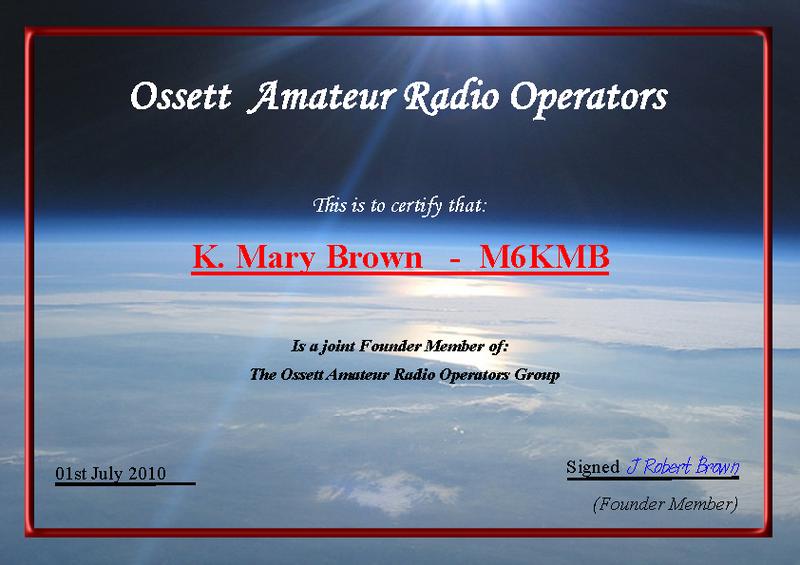 The photo in our membership certificate is by the kind permission of Mr Robert Harrison M0RJX. It is a photo taken from one of his ballons at the edge of space.
Other Contest Information.
In the RSGB Sprint Series 2011 we managed 5th position.
Practical Wireless 70MHz contest. Overall 5th and IO93 square winner.
WAB 160mtr SSB Contest 2012 placed in 6th position.
RSGB 2012 1st 1.8MHz Contest, 2nd place in the SSB section. Certificate Winner. (M0ORO)
Affiliated to The International Short Wave League (www.iswl.org.uk) Membership No G-21214.
Member of The Society for the Preservation of Amateur Radio.
Affiliated to The Radio Society Of Great Britain.
Member of The European Phase Shift Keying Club.
Member of The NAQCC. Membership No 5518.
Members of Fists. Membership No 15594
Politeness matters. Enjoy the hobby,
73, Good DX.